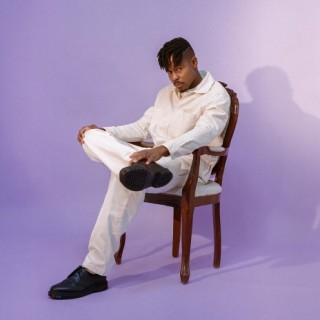 LADIPOE
Current #942

All Time #365

Ladipo Eso popularly known as Ladipoe or Poe is a Nigerian musician. On 28 February 2017, Ladipoe signed a record deal with Mavin Records. He rose to prominence with the song "Feel Alright" where he got featured by SDC "Show Dem Camp". He also released a new single "Jaiye" in March 2019 before dropping the hit song, "Know You" featuring Nigerian Joromi singer, Simi. He is also a member of the Nigerian supergroup Collectiv3. Ladipoe was born and raised in Lagos. He attended the University of North Carolina at Pembroke majoring in both Biology & Chemistry. It was there he got into music and co-founded the group Lyrically Equipped with his friends Jeffrey and Kurt. He was then signed to Mavin Records by Don Jazzy in 2017. Poe was the first rapper to be signed to Mavin Records since re-branding in 2012 from Mo'Hits. Poe recorded his first single under the label "Man Already" produced by Altims. Poe is inspired by the Slum Village, Lupe and Little Brother.

His 2021 single, "Feeling" which featured Buju peaked at number one of the TurnTable Top 50 chart on 3 occasions. He performed "Feeling" at the opening show of the sixth season of Big Brother Naija. Download and Listen to Ladipoe on Boomplay....more

Country/Region : Nigeria
Songs

(22)

Albums

(4)

Playlists

(33)
1

2

3

4

5

6

7

8

9

10

11

12

13

14

15

16

17

18

19

20

21

22
Listen to LADIPOE's new songs including "Feeling ft. Buju", "Know You (Mixed) ft. Simi", "Faling ft. Tems" and many more. Enjoy LADIPOE's latest songs and explore the LADIPOE's new music albums. If you want to download LADIPOE songs MP3, use the Boomplay App to download the LADIPOE songs for free. Discover LADIPOE's latest songs, popular songs, trending songs all on Boomplay.
Ladipo Eso popularly known as Ladipoe or Poe is a Nigerian musician. On 28 February 2017, Ladipoe signed a record deal with Mavin Records. He rose to prominence with the song "Feel Alright" where he got featured by SDC "Show Dem Camp". He also released a new single "Jaiye" in March 2019 before dropping the hit song, "Know You" featuring Nigerian Joromi singer, Simi. He is also a member of the Nigerian supergroup Collectiv3. Ladipoe was born and raised in Lagos. He attended the University of North Carolina at Pembroke majoring in both Biology & Chemistry. It was there he got into music and co-founded the group Lyrically Equipped with his friends Jeffrey and Kurt. He was then signed to Mavin Records by Don Jazzy in 2017. Poe was the first rapper to be signed to Mavin Records since re-branding in 2012 from Mo'Hits. Poe recorded his first single under the label "Man Already" produced by Altims. Poe is inspired by the Slum Village, Lupe and Little Brother.

His 2021 single, "Feeling" which featured Buju peaked at number one of the TurnTable Top 50 chart on 3 occasions. He performed "Feeling" at the opening show of the sixth season of Big Brother Naija. Download and Listen to Ladipoe on Boomplay.
New Comments(
158

)
FAQs about LADIPOE
Where is LADIPOE from?
He is from Nigeria.
How to download songs of LADIPOE?
You can download songs of LADIPOE from Boomplay App for free.
Firstly, install Boomplay app on your mobile phone.
Secondly, navigate to the song you would like to download.
Thirdly, Tap on More > Download.