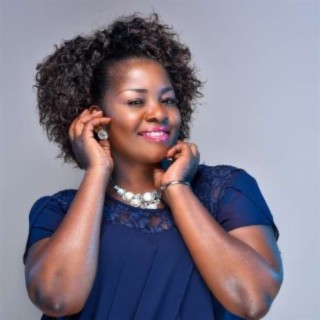 Gloria Muliro
Current #4,567

All Time #3,799

Gloria Owendi Muliro, popularly known as Gloria Muliro is a Kenyan singer-songwriter and Gospel musician. She was born and raised in Vihiga, a county located in the Western region of Kenya. Many of Gloria's Songs became very popular and trendy on social media in line with a great number of streaming and downloads on Boomplay.

Career
Gloria's music career is rooted in church ministry. In the earlier years following up to her entry on to the music scene, Gloria served in her local church choir. This cultivated an interest for pursuing music in her subsequently leading to the release of her debut studio album. Omwami Aletsa - her debut album - came out in 2005 fully in Luhya; her mother tongue. This body of work was able to introduce her to Gospel music fans especially in the Western region of Kenya and in the neighbouring regions.

Although Muliro had the backing of most Gospel music fans from her backyard, her mainstream breakthrough came with Kibali, her sophomore studio album. The full-length effort released in 2013 spawned the hit singles Follow U and Kando which instantly made her a household name in Kenya and East Africa at large. One of the most successful singles released by Gloria is Narudisha. The song currently holds a total of 1.2 million streams on Boomplay.

Achievements
Gloria's resilience and stellar career in Gospel music has seen her receive a number of prestigious recognitions. In 2013, she received the Groove Award for Best Female Artist. She also garnered a whooping six Groove Award nominations in 2018. In 2014 and 2015, she received the Mwafaka Award for Best Female Artist. Muliro has released a total of four studio albums throughout the course of her career.

Besides her debut and sophomore efforts, Msaidizi and Omusalapa were released in 2014 and 2017 respectively. Omusalapa explores Gloria's native roots as the album is predominantly in the Luhya language, just like her first one. Apart from music recording and performance, Gloria is also involved in humanitarian works.

She launched an organisation called Msaidizi Africa Initiatives in 2016 which is obmn the run to mentor upcoming Gospel music artistes in the continent. Muliro's music has been featured on various Boomplay playlists such as No Other Name, Made To Praise and Great God among others. Follow Boomplay and keep up-to-date with the latest songs of Gloria Muliro and information.

Gloria's most popular songs:
• Sitolia
• Narudisha
• Follow U
• Ndiyo Yako
• Msaidizi
• Kitanzi

Explore Boomplay and download Gloria Muliro's latest songs for free. Gloria's Songs are included in Boomplay music playlists. Search, stream, and download Gloria's Songs, his latest singles and albums in MP3 only on the Boomplay platform for free....more

Country/Region : Kenya
Songs

(62)

Albums

(9)

Playlists

(43)
1

2

3

4

5

6

7

8

9

10

11

12

13

14

15

16

17

18

19

20

21

22

23

24

25

26

27

28

29

30

31

32

33

34

35

36

37

38

39

40

41

42

43

44

45

46

47

48

49

50

51

52

53

54

55

56

57

58

59

60

61

62
Listen to Gloria Muliro's new songs including "Narudisha", "Nakubaliana", "Msaidizi" and many more. Enjoy Gloria Muliro's latest songs and explore the Gloria Muliro's new music albums. If you want to download Gloria Muliro songs MP3, use the Boomplay App to download the Gloria Muliro songs for free. Discover Gloria Muliro's latest songs, popular songs, trending songs all on Boomplay.
Gloria Owendi Muliro, popularly known as Gloria Muliro is a Kenyan singer-songwriter and Gospel musician. She was born and raised in Vihiga, a county located in the Western region of Kenya. Many of Gloria's Songs became very popular and trendy on social media in line with a great number of streaming and downloads on Boomplay.

Career
Gloria's music career is rooted in church ministry. In the earlier years following up to her entry on to the music scene, Gloria served in her local church choir. This cultivated an interest for pursuing music in her subsequently leading to the release of her debut studio album. Omwami Aletsa - her debut album - came out in 2005 fully in Luhya; her mother tongue. This body of work was able to introduce her to Gospel music fans especially in the Western region of Kenya and in the neighbouring regions.

Although Muliro had the backing of most Gospel music fans from her backyard, her mainstream breakthrough came with Kibali, her sophomore studio album. The full-length effort released in 2013 spawned the hit singles Follow U and Kando which instantly made her a household name in Kenya and East Africa at large. One of the most successful singles released by Gloria is Narudisha. The song currently holds a total of 1.2 million streams on Boomplay.

Achievements
Gloria's resilience and stellar career in Gospel music has seen her receive a number of prestigious recognitions. In 2013, she received the Groove Award for Best Female Artist. She also garnered a whooping six Groove Award nominations in 2018. In 2014 and 2015, she received the Mwafaka Award for Best Female Artist. Muliro has released a total of four studio albums throughout the course of her career.

Besides her debut and sophomore efforts, Msaidizi and Omusalapa were released in 2014 and 2017 respectively. Omusalapa explores Gloria's native roots as the album is predominantly in the Luhya language, just like her first one. Apart from music recording and performance, Gloria is also involved in humanitarian works.

She launched an organisation called Msaidizi Africa Initiatives in 2016 which is obmn the run to mentor upcoming Gospel music artistes in the continent. Muliro's music has been featured on various Boomplay playlists such as No Other Name, Made To Praise and Great God among others. Follow Boomplay and keep up-to-date with the latest songs of Gloria Muliro and information.

Gloria's most popular songs:
• Sitolia
• Narudisha
• Follow U
• Ndiyo Yako
• Msaidizi
• Kitanzi

Explore Boomplay and download Gloria Muliro's latest songs for free. Gloria's Songs are included in Boomplay music playlists. Search, stream, and download Gloria's Songs, his latest singles and albums in MP3 only on the Boomplay platform for free.