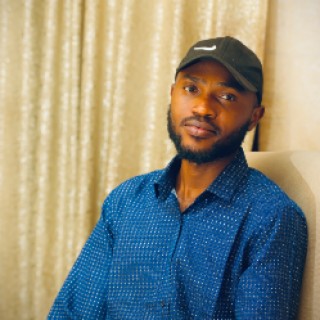 Damilare Temitope
Current #99k+

All Time #20.9k

Ogunnubi Oluwadamilare Temitope is the first son among 4 children to Mr Ogunnubi Oladipupo and Madam Elizabeth Adejumoke, He was nurtured at Bariga in Lagos state.

Education
He obtained his WASSCE certificate at Lagos State Model College, Meiran. Then his BSC in Biotechnology at African University of Technology and Management, Cotonou, Benin Republic in 2016.

He's got the initial instinct of becoming a song writer during his tertiary education, where he was a part of a mass choir and a praise worship leader. He was a founding member of a gospel musical crew called "The Crusaders".
In 2020, he founded an online platform "Music Therapy" that connects young music ministers from around the globe to help build music careers and in spiritual development.
He is also Praise Team leader in RCCG Praise Assembly, Karu, Abuja where he worships till date.
He then proceed to musical recording
where he recorded his debut single "Everything" in the year 2022. The track launched him fully into the music industry.

Feel free to enjoy and share Damilare Temitope's music on Boomplay...more

Country/Region : Nigeria
Songs

(3)

Albums

(3)

Playlists

(0)
Listen to Damilare Temitope's new songs including "Everything", "Jehovah Do Me Well ft. Pst Jay", "Marvellous God" and many more. Enjoy Damilare Temitope's latest songs and explore the Damilare Temitope's new music albums. If you want to download Damilare Temitope songs MP3, use the Boomplay App to download the Damilare Temitope songs for free. Discover Damilare Temitope's latest songs, popular songs, trending songs all on Boomplay.
Damilare Temitope Biography
Ogunnubi Oluwadamilare Temitope is the first son among 4 children to Mr Ogunnubi Oladipupo and Madam Elizabeth Adejumoke, He was nurtured at Bariga in Lagos state.

Education
He obtained his WASSCE certificate at Lagos State Model College, Meiran. Then his BSC in Biotechnology at African University of Technology and Management, Cotonou, Benin Republic in 2016.

He's got the initial instinct of becoming a song writer during his tertiary education, where he was a part of a mass choir and a praise worship leader. He was a founding member of a gospel musical crew called "The Crusaders".
In 2020, he founded an online platform "Music Therapy" that connects young music ministers from around the globe to help build music careers and in spiritual development.
He is also Praise Team leader in RCCG Praise Assembly, Karu, Abuja where he worships till date.
He then proceed to musical recording
where he recorded his debut single "Everything" in the year 2022. The track launched him fully into the music industry.

Feel free to enjoy and share Damilare Temitope's music on Boomplay
New Comments(
0

)

What do you think of this artist?
FAQs about Damilare Temitope
Where is Damilare Temitope from?
He is from Nigeria.
How to download songs of Damilare Temitope?
You can download songs of Damilare Temitope from Boomplay App for free.
Firstly, install Boomplay app on your mobile phone.
Secondly, navigate to the song you would like to download.
Thirdly, Tap on More > Download.