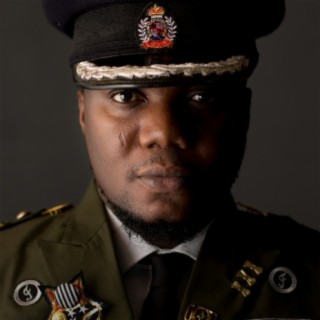 CDQ
Current #1,657

All Time #1,032

Sodiq Abubakar Yusuf (born May 6, 1985) is one of Nigeria's leading indigenous rappers and songwriters. Many of CDQ songs become very popular and trendy online with a great number of streaming and downloads on Boomplay. He runs an indie label, No Struggle No Success Entertainment.

CDQ took up an interest in music while in high school, focusing on rap music. Initially, he started with English rap, but with time, he switched to indigenous rap music, rapping in his native dialect, Yoruba.

He is popularly known by the nickname, CDQ and for singing in his local dialect, Yoruba. CDQ came to the limelight after releasing his official debut single, Nowo E Soke, featuring Wizkid.

After that, he collaborated with Masterkraft and Olamide to drop the hit single, Indomie. The song helped CDQ win an award at the 2016 Nigeria Music Video Awards.

Career
In 2008, at the age of twenty-three, CDQ started making music professionally. He worked as a backup singer to Dagrin for some time before rapping in English with M.I Abaga.

Things took a positive turn for CDQ in December 2012 when he won a rap battle at the Weekly Industry Nite. This brought success his way as Masterkraft offered him a record deal which he accepted. This was in 2013.

2014 was the year CDQ became a household name in the country. He released his hit single, Indomie featuring vocals from Olamide. For the remix of the song, he collaborated with Afrobeats singer, Davido. The song was produced by ace producer, Masterkraft.

He recorded another commercial success with the song, Nowo E Soke featuring Wizkid. The song was the leading single off his debut album, Quality. The single, which won Best Afro Hip-Hop Video at the 2016 Nigeria Music Video Awards, was shot and directed by Unlimited L.A. His debut album was released in 2015.

After the expiration of his contract with General Records, he launched his own record label, N.S.N.S (No Struggle No Success Entertainment), on the 11th Of November 2016. His first single under the label is titled, Sai Baba.

Notable songs from CDQ's debut album, Quality are Woos Wobi, Oobi, Salaro, Talosobe, First Come First Serve, Make We Run.

In 2018, he dropped the top-charting songs: Warey yo, Gbayi, Shey Normal, Flex, Aye and Onye Eze. His second studio album, titled Ibile Mugabe, was released in 2019.

CDQ teamed up with Wande Coal to release the trendy song, Kogbede in 2021.

Follow Boomplay and keep up-to-date with the latest CDQ songs and information.

CDQ Songs
• Ogini Ft. Runtown
• Indomie ft. Olamide
• Indomie Remix ft. Olamide, Davido
• Salaro
• Talosobe
• Nowo E Soke
• First Come First Serve
• Make We Run ft. Wizkid
• Ko Funny Ft. Davido
• Say Baba Remix Ft. DJ Maphroisa
• Bye Bye Party
• Werey Yo

Awards & Nominations
2015
• Nominated for Best artiste to watch and best collaboration of the year at 2015 Nigerian Entertainment Awards.
• Nominated for Best street Hop artiste at the Headies Awards.

2016
• Nomianted for Best Hip hop artist at Soundcity Movie awards
• Won Best Afro hip hop videos "Nowo E Soke" at Nigerian Music videos awards.

2017
• Won Best street hop artiste at Ghana Naija showbiz awards
• Nominated for Next superstar on the Roll at the Ghana Naija Showbiz award.

CDQ songs are included in Boomplay music playlists. Search to stream and download CDQ songs MP3/ single/ albums on the platform....more

Country/Region : Nigeria
Listen to CDQ's new songs including "Addicted ft. Jaywillz & Wande Coal", "Kogbede ft. Wande Coal", "Doings" and many more. Enjoy CDQ's latest songs and explore the CDQ's new music albums. If you want to download CDQ songs MP3, use the Boomplay App to download the CDQ songs for free. Discover CDQ's latest songs, popular songs, trending songs all on Boomplay.
Sodiq Abubakar Yusuf (born May 6, 1985) is one of Nigeria's leading indigenous rappers and songwriters. Many of CDQ songs become very popular and trendy online with a great number of streaming and downloads on Boomplay. He runs an indie label, No Struggle No Success Entertainment.

CDQ took up an interest in music while in high school, focusing on rap music. Initially, he started with English rap, but with time, he switched to indigenous rap music, rapping in his native dialect, Yoruba.

He is popularly known by the nickname, CDQ and for singing in his local dialect, Yoruba. CDQ came to the limelight after releasing his official debut single, Nowo E Soke, featuring Wizkid.

After that, he collaborated with Masterkraft and Olamide to drop the hit single, Indomie. The song helped CDQ win an award at the 2016 Nigeria Music Video Awards.

Career
In 2008, at the age of twenty-three, CDQ started making music professionally. He worked as a backup singer to Dagrin for some time before rapping in English with M.I Abaga.

Things took a positive turn for CDQ in December 2012 when he won a rap battle at the Weekly Industry Nite. This brought success his way as Masterkraft offered him a record deal which he accepted. This was in 2013.

2014 was the year CDQ became a household name in the country. He released his hit single, Indomie featuring vocals from Olamide. For the remix of the song, he collaborated with Afrobeats singer, Davido. The song was produced by ace producer, Masterkraft.

He recorded another commercial success with the song, Nowo E Soke featuring Wizkid. The song was the leading single off his debut album, Quality. The single, which won Best Afro Hip-Hop Video at the 2016 Nigeria Music Video Awards, was shot and directed by Unlimited L.A. His debut album was released in 2015.

After the expiration of his contract with General Records, he launched his own record label, N.S.N.S (No Struggle No Success Entertainment), on the 11th Of November 2016. His first single under the label is titled, Sai Baba.

Notable songs from CDQ's debut album, Quality are Woos Wobi, Oobi, Salaro, Talosobe, First Come First Serve, Make We Run.

In 2018, he dropped the top-charting songs: Warey yo, Gbayi, Shey Normal, Flex, Aye and Onye Eze. His second studio album, titled Ibile Mugabe, was released in 2019.

CDQ teamed up with Wande Coal to release the trendy song, Kogbede in 2021.

Follow Boomplay and keep up-to-date with the latest CDQ songs and information.

CDQ Songs
• Ogini Ft. Runtown
• Indomie ft. Olamide
• Indomie Remix ft. Olamide, Davido
• Salaro
• Talosobe
• Nowo E Soke
• First Come First Serve
• Make We Run ft. Wizkid
• Ko Funny Ft. Davido
• Say Baba Remix Ft. DJ Maphroisa
• Bye Bye Party
• Werey Yo

Awards & Nominations
2015
• Nominated for Best artiste to watch and best collaboration of the year at 2015 Nigerian Entertainment Awards.
• Nominated for Best street Hop artiste at the Headies Awards.

2016
• Nomianted for Best Hip hop artist at Soundcity Movie awards
• Won Best Afro hip hop videos "Nowo E Soke" at Nigerian Music videos awards.

2017
• Won Best street hop artiste at Ghana Naija showbiz awards
• Nominated for Next superstar on the Roll at the Ghana Naija Showbiz award.

CDQ songs are included in Boomplay music playlists. Search to stream and download CDQ songs MP3/ single/ albums on the platform.
FAQs about CDQ
Where is CDQ from?
He is from Nigeria.
How to download songs of CDQ?
You can download songs of CDQ from Boomplay App for free.
Firstly, install Boomplay app on your mobile phone.
Secondly, navigate to the song you would like to download.
Thirdly, Tap on More > Download.