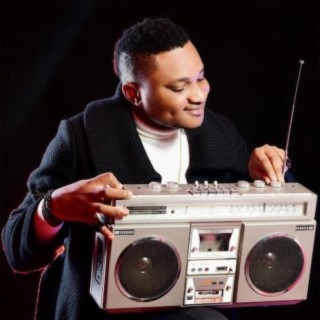 Masterkraft
Current #2,840

All Time #866

Masterkraft with the actual name Sunday Ginikachukwu Nweka is a famous Nigerian entertainer, disc jockey, songwriter, and record producer. Many of Masterkraft songs become very popular and trendy online with a great number of streaming and downloads on Boomplay. He rose to stardom after signing with one of the biggest record labels known as Kennis Music.

He was born in one of the busiest places in Lagos State, known as Ajegunle, from an average family. He originates from the Ibo tribe in Enugu State, South-east Nigeria. Masterkraft, at a young age, was very intelligent and wanted to be an Accountant. Despite coming from a poor background, he worked so hard in school that he came top among the students in his school known as Ajeromi Ifelodun Local Government School, Ajegunle, in the common entrance exam and was offered a scholarship by the government.

Unfortunately, his uneducated and ignorant parents didn't know what the scholarship meant; thus, they rejected the opportunity. Masterkraft's dream of becoming an accountant was shattered at that moment, but the superstar kept pushing forward nonetheless.

His father died while he was still young, creating a huge vacuum to fill in the family and years of hardship. He had to do manual jobs to provide for his family and himself.

Career
Masterkraft started an extraordinary career as a DJ playing as a junior choir member for his church at a very tender age. The path in which he took for a career as a professional DJ was very rough. This was majorly caused by his father's untimely death, which made him hustle hard on the streets of Lagos with manual jobs and, at the same time, keeping his head straight towards achieving his dream of becoming a DJ.

Masterkraft was shown on him in 2009 after he got a deal to sign for one of the major record labels in Nigeria known as Kennis Music as an official DJ. He didn't relent on his efforts, not even after he met with Nigeria's most prominent rapper, MI Abaga who later introduced him to another big artist in the music industry known as Banky W.

Masterkraft gained more momentum and was responsible for hits songs in Nigeria, such as; "Girl" by Bracket featuring Wizkid, Fine Lady featuring Lynxx and Wizkid, Jasi by Bank W, and a host of other hit songs.

He became more pronounced after producing the hit dance song, Indomie by Olamide alongside Yoruba rapper, CDQ. Masterkraft is a versatile music producer that is well recognized in Nigeria and beyond. Sources state that he charges nothing less than five hundred thousand nairas to produce a song and three hundred thousand to perform on stage.

Follow Boomplay and keep up-to-date with the latest Masterkraft songs and information.

Masterkraft Songs
Since starting his career professionally in 2009, Masterkraft has produced other hits in collaboration with top artists. Some of which includes:
• The Tape, 2017
• Ahead Ahead
• Finally
• YAPA REMIX
• I Go Dance
• Odoo
• Funkie
• Low Waist
• Egwu
• Far Away
• Remember (EP)
• Olohungo
• Indomie
• Oja
• Turn down For
• Shawarma
• Hello
• Glo
• No chi
• Items
• Never Alone
• Roll UR Boat
• Salsa
• Ase
• Fine Lady by Lynxxx featuring Wizkid,
• Kwarikwa (Remix) by Flavour N'abania featuring Fally Ipupa
• Girl by Bracket featuring Wizkid
• Chinny Baby by Flavour N'abania
• Ukwu by Timaya
• Jasi by Banky W
• Wizkid's song No Lele
• Goldie's single titled Jawo
• Jaywon's single titled File
• Sound Sultan featuring Banky W song titled, Very Good Bad Guy

Achievement
• Masterkraft was nominated as "Music producer of the year" at the Nigerian Entertainment Awards 2013.
• In 2015, he was nominated as "Producer of the year" at The Headies.
• Music Producer of the year - City People Entertainment Awards, 2015.
• Music Producer of the year - at Nigeria Entertainment Awards, 2016.

Masterkraft songs are included in Boomplay music playlists. Search to stream and download Masterkraft songs MP3/ single/ albums on the platform....more

Country/Region : Nigeria
Songs

(57)

Albums

(10)

Playlists

(23)
1

2

3

4

5

6

7

8

9

10

11

12

13

14

15

16

17

18

19

20

21

22

23

24

25

26

27

28

29

30

31

32

33

34

35

36

37

38

39

40

41

42

43

44

45

46

47

48

49

50

51

52

53

54

55

56

57
Listen to Masterkraft's new songs including "Low Waist ft. Flavour & Duncan Mighty", "Master ft. Tamba Hali", "I Go Dance ft. Reekado Banks" and many more. Enjoy Masterkraft's latest songs and explore the Masterkraft's new music albums. If you want to download Masterkraft songs MP3, use the Boomplay App to download the Masterkraft songs for free. Discover Masterkraft's latest songs, popular songs, trending songs all on Boomplay.
Masterkraft with the actual name Sunday Ginikachukwu Nweka is a famous Nigerian entertainer, disc jockey, songwriter, and record producer. Many of Masterkraft songs become very popular and trendy online with a great number of streaming and downloads on Boomplay. He rose to stardom after signing with one of the biggest record labels known as Kennis Music.

He was born in one of the busiest places in Lagos State, known as Ajegunle, from an average family. He originates from the Ibo tribe in Enugu State, South-east Nigeria. Masterkraft, at a young age, was very intelligent and wanted to be an Accountant. Despite coming from a poor background, he worked so hard in school that he came top among the students in his school known as Ajeromi Ifelodun Local Government School, Ajegunle, in the common entrance exam and was offered a scholarship by the government.

Unfortunately, his uneducated and ignorant parents didn't know what the scholarship meant; thus, they rejected the opportunity. Masterkraft's dream of becoming an accountant was shattered at that moment, but the superstar kept pushing forward nonetheless.

His father died while he was still young, creating a huge vacuum to fill in the family and years of hardship. He had to do manual jobs to provide for his family and himself.

Career
Masterkraft started an extraordinary career as a DJ playing as a junior choir member for his church at a very tender age. The path in which he took for a career as a professional DJ was very rough. This was majorly caused by his father's untimely death, which made him hustle hard on the streets of Lagos with manual jobs and, at the same time, keeping his head straight towards achieving his dream of becoming a DJ.

Masterkraft was shown on him in 2009 after he got a deal to sign for one of the major record labels in Nigeria known as Kennis Music as an official DJ. He didn't relent on his efforts, not even after he met with Nigeria's most prominent rapper, MI Abaga who later introduced him to another big artist in the music industry known as Banky W.

Masterkraft gained more momentum and was responsible for hits songs in Nigeria, such as; "Girl" by Bracket featuring Wizkid, Fine Lady featuring Lynxx and Wizkid, Jasi by Bank W, and a host of other hit songs.

He became more pronounced after producing the hit dance song, Indomie by Olamide alongside Yoruba rapper, CDQ. Masterkraft is a versatile music producer that is well recognized in Nigeria and beyond. Sources state that he charges nothing less than five hundred thousand nairas to produce a song and three hundred thousand to perform on stage.

Follow Boomplay and keep up-to-date with the latest Masterkraft songs and information.

Masterkraft Songs
Since starting his career professionally in 2009, Masterkraft has produced other hits in collaboration with top artists. Some of which includes:
• The Tape, 2017
• Ahead Ahead
• Finally
• YAPA REMIX
• I Go Dance
• Odoo
• Funkie
• Low Waist
• Egwu
• Far Away
• Remember (EP)
• Olohungo
• Indomie
• Oja
• Turn down For
• Shawarma
• Hello
• Glo
• No chi
• Items
• Never Alone
• Roll UR Boat
• Salsa
• Ase
• Fine Lady by Lynxxx featuring Wizkid,
• Kwarikwa (Remix) by Flavour N'abania featuring Fally Ipupa
• Girl by Bracket featuring Wizkid
• Chinny Baby by Flavour N'abania
• Ukwu by Timaya
• Jasi by Banky W
• Wizkid's song No Lele
• Goldie's single titled Jawo
• Jaywon's single titled File
• Sound Sultan featuring Banky W song titled, Very Good Bad Guy

Achievement
• Masterkraft was nominated as "Music producer of the year" at the Nigerian Entertainment Awards 2013.
• In 2015, he was nominated as "Producer of the year" at The Headies.
• Music Producer of the year - City People Entertainment Awards, 2015.
• Music Producer of the year - at Nigeria Entertainment Awards, 2016.

Masterkraft songs are included in Boomplay music playlists. Search to stream and download Masterkraft songs MP3/ single/ albums on the platform.