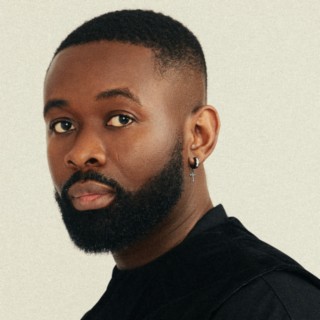 Sarz
Current #3,612

All Time #1,743

Osabuohien Osaretin (born March 17, 1989), better known by his stage name Sarz, is a Nigerian record producer and musician. Many of Sarz songs become very popular and trendy online with great number of streaming and downloads on Boomplay. Born in Benin City, Edo State, he is popularly known for the tag Sarz On The Beat/"Really", at the beginning or end of all his music productions.

Follow Boomplay and keep up-to-date with latest Sarz songs and information.

Career:
Sarz began with working with up & coming acts while trying to polish his craft.

His came through professionally in 2007 for his production of Lord of Ajasa's "See Drama".

He went on to produced lots of hits such as "Kondo" by late Dagrin, Shank's "King Kong", YQ's "I Like Girls" and "Joor" by Jahbless.

Ever since Sarz came to limelight, he has been coming up with numerous hits such as: Skales "Mukulu", Reminisce "Kako Bi Chicken", Wizkid's "Come Closer" and "Jaiya Jaiye", Nioniola's "Maradona" and many others.
.
Achievement:
Sraz has won several awards such as: Music Producer of the Year at the Dynamix Awards and City People Awards (2012).

He has also got nominations which include:Song of the Year at Nigerian Entertainment Awards (2013), Producer of the Year at South South Music Awards and African Producer of the Year SoundCity MVP Awards.

Sarz Songs:
• Good Morning Riddim
• Get Up
• Celetronic Riddim
• MAD ft. WurlD
• Beat of Life
• Legwork Riddim
• Inbox Riddim
• EGO
• Sade
• Ise Yen
• Sweat
• Bad Energy
• Focus
• Samba
• Tofunmi
• Shoknorris
.
Net worth:
Sarz isone of the most influential Nigerian music producer with an estimated net Worth is said to be between $1 million.

Sarz songs are included in Boomplay music playlists. Search to stream and download Sarz songs MP3/ single/ albums on the platform....more

Country/Region : Nigeria
Listen to Sarz's new songs including "Get Up ft. DJ Tunez", "Beat Of Life (Samba) ft. Wizkid", "Good Morning Riddim" and many more. Enjoy Sarz's latest songs and explore the Sarz's new music albums. If you want to download Sarz songs MP3, use the Boomplay App to download the Sarz songs for free. Discover Sarz's latest songs, popular songs, trending songs all on Boomplay.
Osabuohien Osaretin (born March 17, 1989), better known by his stage name Sarz, is a Nigerian record producer and musician. Many of Sarz songs become very popular and trendy online with great number of streaming and downloads on Boomplay. Born in Benin City, Edo State, he is popularly known for the tag Sarz On The Beat/"Really", at the beginning or end of all his music productions.

Follow Boomplay and keep up-to-date with latest Sarz songs and information.

Career:
Sarz began with working with up & coming acts while trying to polish his craft.

His came through professionally in 2007 for his production of Lord of Ajasa's "See Drama".

He went on to produced lots of hits such as "Kondo" by late Dagrin, Shank's "King Kong", YQ's "I Like Girls" and "Joor" by Jahbless.

Ever since Sarz came to limelight, he has been coming up with numerous hits such as: Skales "Mukulu", Reminisce "Kako Bi Chicken", Wizkid's "Come Closer" and "Jaiya Jaiye", Nioniola's "Maradona" and many others.
.
Achievement:
Sraz has won several awards such as: Music Producer of the Year at the Dynamix Awards and City People Awards (2012).

He has also got nominations which include:Song of the Year at Nigerian Entertainment Awards (2013), Producer of the Year at South South Music Awards and African Producer of the Year SoundCity MVP Awards.

Sarz Songs:
• Good Morning Riddim
• Get Up
• Celetronic Riddim
• MAD ft. WurlD
• Beat of Life
• Legwork Riddim
• Inbox Riddim
• EGO
• Sade
• Ise Yen
• Sweat
• Bad Energy
• Focus
• Samba
• Tofunmi
• Shoknorris
.
Net worth:
Sarz isone of the most influential Nigerian music producer with an estimated net Worth is said to be between $1 million.

Sarz songs are included in Boomplay music playlists. Search to stream and download Sarz songs MP3/ single/ albums on the platform.
New Comments(
47

)
FAQs about Sarz
Where is Sarz from?
He is from Nigeria.
How to download songs of Sarz?
You can download songs of Sarz from Boomplay App for free.
Firstly, install Boomplay app on your mobile phone.
Secondly, navigate to the song you would like to download.
Thirdly, Tap on More > Download.