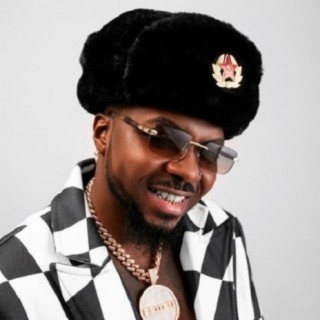 Skiibii
Current #627

All Time #72

Abbey Toheeb Elias who is well known as Skiibii or Oracle or Skiibii Mayana is a Nigerian singer and songwriter. Many of Skiibii songs become very popular and trendy online with a great number of streaming and downloads on Boomplay.

He was born on the 5th of July, 1992, and hails from Lagos State. He was born in Surulere, Lagos State, Nigeria where he spent his formative years.

Career
Skiibii's music career started off while he was still in secondary school in Lagos. Then he was a rapper but switched to singing due to its popularity at the time. His decision to go into music didn't sit well with his father who didn't hide his displeasure and disapproval for his son's career choice at the time. With time, Skiibii was able to get his father's support and approval for his career choice.

On how he got the stage name 'Skiibii', he revealed that his Uncle was fond of calling him 'Omo to Skiibii' and when he asked his uncle what he meant by Skiibii, his Uncle told him that it means 'A sharp and smart person'. He went on to pick the name Skiibii as his stage name and he disclosed that 'Mayana' is a Spanish word that means tomorrow or the future.

Skiibii's career picked up in 2014 when Nigerian business tycoon, E-Money and his brother, singer-songwriter - Kcee signed him to the record label 'Five Star Music' on the 24th of December, 2014. As part of the signing, he got a brand new 2014 Hyundai SUV. Prior to his signing, he had been affiliated with the Five Star Music general, Kcee as far back as when he was still with his previous partner, Presh.

On the 21st of January, 2015, Skiibii released his debut single for Five Star Music titled 'Stay With Me' featuring his record label partner, Kcee.

After releasing a couple of singles under Five Star Music, four years later, Skiibii ceremoniously left Five Star Music in January 2018 and launched his own record label, More Grace Music World.

In October 2018, Skiibii got his first mega-hit record with the release of Sensima featuring his best friend in the music industry, Reekado Banks. Skiibii revealed in an interview with Pulse Nigeria that he used his house rent to shoot the music video for Sensima just a few days to the expiration of his house rent and the music video has now garnered over 53 million views on YouTube since its release. He also disclosed that the record 'Sensima' made him over 15 million Naira in the first three months of its release.

Since then Skiibii has continued to drop bangers upon bangers, continued to grow his brand, and even got the attention of American Grammy award-winning singer and songwriter, Chris Brown who followed him on Instagram at the time when he was still following people on Instagram and also facetimed him. Skiibii released his debut body of work 'God Is Bigger Than Man' EP on the 26th of November, 2021. The EP had seven songs.

Follow Boomplay and keep up-to-date with the latest Skiibii songs and information.

Skiibii Songs
• Albums/EP
• God Is Bigger Than Man (EP)
• Singles
• Trenches
• Baddest Boy (US Remix) (ft. Tory Lanez)
• Baddest Boy (Remix) (ft. Davido)
• Baddest Boy
• Bygone
• Are You Vhere?
• Facetime (Peter Pann & Skiibii)
• Banger (ft. Reekado Banks)
• Adura (Skiibii & Terry G)
• Bless Me(Nextee & Skiibii)
• Big Engine
• Daz How Star Do (ft. Falz, Teni & DJ Neptune)
• Sensima (Loco Fefo) [Remix] (ft. Italian Somali, Dubosky)
• Omaema
• Sensima (ft. Reekado Banks)
• Gara
• Skibobo (ft. D-Tunes)
• Ogume
• Moon & back
• London (ft. Reekado Banks)
• Ah Skiibii (Remix) (ft. Olamide)
• Ah Skiibii
• Aye Mi
• Ebeano (Skiibii, Kcee & Harrysong)
• Sampu
• Stay With Me (ft. Kcee)

Skiibii songs are included in Boomplay music playlists. Search to stream and download Skiibii songs MP3/ single/ albums on the platform....more

Country/Region : Nigeria
Listen to Skiibii's new songs including "Baddest Boy", "Banger ft. Reekado Banks", "CBN X Seyi Vibez, Teni, Mayorkun and Reekado Banks" and many more. Enjoy Skiibii's latest songs and explore the Skiibii's new music albums. If you want to download Skiibii songs MP3, use the Boomplay App to download the Skiibii songs for free. Discover Skiibii's latest songs, popular songs, trending songs all on Boomplay.
Abbey Toheeb Elias who is well known as Skiibii or Oracle or Skiibii Mayana is a Nigerian singer and songwriter. Many of Skiibii songs become very popular and trendy online with a great number of streaming and downloads on Boomplay.

He was born on the 5th of July, 1992, and hails from Lagos State. He was born in Surulere, Lagos State, Nigeria where he spent his formative years.

Career
Skiibii's music career started off while he was still in secondary school in Lagos. Then he was a rapper but switched to singing due to its popularity at the time. His decision to go into music didn't sit well with his father who didn't hide his displeasure and disapproval for his son's career choice at the time. With time, Skiibii was able to get his father's support and approval for his career choice.

On how he got the stage name 'Skiibii', he revealed that his Uncle was fond of calling him 'Omo to Skiibii' and when he asked his uncle what he meant by Skiibii, his Uncle told him that it means 'A sharp and smart person'. He went on to pick the name Skiibii as his stage name and he disclosed that 'Mayana' is a Spanish word that means tomorrow or the future.

Skiibii's career picked up in 2014 when Nigerian business tycoon, E-Money and his brother, singer-songwriter - Kcee signed him to the record label 'Five Star Music' on the 24th of December, 2014. As part of the signing, he got a brand new 2014 Hyundai SUV. Prior to his signing, he had been affiliated with the Five Star Music general, Kcee as far back as when he was still with his previous partner, Presh.

On the 21st of January, 2015, Skiibii released his debut single for Five Star Music titled 'Stay With Me' featuring his record label partner, Kcee.

After releasing a couple of singles under Five Star Music, four years later, Skiibii ceremoniously left Five Star Music in January 2018 and launched his own record label, More Grace Music World.

In October 2018, Skiibii got his first mega-hit record with the release of Sensima featuring his best friend in the music industry, Reekado Banks. Skiibii revealed in an interview with Pulse Nigeria that he used his house rent to shoot the music video for Sensima just a few days to the expiration of his house rent and the music video has now garnered over 53 million views on YouTube since its release. He also disclosed that the record 'Sensima' made him over 15 million Naira in the first three months of its release.

Since then Skiibii has continued to drop bangers upon bangers, continued to grow his brand, and even got the attention of American Grammy award-winning singer and songwriter, Chris Brown who followed him on Instagram at the time when he was still following people on Instagram and also facetimed him. Skiibii released his debut body of work 'God Is Bigger Than Man' EP on the 26th of November, 2021. The EP had seven songs.

Follow Boomplay and keep up-to-date with the latest Skiibii songs and information.

Skiibii Songs
• Albums/EP
• God Is Bigger Than Man (EP)
• Singles
• Trenches
• Baddest Boy (US Remix) (ft. Tory Lanez)
• Baddest Boy (Remix) (ft. Davido)
• Baddest Boy
• Bygone
• Are You Vhere?
• Facetime (Peter Pann & Skiibii)
• Banger (ft. Reekado Banks)
• Adura (Skiibii & Terry G)
• Bless Me(Nextee & Skiibii)
• Big Engine
• Daz How Star Do (ft. Falz, Teni & DJ Neptune)
• Sensima (Loco Fefo) [Remix] (ft. Italian Somali, Dubosky)
• Omaema
• Sensima (ft. Reekado Banks)
• Gara
• Skibobo (ft. D-Tunes)
• Ogume
• Moon & back
• London (ft. Reekado Banks)
• Ah Skiibii (Remix) (ft. Olamide)
• Ah Skiibii
• Aye Mi
• Ebeano (Skiibii, Kcee & Harrysong)
• Sampu
• Stay With Me (ft. Kcee)

Skiibii songs are included in Boomplay music playlists. Search to stream and download Skiibii songs MP3/ single/ albums on the platform.
New Comments(
98

)
FAQs about Skiibii
Where is Skiibii from?
He is from Nigeria.
How to download songs of Skiibii?
You can download songs of Skiibii from Boomplay App for free.
Firstly, install Boomplay app on your mobile phone.
Secondly, navigate to the song you would like to download.
Thirdly, Tap on More > Download.