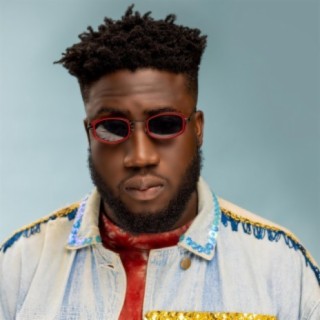 Gidochi
Current #15.5k

All Time #16.4k

Versatile Ghanaian artiste, Gideon Alabi, aka Gidochi was born on 27th July 1992. His unique style is rooted in afro beat, afro-fusion, pop, highlife and soul music. Many of Gidochi songs become very popular and trendy online with a great number of streaming and downloads on Boomplay.

Career
In 2018, he featured alongside Ghanaian rapper Sarkodie in Jetey's "Famame". Gidochi released his debut single "With You" in 2019 and followed that up with "High with Me", which featured Ghanaian dance hall artiste Stonebwoy. His single ''High Me'' featuring Stonebwoy earned him a name on the music scene. Gidochi is a recording artist signed to Supernova Records.

Follow Boomplay and keep up to date with the latest Gidochi songs and information.

Gidochi Songs
• Mixed Feelings (Album)
• Honor
• Shuperu
• Don't Do
• You
• I Wish
• XXL
• High With Me

Gidochi songs are included in Boomplay music playlists. Search to stream and download Gidochi songs MP3/ single/ albums on the platform....more

Country/Region : Ghana
Listen to Gidochi's new songs including "High With Me ft. Stonebwoy", "XXL", "You P3" and many more. Enjoy Gidochi's latest songs and explore the Gidochi's new music albums. If you want to download Gidochi songs MP3, use the Boomplay App to download the Gidochi songs for free. Discover Gidochi's latest songs, popular songs, trending songs all on Boomplay.
Versatile Ghanaian artiste, Gideon Alabi, aka Gidochi was born on 27th July 1992. His unique style is rooted in afro beat, afro-fusion, pop, highlife and soul music. Many of Gidochi songs become very popular and trendy online with a great number of streaming and downloads on Boomplay.

Career
In 2018, he featured alongside Ghanaian rapper Sarkodie in Jetey's "Famame". Gidochi released his debut single "With You" in 2019 and followed that up with "High with Me", which featured Ghanaian dance hall artiste Stonebwoy. His single ''High Me'' featuring Stonebwoy earned him a name on the music scene. Gidochi is a recording artist signed to Supernova Records.

Follow Boomplay and keep up to date with the latest Gidochi songs and information.

Gidochi Songs
• Mixed Feelings (Album)
• Honor
• Shuperu
• Don't Do
• You
• I Wish
• XXL
• High With Me

Gidochi songs are included in Boomplay music playlists. Search to stream and download Gidochi songs MP3/ single/ albums on the platform.
New Comments(
0

)

What do you think of this artist?
FAQs about Gidochi
Where is Gidochi from?
He is from Ghana.
What are the best songs of Gidochi?
The best songs of Gidochi are High With Me ft. Stonebwoy and XXL.
What are the best albums of Gidochi?
The best albums of Gidochi are Mixed Feelings, High With Me ft. Stonebwoy and You P3.
How to download songs of Gidochi?
You can download songs of Gidochi from Boomplay App for free.
Firstly, install Boomplay app on your mobile phone.
Secondly, navigate to the song you would like to download.
Thirdly, Tap on More > Download.