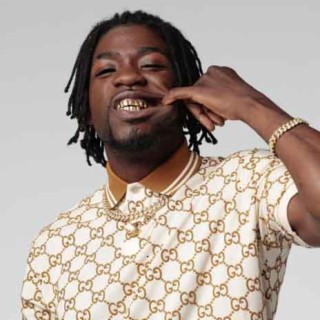 Gazo
Current #440

All Time #167

Gazo est un rappeur d'origine guinéenne basé en France. Originaire de Saint-Denis (93), il rappe depuis son plus jeune âge et possède actuellement son propre label, BSB. Selon certaines sources, il ferait partie d'un gang auquel il fait souvent référence dans ses morceaux, le MaLaGangX.

Placé en foyer éducatif à 12 ans, puis contraint d'effectuer, à 2 reprises, un séjour en maison d'arrêt dès l'âge de 17 ans, ce n'est qu'une fois majeur que celui qui se faisait appeler dans le passé Bramsou se lance véritablement dans le rap. Après avoir débuté sur des productions de trap, il trouve finalement de meilleures perspectives sur des beats de drill, et troque Bramsou pour Gazo.

Gazo projette sa voix grave et un flow sombre sur des instrumentales caractéristiques de la drill, et semble s'inspirer des piliers américains du genre, tel Pop Smoke. C'est ainsi que courant octobre 2019, le rappeur francilien commence une série de morceaux Drill FR, surfant sur la vague du genre qui se développe peu à peu en France à ce moment-ci. Il rencontre un certain succès lors des 1ers opus, puis collabore avec des artistes installés, à l'instar de Freeze Corleone et d'Hamza.

En août 2020, Gazo signe un contrat avec un label fraîchement débarqué dans l'hexagone, Epic Records France. Kaaris l'invite sur le titre Five-O et Gims sur Oro Jackson extrait de son album, Le fléau…

Le 26 février 2021, Gazo sort son 1er projet, une 1ère mix-tape logiquement baptisée Drill FR. 15 tracks sur lequel on retrouve tout de même 8 invités, dont Hamza sur le fameux Drill FR 5, ainsi que Tiakola et le titre Kassav, qui avaient tous 2 été dévoilés en amont de la sortie du projet. Outre ces 2 têtes d'affiche, Gazo a aussi convié Landy, Luciano, Franglish, Hache-P, Salieu ainsi qu'Unknow T....more

Country/Region : France
Songs

(2)

Albums

(2)

Playlists

(0)

Videos and More
Videos (0)
Similar Artists (10)
Listen to Gazo's new songs including "Drill FR 4 ft. Freeze Corleone", "Drill time", and many more. Enjoy Gazo's latest songs and explore the Gazo's new music albums. If you want to download Gazo songs MP3, use the Boomplay App to download the Gazo songs for free. Discover Gazo's latest songs, popular songs, trending songs all on Boomplay.
Gazo est un rappeur d'origine guinéenne basé en France. Originaire de Saint-Denis (93), il rappe depuis son plus jeune âge et possède actuellement son propre label, BSB. Selon certaines sources, il ferait partie d'un gang auquel il fait souvent référence dans ses morceaux, le MaLaGangX.

Placé en foyer éducatif à 12 ans, puis contraint d'effectuer, à 2 reprises, un séjour en maison d'arrêt dès l'âge de 17 ans, ce n'est qu'une fois majeur que celui qui se faisait appeler dans le passé Bramsou se lance véritablement dans le rap. Après avoir débuté sur des productions de trap, il trouve finalement de meilleures perspectives sur des beats de drill, et troque Bramsou pour Gazo.

Gazo projette sa voix grave et un flow sombre sur des instrumentales caractéristiques de la drill, et semble s'inspirer des piliers américains du genre, tel Pop Smoke. C'est ainsi que courant octobre 2019, le rappeur francilien commence une série de morceaux Drill FR, surfant sur la vague du genre qui se développe peu à peu en France à ce moment-ci. Il rencontre un certain succès lors des 1ers opus, puis collabore avec des artistes installés, à l'instar de Freeze Corleone et d'Hamza.

En août 2020, Gazo signe un contrat avec un label fraîchement débarqué dans l'hexagone, Epic Records France. Kaaris l'invite sur le titre Five-O et Gims sur Oro Jackson extrait de son album, Le fléau…

Le 26 février 2021, Gazo sort son 1er projet, une 1ère mix-tape logiquement baptisée Drill FR. 15 tracks sur lequel on retrouve tout de même 8 invités, dont Hamza sur le fameux Drill FR 5, ainsi que Tiakola et le titre Kassav, qui avaient tous 2 été dévoilés en amont de la sortie du projet. Outre ces 2 têtes d'affiche, Gazo a aussi convié Landy, Luciano, Franglish, Hache-P, Salieu ainsi qu'Unknow T.
New Comments(
70

)
FAQs about Gazo
Where is Gazo from?
He is from France.
What are the latest songs of Gazo?
The latest songs of Gazo are NO LÈCHE ft. Favé, Kerchak & Leto and B O N & M A U V A I S ft. Tayc.
What are the best songs of Gazo?
The best songs of Gazo are MOLLY - A COLORS SHOW, DIE and FLEURS ft. Tiakola.
What are the best albums of Gazo?
The best albums of Gazo are KMT, MOLLY - A COLORS SHOW and Drill FR 4.
How to download songs of Gazo?
You can download songs of Gazo from Boomplay App for free.
Firstly, install Boomplay app on your mobile phone.
Secondly, navigate to the song you would like to download.
Thirdly, Tap on More > Download.