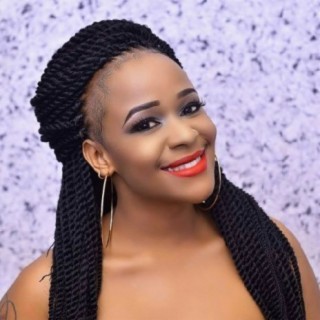 Linah
Current #13.5k

All Time #8,032

Estarlina Sanga higher referred to as Linah is a Tanzanian musician was remarked in an exceedingly strict Christian family. She is the third born of Pastor Peter Sanga's family. Linah started singing back at school.

By the time she was 9 years ago, Linah joined the church choir and was the lead for a moment. Many Lina's songs become very popular and trendy online with a great number of streaming and downloads on Boomplay.

CAREER
At a young age, her voice became recognizable and in 2009, one veteran musician Remmy Ogala of Super Matimila Band recognized her whereas singing in church and was affected. For that he invited her to sing in her band.

Her stunning voice additionally created her a darling to fans whereas at the band. Later that year, she joined the Tanzania House Of Talent (THT) and have become a rapid adept once her 1st hit 'Nimekukimbilia'.

Soon after, Linah became a sensation and commenced obtaining collaboration requests from alternative music stars.

By 2010 and 2011, she had already got requests for collaborations with Barnabas, Son solfa syllable and Amini.

By 2013, she had worked with many alternative artistes that include: with Country Boy, Khadija and mountain politico.

In 2014, she featured in Diamond Platnumz's 'Kizaizai' remix.

ACHIEVEMENT
Being around for many years, Linah has received a variety of awards and recognitions from many bodies.

In 2015, she was appointed as Best feminine creative person in geographic region and Best African modern creative person in any respect African Music Awards (AFRIMA) control in Lagos African country.

Outside music, not a lot of thought about Linah's personal life. However, reports indicate that she encompasses a female offspring.

Follow Boomplay and keep up-to-date with the latest Lina's songs and information.

LINA'S SONGS:
• Kilegeze ft. Dogo Janja
• No stress
• Ole Themba
• Hello foot Christian Bella
• I am proud
• Koleza Short foot Gnako
• At least
• Atataman
• Better Run
• My tears

The illustrious musician is nevertheless to in public address the problem of her price. As such, it's not clear what quantity is price.

Lina's songs are included in Boomplay music playlists. Search to stream and download Lina's songs MP3/Single/Albums on the platform....more

Country : Tanzania
Songs

(15)

Albums

(7)

Playlists

(5)
1

2

3

4

5

6

7

8

9

10

11

12

13

14

15
Listen to Linah's new songs including "Kilegeze ft. Dogo Janja", "Koleza", "Lonely" and many more. Enjoy Linah's latest songs and explore the Linah's new music albums. If you want to download Linah songs MP3, use the Boomplay App to download the Linah songs for free. Discover Linah's latest songs, popular songs, trending songs all on Boomplay.
Estarlina Sanga higher referred to as Linah is a Tanzanian musician was remarked in an exceedingly strict Christian family. She is the third born of Pastor Peter Sanga's family. Linah started singing back at school.

By the time she was 9 years ago, Linah joined the church choir and was the lead for a moment. Many Lina's songs become very popular and trendy online with a great number of streaming and downloads on Boomplay.

CAREER
At a young age, her voice became recognizable and in 2009, one veteran musician Remmy Ogala of Super Matimila Band recognized her whereas singing in church and was affected. For that he invited her to sing in her band.

Her stunning voice additionally created her a darling to fans whereas at the band. Later that year, she joined the Tanzania House Of Talent (THT) and have become a rapid adept once her 1st hit 'Nimekukimbilia'.

Soon after, Linah became a sensation and commenced obtaining collaboration requests from alternative music stars.

By 2010 and 2011, she had already got requests for collaborations with Barnabas, Son solfa syllable and Amini.

By 2013, she had worked with many alternative artistes that include: with Country Boy, Khadija and mountain politico.

In 2014, she featured in Diamond Platnumz's 'Kizaizai' remix.

ACHIEVEMENT
Being around for many years, Linah has received a variety of awards and recognitions from many bodies.

In 2015, she was appointed as Best feminine creative person in geographic region and Best African modern creative person in any respect African Music Awards (AFRIMA) control in Lagos African country.

Outside music, not a lot of thought about Linah's personal life. However, reports indicate that she encompasses a female offspring.

Follow Boomplay and keep up-to-date with the latest Lina's songs and information.

LINA'S SONGS:
• Kilegeze ft. Dogo Janja
• No stress
• Ole Themba
• Hello foot Christian Bella
• I am proud
• Koleza Short foot Gnako
• At least
• Atataman
• Better Run
• My tears

The illustrious musician is nevertheless to in public address the problem of her price. As such, it's not clear what quantity is price.

Lina's songs are included in Boomplay music playlists. Search to stream and download Lina's songs MP3/Single/Albums on the platform.
New Comments(
22

)