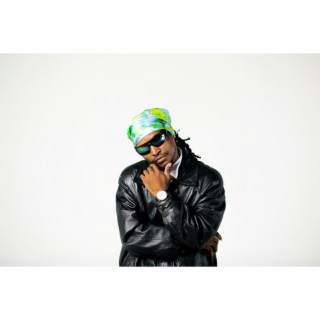 Barnaba
Current #490

All Time #595

Barnaba Classic formerly known as Elias Barnabas was born and raised in Moshi-Kilimanjaro Tanzania in the early 90s. Many of Barnaba Classic songs become very popular and trendy online with a great number of streaming and downloads on Boomplay.

He was born in a musical family, with his mother Maria A. Loice, a choir mistress, and his father Barnaba E being a pastor and a guitarist. Barnaba is the first among 3 siblings. Growing up in church with parents who loved music, Barnaba developed an interest in music and started off at a tender age. He performed on the streets, in churches and in school.

Career
In early 2000, Barnaba started off his musical career by vocals training in churches as earlier stated. Later on at the age of 17 years, one of his friends linked him up with Tanzania House of Talent to try out his luck in Hip hop music, but his interests changed after he was given a guitar.

In 2007, he registered to study music, and recorded his first hit 'Baby I Love You' the same year. A few months later, he dropped 'Njia panda' featuring fellow star Pipi. 'Njia Panda' introduced him to the Tanzanian music industry, and propelled him to stardom.

He proceeded to release several songs, and less than 5 years later he became a household name in the Tanzanian music industry and got several recognitions for the same. In addition to singing, Barnaba is widely known and boasts of exemplary song composition and guitar playing skills; where he's a master of the bass guitar and rhythm guitar. He also plays the piano.

Achievements
• Kilimanjaro Tanzania Music Awards (KTMA), for the 2011 Zouk/Rhumba category
• In 2012, he won the best male Vocalist
• In 2013 won the best Musician of the year

Follow Boomplay and keep up to date with the latest Barnaba Classic songs and information.

Barnaba Classic Songs
• Njia Panda
• Siri
• Washa
• Lover boy
• Wahalade
• Ngoma
• Nibembee
• Chausiku
• Sichomoi
• Isweke
• Hawajui
• Kizunguzungu
• Chuna buzi
• Anamalele

Barnaba Classic songs are included in Boomplay music playlists. Search to stream and download Barnaba Classic songs MP3/ single/ albums on the platform....more

Country/Region : Tanzania
Listen to Barnaba's new songs including "Hadithi ft. Diamond Platnumz", "Marry Me ft. Marioo", "Tamu ft. Nandy" and many more. Enjoy Barnaba's latest songs and explore the Barnaba's new music albums. If you want to download Barnaba songs MP3, use the Boomplay App to download the Barnaba songs for free. Discover Barnaba's latest songs, popular songs, trending songs all on Boomplay.
Barnaba Classic formerly known as Elias Barnabas was born and raised in Moshi-Kilimanjaro Tanzania in the early 90s. Many of Barnaba Classic songs become very popular and trendy online with a great number of streaming and downloads on Boomplay.

He was born in a musical family, with his mother Maria A. Loice, a choir mistress, and his father Barnaba E being a pastor and a guitarist. Barnaba is the first among 3 siblings. Growing up in church with parents who loved music, Barnaba developed an interest in music and started off at a tender age. He performed on the streets, in churches and in school.

Career
In early 2000, Barnaba started off his musical career by vocals training in churches as earlier stated. Later on at the age of 17 years, one of his friends linked him up with Tanzania House of Talent to try out his luck in Hip hop music, but his interests changed after he was given a guitar.

In 2007, he registered to study music, and recorded his first hit 'Baby I Love You' the same year. A few months later, he dropped 'Njia panda' featuring fellow star Pipi. 'Njia Panda' introduced him to the Tanzanian music industry, and propelled him to stardom.

He proceeded to release several songs, and less than 5 years later he became a household name in the Tanzanian music industry and got several recognitions for the same. In addition to singing, Barnaba is widely known and boasts of exemplary song composition and guitar playing skills; where he's a master of the bass guitar and rhythm guitar. He also plays the piano.

Achievements
• Kilimanjaro Tanzania Music Awards (KTMA), for the 2011 Zouk/Rhumba category
• In 2012, he won the best male Vocalist
• In 2013 won the best Musician of the year

Follow Boomplay and keep up to date with the latest Barnaba Classic songs and information.

Barnaba Classic Songs
• Njia Panda
• Siri
• Washa
• Lover boy
• Wahalade
• Ngoma
• Nibembee
• Chausiku
• Sichomoi
• Isweke
• Hawajui
• Kizunguzungu
• Chuna buzi
• Anamalele

Barnaba Classic songs are included in Boomplay music playlists. Search to stream and download Barnaba Classic songs MP3/ single/ albums on the platform.
New Comments(
88

)
FAQs about Barnaba
Where is Barnaba from?
He is from Tanzania.
How to download songs of Barnaba?
You can download songs of Barnaba from Boomplay App for free.
Firstly, install Boomplay app on your mobile phone.
Secondly, navigate to the song you would like to download.
Thirdly, Tap on More > Download.