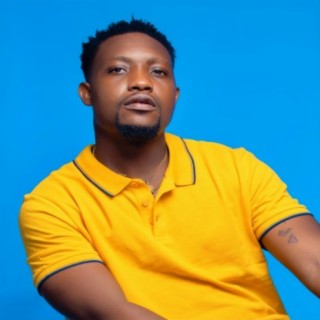 Jah Phinga
Current #3,435

All Time #4,743

Jah Phinga (born Jonathan Woelin Segbefia) is an Afro-Beatz, reggae and dancehall artist from Ghana. Many of Jah Phinga songs become very popular and trendy online with a great number of streaming and downloads on Boomplay.

Career
His musical journey began at age 11 and he has since become the best version of himself. Jah Phinga has recorded over 50 singles and has collaborated with such artists as Shatta Wale, Stoneboy and DiThree. He has been in the music scene for a while and has been consistent throughout the years. He's known for songs such as; Alikoto, Mawuko, Mekporwo, among others.

Jah Phinga's music is a million in one with a diversified style because he is the truest extension and expression of himself. He believes in originality and blends his lyrics with words from his mother tongue; Ewe, so people will be aware of where he hails from, the Volta Region of Ghana. He has countless singles to his credit which includes collaborations with top arts like; Ice Prince, Wyre, Ras Kuuku, Kelvin Boy, DiThree, Shatta Wale and many more.

Achievements
• In 2017, his song 'One World One People' was nominated at the 2017 All African Music Awards
• He won the Volta Music Awards Artiste of the year

Follow Boomplay and keep up to date with the latest Jah Phinga songs and information.

Jah Phinga Songs and Albums
• The Rebirth
• Alikoto
• Wo Deka
• Work n' Pray
• Afrikaans Only Me
• Evege
• Mawuko
• Afrikaans Kpetsike
• Agbenyega

Jah Phinga songs are included in Boomplay music playlists. Search to stream and download Jah Phinga songs MP3/ single/ albums on the platform....more

Country/Region : Ghana
Songs

(25)

Albums

(13)

Playlists

(6)
1

2

3

4

5

6

7

8

9

10

11

12

13

14

15

16

17

18

19

20

21

22

23

24

25
Listen to Jah Phinga's new songs including "Ayifro", "Mekporwo ft. Remedie, Kpese Boii & Hot eme", "Alikoto (feat. Ice Prince)" and many more. Enjoy Jah Phinga's latest songs and explore the Jah Phinga's new music albums. If you want to download Jah Phinga songs MP3, use the Boomplay App to download the Jah Phinga songs for free. Discover Jah Phinga's latest songs, popular songs, trending songs all on Boomplay.
Jah Phinga (born Jonathan Woelin Segbefia) is an Afro-Beatz, reggae and dancehall artist from Ghana. Many of Jah Phinga songs become very popular and trendy online with a great number of streaming and downloads on Boomplay.

Career
His musical journey began at age 11 and he has since become the best version of himself. Jah Phinga has recorded over 50 singles and has collaborated with such artists as Shatta Wale, Stoneboy and DiThree. He has been in the music scene for a while and has been consistent throughout the years. He's known for songs such as; Alikoto, Mawuko, Mekporwo, among others.

Jah Phinga's music is a million in one with a diversified style because he is the truest extension and expression of himself. He believes in originality and blends his lyrics with words from his mother tongue; Ewe, so people will be aware of where he hails from, the Volta Region of Ghana. He has countless singles to his credit which includes collaborations with top arts like; Ice Prince, Wyre, Ras Kuuku, Kelvin Boy, DiThree, Shatta Wale and many more.

Achievements
• In 2017, his song 'One World One People' was nominated at the 2017 All African Music Awards
• He won the Volta Music Awards Artiste of the year

Follow Boomplay and keep up to date with the latest Jah Phinga songs and information.

Jah Phinga Songs and Albums
• The Rebirth
• Alikoto
• Wo Deka
• Work n' Pray
• Afrikaans Only Me
• Evege
• Mawuko
• Afrikaans Kpetsike
• Agbenyega

Jah Phinga songs are included in Boomplay music playlists. Search to stream and download Jah Phinga songs MP3/ single/ albums on the platform.
New Comments(
16

)