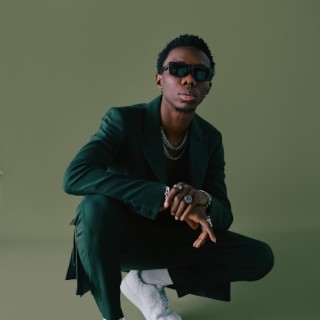 Blaqbonez
Current #498

All Time #1,400

Emeka Akumefule (born 29 January 1996), known professionally as Blaqbonez, is a Nigerian rapper. Many of Blaqbonez songs become very popular and trendy online with a great number of streaming and downloads on Boomplay.

Emeka was born on 29 January 1996, to an Igbo family, and grew up exposed to the Yoruba and Urhobo culture in Nigeria.Blaqbonez hails from Imo state, a state in south-eastern Nigeria dominated by the Igbo tribe.

He grew up with his mother, a pastor, in a Yoruba and Urhobo mixed environment. He had his tertiary education at Obafemi Awolowo University (OAU), where he read an Engineering course.

Career
He was 13 years old when he discovered he could rap, and his journey into music was a result of happenstance. He self-discovered his talent while listening to the radio with his cousin, when the song of a 12-year-old rapper was played. His cousin liked the song and challenged Blaqbonez to come up with his own lyrics, since he liked criticizing rappers. A few minutes later, he had enough bars for a verse, and that was where it all began. His parents were not in support of his newfound hobby, and he secretly pursued his passion. While in school, he dropped his first project, Hip-Hop in Blaq, and participated in competitions....more

Country/Region : Nigeria
Songs

(38)

Albums

(2)

Playlists

(23)
1

2

3

4

5

6

7

8

9

10

11

12

13

14

15

16

17

18

19

20

21

22

23

24

25

26

27

28

29

30

31

32

33

34

35

36

37

38
Listen to Blaqbonez's new songs including "Like Ice Spice (Mixed)", "Rambo (Remix) ft. Dremo & Vector", "Blaq Meets Evil ft. A-Q" and many more. Enjoy Blaqbonez's latest songs and explore the Blaqbonez's new music albums. If you want to download Blaqbonez songs MP3, use the Boomplay App to download the Blaqbonez songs for free. Discover Blaqbonez's latest songs, popular songs, trending songs all on Boomplay.
Emeka Akumefule (born 29 January 1996), known professionally as Blaqbonez, is a Nigerian rapper. Many of Blaqbonez songs become very popular and trendy online with a great number of streaming and downloads on Boomplay.

Emeka was born on 29 January 1996, to an Igbo family, and grew up exposed to the Yoruba and Urhobo culture in Nigeria.Blaqbonez hails from Imo state, a state in south-eastern Nigeria dominated by the Igbo tribe.

He grew up with his mother, a pastor, in a Yoruba and Urhobo mixed environment. He had his tertiary education at Obafemi Awolowo University (OAU), where he read an Engineering course.

Career
He was 13 years old when he discovered he could rap, and his journey into music was a result of happenstance. He self-discovered his talent while listening to the radio with his cousin, when the song of a 12-year-old rapper was played. His cousin liked the song and challenged Blaqbonez to come up with his own lyrics, since he liked criticizing rappers. A few minutes later, he had enough bars for a verse, and that was where it all began. His parents were not in support of his newfound hobby, and he secretly pursued his passion. While in school, he dropped his first project, Hip-Hop in Blaq, and participated in competitions.
New Comments(
74

)
FAQs about Blaqbonez
Where is Blaqbonez from?
He is from Nigeria.
How to download songs of Blaqbonez?
You can download songs of Blaqbonez from Boomplay App for free.
Firstly, install Boomplay app on your mobile phone.
Secondly, navigate to the song you would like to download.
Thirdly, Tap on More > Download.