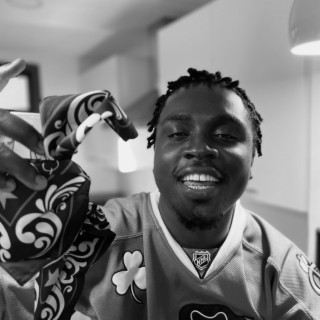 Kweku Smoke
Current #8,076

All Time #13.1k

Paul Amankwah known in showbiz as Kweku Smoke is a Ghanaian rapper who was born, raised and still hails in Ghana. He is one of the youngest successful artists in Ghana.

Many of Kweku's Songs became very popular and trendy on social media in line with a great number of streaming and downloads on Boomplay.

Career
Being the youngest child, Kweku Smoke's change in his career path started when his older brother had to take him along to the studio anytime he had to babysit him. His brother was an aspiring rapper and Kweku Smoke developed the interest in dropping bars too by watching his brother do his thing at home and in the studio.

After successfully going through school, Victory International for basic education, Benkum Senior High and finally KNUST, Kweku Smoke turned his full focus to music and started dropping freestyles under the name YRS before switching to Kweku Smoke and scoring that feature with Sarkodie.

While in Benkum Senior High, he and his friends, FlowMotion set up their own studio to make music. He first caught people's attention when Sarkodie, one of Ghana's biggest rappers openly endorsed him on social media. Since then, the two worked on a song, Yedin which instantly became popular and turned more Ghanaians into fans of the talented rapper, Kweku Smoke. In 2015, He dropped a song with Flowking Stone of Bradez which didn't do so well because of 'bad management' according to him.

In 2018 he used to drope freestyles under the name YRS and came 2019 when he met with Nana Boro in the studio, played some of his stuff for him and an impressed Nana Boro made his meeting with Sarkodie happen.

He has had controversies especially in 2019 when he accused Shatta Wale of stealing his song and making his goons beat him up when he tried to talk and settle things amicably. Kweku Smoke dropped what can pass as a diss track for Shatta after he was beaten up by his thugs.

Follow Boomplay and keep up-to-date with the latest songs of Kweku Smoke and information.

Kweku Smoke's Songs
• Pull Up
• Accraaa
• Fine Girl
• Time No Dey Yet
• Tonight
• Lost Title
• Do Or Die
• You dey talk
• Self Employed
• Lost Title
• Take Me Somewhere Happy
• HIK ( Highest in the room cover)
• Serious
• Akata ft Bosom P Yung
• Airhu ft Bosom P Yung

Dis Side ft Kofi Mole Kweku's Songs are included in Boomplay music playlists. Search, stream, and download Kweku's Songs, her latest singles and albums in MP3 only on the Boomplay platform for free....more

Country/Region : Ghana
Listen to Kweku Smoke's new songs including "Yedin ft Sarkodie", "Apakye ft Sarkodie", "Kwekuee" and many more. Enjoy Kweku Smoke's latest songs and explore the Kweku Smoke's new music albums. If you want to download Kweku Smoke songs MP3, use the Boomplay App to download the Kweku Smoke songs for free. Discover Kweku Smoke's latest songs, popular songs, trending songs all on Boomplay.
Paul Amankwah known in showbiz as Kweku Smoke is a Ghanaian rapper who was born, raised and still hails in Ghana. He is one of the youngest successful artists in Ghana.

Many of Kweku's Songs became very popular and trendy on social media in line with a great number of streaming and downloads on Boomplay.

Career
Being the youngest child, Kweku Smoke's change in his career path started when his older brother had to take him along to the studio anytime he had to babysit him. His brother was an aspiring rapper and Kweku Smoke developed the interest in dropping bars too by watching his brother do his thing at home and in the studio.

After successfully going through school, Victory International for basic education, Benkum Senior High and finally KNUST, Kweku Smoke turned his full focus to music and started dropping freestyles under the name YRS before switching to Kweku Smoke and scoring that feature with Sarkodie.

While in Benkum Senior High, he and his friends, FlowMotion set up their own studio to make music. He first caught people's attention when Sarkodie, one of Ghana's biggest rappers openly endorsed him on social media. Since then, the two worked on a song, Yedin which instantly became popular and turned more Ghanaians into fans of the talented rapper, Kweku Smoke. In 2015, He dropped a song with Flowking Stone of Bradez which didn't do so well because of 'bad management' according to him.

In 2018 he used to drope freestyles under the name YRS and came 2019 when he met with Nana Boro in the studio, played some of his stuff for him and an impressed Nana Boro made his meeting with Sarkodie happen.

He has had controversies especially in 2019 when he accused Shatta Wale of stealing his song and making his goons beat him up when he tried to talk and settle things amicably. Kweku Smoke dropped what can pass as a diss track for Shatta after he was beaten up by his thugs.

Follow Boomplay and keep up-to-date with the latest songs of Kweku Smoke and information.

Kweku Smoke's Songs
• Pull Up
• Accraaa
• Fine Girl
• Time No Dey Yet
• Tonight
• Lost Title
• Do Or Die
• You dey talk
• Self Employed
• Lost Title
• Take Me Somewhere Happy
• HIK ( Highest in the room cover)
• Serious
• Akata ft Bosom P Yung
• Airhu ft Bosom P Yung

Dis Side ft Kofi Mole Kweku's Songs are included in Boomplay music playlists. Search, stream, and download Kweku's Songs, her latest singles and albums in MP3 only on the Boomplay platform for free.
New Comments(
28

)
FAQs about Kweku Smoke
Where is Kweku Smoke from?
He is from Ghana.
How to download songs of Kweku Smoke?
You can download songs of Kweku Smoke from Boomplay App for free.
Firstly, install Boomplay app on your mobile phone.
Secondly, navigate to the song you would like to download.
Thirdly, Tap on More > Download.