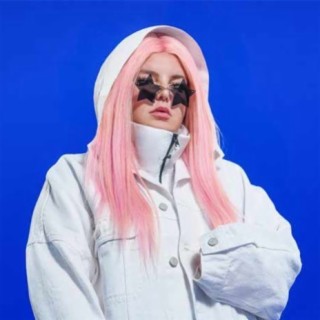 Tones And I
Current #3,946

All Time #4,405

Toni Watson, known professionally as Tones and I, is an Australian singer, songwriter, and record producer. Her breakout single, "Dance Monkey" released in May 2019 reached number one in over 30 countries, including Australia. Many of Tones and I Songs became very popular and trendy on social media in line with a great number of streaming and downloads on Boomplay.

Career
Toni Watson realized her singing abilities when she was probably like 7 years old. The singer-songwriter had learned to play keyboards and drum pads while at secondary school. She started busking in Melbourne, while working in fashion retail at the Universal Store.

In 2009, she created a YouTube page and posted a cappella cover versions of songs. She performed local gigs and festivals, she was the vocalist for a duo in 2014.

In September 2017, the singer-songwriter travelled to Byron Bay, New South Wales to try busking there. At an early performance, she met Jackson Walkden-Brown who became her manager about a month later. Her busking success led to a greater commitment to a music career. The artist spent 2018 living between Walkden-Brown's home in the Gold Coast hinterland and in her van in Byron Bay, writing music and busking full-time.

In February 2019, Tones and I signed to Bad Batch Records/Sony Music Australia alongside a co-management deal with Artists Only and Lemon Tree Music. In that month she uploaded her debut single, "Johnny Run Away", to Australian national youth radio station Triple J's website, Unearthed, which publishes the music of unsigned artists. "Johnny Run Away" was added to full rotation on Triple J the following week and received high ratings from staff.

On 10 May 2019, Tones and I released her second single, "Dance Monkey". It reached number one on the official music charts of over 30 countries, including Australia. she broke the record for the most weeks atop the ARIA Singles Chart by any artist, with 16 weeks. This was previously held by Ed Sheeran's "Shape of You" (15 weeks in 2017).

By mid-January 2020, "Dance Monkey" had spent 24 weeks at number one. In July 2019, she released a third single, "Never Seen the Rain", and followed with her six-track debut extended play, The Kids Are Coming on 30 August 2019.

On 1 February 2020 she started her Kids Are Coming World Tour with five Laneway Festival dates in Australia and seven dates in North America.

On 7 May 2020 Triple J premiered a new song, "We Can't Wait to Go Back to a Festival When This Is Over", as part of a COVID-19 self-isolation musical challenge, Quarantune. The singer's next single, "Fly Away", appeared in mid-November, and its first live performance occurred on 24 November at the Newcastle Civic Theatre.

Tones and I released her debut album Welcome to the Madhouse on 16 July 2021 via Bad Batch/Sony Music Australia. It includes the singles, "Fly Away", "Won't Sleep" and "Cloudy Day" (June 2021).

Achievements
Tones was the most awarded artist at the ARIA Music Awards of 2019, winning four of eight nominations. Her debut album, Welcome to the Madhouse debuted at number one on the ARIA Albums Chart. She received three further nominations For the 2020 ARIA Music Awards and joined an all-female ensemble for a tribute performance.

The album's lead single "Fly Away" peaked at number four in Australia and number 11 in the UK and Denmark and number 10 in Ireland. In 2018, she won the Battle of the Buskers at Buskers by the Creek. Her song "Dance Monkey" was the first Australian song to reach number one on Spotify's global daily top 200 streaming chart.

On 8 February 2020, it equalled Post Malone's "Rockstar" for the most days at number one on the same chart. As of 18 February 2020, "Dance Monkey" returned to the Spotify top spot and had spent 120 days at number one.

In May 2019, she broke the record for the biggest crowd of an opening set during her performance at the Big Pineapple Music Festival, as well as opening Splendour in the Grass.

On 20 May "Dance Monkey" reached 1 billion views on YouTube and It won the Grand Prize of the 2019 International Songwriting Competition, which was announced in May 2020.

Follow Boomplay and keep up-to-date with the latest songs of Tones and I and information.

Tones and I's Songs
• Dance Monkey
• Bad Child
• Fly Away
• Cloudy Day
• Eyes Don't Lie
• Never Seen The Rain
• Johnny Run Away
• Just A Mess
• Won't Sleep
• Lonely
• Westside Lobby
• You Don't Know My Name

Tones and I's Songs are included in Boomplay music playlists. Search, stream, and download Tones and I's Songs, her latest singles and albums in MP3 only on the Boomplay platform for free....more

Country : Australia
Songs

(0)

Albums

(0)

Playlists

(20)
Listen to Tones And I's new songs including and many more. Enjoy Tones And I's latest songs and explore the Tones And I's new music albums. If you want to download Tones And I songs MP3, use the Boomplay App to download the Tones And I songs for free. Discover Tones And I's latest songs, popular songs, trending songs all on Boomplay.
Toni Watson, known professionally as Tones and I, is an Australian singer, songwriter, and record producer. Her breakout single, "Dance Monkey" released in May 2019 reached number one in over 30 countries, including Australia. Many of Tones and I Songs became very popular and trendy on social media in line with a great number of streaming and downloads on Boomplay.

Career
Toni Watson realized her singing abilities when she was probably like 7 years old. The singer-songwriter had learned to play keyboards and drum pads while at secondary school. She started busking in Melbourne, while working in fashion retail at the Universal Store.

In 2009, she created a YouTube page and posted a cappella cover versions of songs. She performed local gigs and festivals, she was the vocalist for a duo in 2014.

In September 2017, the singer-songwriter travelled to Byron Bay, New South Wales to try busking there. At an early performance, she met Jackson Walkden-Brown who became her manager about a month later. Her busking success led to a greater commitment to a music career. The artist spent 2018 living between Walkden-Brown's home in the Gold Coast hinterland and in her van in Byron Bay, writing music and busking full-time.

In February 2019, Tones and I signed to Bad Batch Records/Sony Music Australia alongside a co-management deal with Artists Only and Lemon Tree Music. In that month she uploaded her debut single, "Johnny Run Away", to Australian national youth radio station Triple J's website, Unearthed, which publishes the music of unsigned artists. "Johnny Run Away" was added to full rotation on Triple J the following week and received high ratings from staff.

On 10 May 2019, Tones and I released her second single, "Dance Monkey". It reached number one on the official music charts of over 30 countries, including Australia. she broke the record for the most weeks atop the ARIA Singles Chart by any artist, with 16 weeks. This was previously held by Ed Sheeran's "Shape of You" (15 weeks in 2017).

By mid-January 2020, "Dance Monkey" had spent 24 weeks at number one. In July 2019, she released a third single, "Never Seen the Rain", and followed with her six-track debut extended play, The Kids Are Coming on 30 August 2019.

On 1 February 2020 she started her Kids Are Coming World Tour with five Laneway Festival dates in Australia and seven dates in North America.

On 7 May 2020 Triple J premiered a new song, "We Can't Wait to Go Back to a Festival When This Is Over", as part of a COVID-19 self-isolation musical challenge, Quarantune. The singer's next single, "Fly Away", appeared in mid-November, and its first live performance occurred on 24 November at the Newcastle Civic Theatre.

Tones and I released her debut album Welcome to the Madhouse on 16 July 2021 via Bad Batch/Sony Music Australia. It includes the singles, "Fly Away", "Won't Sleep" and "Cloudy Day" (June 2021).

Achievements
Tones was the most awarded artist at the ARIA Music Awards of 2019, winning four of eight nominations. Her debut album, Welcome to the Madhouse debuted at number one on the ARIA Albums Chart. She received three further nominations For the 2020 ARIA Music Awards and joined an all-female ensemble for a tribute performance.

The album's lead single "Fly Away" peaked at number four in Australia and number 11 in the UK and Denmark and number 10 in Ireland. In 2018, she won the Battle of the Buskers at Buskers by the Creek. Her song "Dance Monkey" was the first Australian song to reach number one on Spotify's global daily top 200 streaming chart.

On 8 February 2020, it equalled Post Malone's "Rockstar" for the most days at number one on the same chart. As of 18 February 2020, "Dance Monkey" returned to the Spotify top spot and had spent 120 days at number one.

In May 2019, she broke the record for the biggest crowd of an opening set during her performance at the Big Pineapple Music Festival, as well as opening Splendour in the Grass.

On 20 May "Dance Monkey" reached 1 billion views on YouTube and It won the Grand Prize of the 2019 International Songwriting Competition, which was announced in May 2020.

Follow Boomplay and keep up-to-date with the latest songs of Tones and I and information.

Tones and I's Songs
• Dance Monkey
• Bad Child
• Fly Away
• Cloudy Day
• Eyes Don't Lie
• Never Seen The Rain
• Johnny Run Away
• Just A Mess
• Won't Sleep
• Lonely
• Westside Lobby
• You Don't Know My Name

Tones and I's Songs are included in Boomplay music playlists. Search, stream, and download Tones and I's Songs, her latest singles and albums in MP3 only on the Boomplay platform for free.
New Comments(
23

)