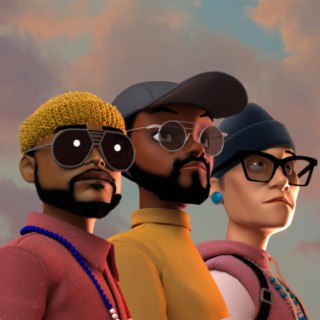 Black Eyed Peas
Current #10.8k

All Time #4,666

Over 25 years, Los Angeles trio Black Eyed Peas —will.i.am, Apl.de.Ap, and Taboo—have earned six GRAMMY Awards and achieved sales of 35 million albums & 120 million singles. One of the era's biggest acts, they emerged as "the second best-selling artist/group of all-time for downloaded tracks," (Nielsen), landing on Billboard's "Hot 100 Artists of the Decade." Their 8th studio album, 2020's TRANSLATION achieved staggering success, featuring collaborations with J Balvin, Ozuna, Maluma, Shakira, Nicky Jam, & Tyga. The album scored 8 nominations at the Billboard Latin Music Awards, including 'Crossover Artist of the Year" & "Hot Latin Song of the Year" for "RITMO" and a nomination at the 2021 Latin Music Awards for '"Favorite Artists - Crossover". Singles "RITMO (Bad Boys For Life)" [feat. J Balvin] & "MAMACITA" [feat. Ozuna and J.Rey Soul] achieved #1 status on three Billboard Charts, numerous award nominations, & gold, platinum, & diamond certifications globally. "GIRL LIKE ME" [feat. Shakira] continued this streak, scooping "Best Latin" award at the MTV VMAs; 'HIT IT' with Saweetie & Lele Pons racked up 5.8M global audio streams, 1.1M US audio streams & almost 10M YouTube views in its first week alone. In 2022 the band reunited with Shakira & David Guetta for DON'T YOU WORRY, the first single from 9th studio album ELEVATIONS, swiftly followed by Anitta & El Alfa collab SIMPLY THE BEST, opening up yet another brilliant chapter in the continuing story of the Black Eyed Peas.

...more

Country/Region : United States
Songs

(0)

Albums

(0)

Playlists

(16)
Listen to Black Eyed Peas's new songs including and many more. Enjoy Black Eyed Peas's latest songs and explore the Black Eyed Peas's new music albums. If you want to download Black Eyed Peas songs MP3, use the Boomplay App to download the Black Eyed Peas songs for free. Discover Black Eyed Peas's latest songs, popular songs, trending songs all on Boomplay.
Black Eyed Peas Biography
Over 25 years, Los Angeles trio Black Eyed Peas —will.i.am, Apl.de.Ap, and Taboo—have earned six GRAMMY Awards and achieved sales of 35 million albums & 120 million singles. One of the era's biggest acts, they emerged as "the second best-selling artist/group of all-time for downloaded tracks," (Nielsen), landing on Billboard's "Hot 100 Artists of the Decade." Their 8th studio album, 2020's TRANSLATION achieved staggering success, featuring collaborations with J Balvin, Ozuna, Maluma, Shakira, Nicky Jam, & Tyga. The album scored 8 nominations at the Billboard Latin Music Awards, including 'Crossover Artist of the Year" & "Hot Latin Song of the Year" for "RITMO" and a nomination at the 2021 Latin Music Awards for '"Favorite Artists - Crossover". Singles "RITMO (Bad Boys For Life)" [feat. J Balvin] & "MAMACITA" [feat. Ozuna and J.Rey Soul] achieved #1 status on three Billboard Charts, numerous award nominations, & gold, platinum, & diamond certifications globally. "GIRL LIKE ME" [feat. Shakira] continued this streak, scooping "Best Latin" award at the MTV VMAs; 'HIT IT' with Saweetie & Lele Pons racked up 5.8M global audio streams, 1.1M US audio streams & almost 10M YouTube views in its first week alone. In 2022 the band reunited with Shakira & David Guetta for DON'T YOU WORRY, the first single from 9th studio album ELEVATIONS, swiftly followed by Anitta & El Alfa collab SIMPLY THE BEST, opening up yet another brilliant chapter in the continuing story of the Black Eyed Peas.
New Comments(
5

)
FAQs about Black Eyed Peas
Where is Black Eyed Peas from?
They are from United States.