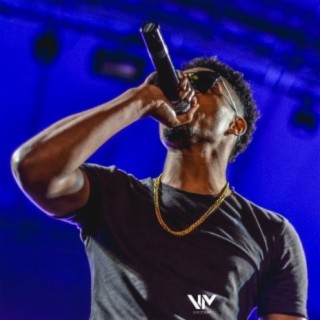 Krg The Don
Current #8,374

All Time #7,647

KRG The Don is a Kenyan-based musical artist. He was born on Jan 14, 1991, in Nairobi to a well-off family that invested in his potential. He is ranked among the wealthiest young artists in the country. At a young age and likes describing himself as a non-average Kenyan billionaire. Many of KRG's Songs became very popular and trendy on social media in line with a great number of streaming and downloads on Boomplay.

Career
He attended his schooling in Nairobi and says that his entrepreneurial skills kicked off when he was a teenager in high school. His parents used to give him pocket money worth Ksh 150,000 and out of that would use Ksh 110,000 in a shylocking business to his student colleagues.

Beginning at the age of sixteen, KRG The Don went into music. He describes himself as a versatile musician although this is not his main focus at the moment. His parents sponsored his deejaying training, an endeavor he is deeply passionate about. KRG The Don went on to musical production in his musical career and so far has more than seven songs released.

His dominant genre is dancehall though he assures his fans that he is a versatile artist. Worth noting is that most of his songs have been in collaboration with Jiggy, his musical partner. Some of his songs include Whine and Drop and Ushasema. The Don's music was produced by G Hood Records and Herbal Records before he set up his own label named Fast Cash Music.

The label records audio and visuals for musicians across the country and he is set to be recording his own music from the label.

Achievements
Apart from his music, he is a heavy-weight investor whose businesses have made him a very wealthy man. KRG has diversified his portfolio to include transport business, construction business, tours, and travel business, and a most recent investment in the hospitality and entertainment industry.

His construction business operated as a partnership is called Kilions Group, and his travel company is called Taraja Safaris. He launched Casa Vera lounge on 3rd December situated along Ngong Road on Kaburu Drive.

This is his largest investment stating that he had spent Ksh 200 million in acquiring the piece of land and setting up a fully-fledged business. The launch was attended by several Kenyan celebrities and the first clients were lucky to have a treat on KRG The Don.

Follow Boomplay and keep up-to-date with the latest songs of Krg The Don and information.

KRG The Don Songs
• Lamba Lolo
• Kairetu
• Summer time
• Nyandus
• Zible
• Densi
• Ushasema
• Mathogothanio
• We ran this
• antidote
• Mathogothanio ft. DJ Lyta & Boondocks Gang

His Net Worth is estimated to around $1,000,000. Krg's Songs are included in Boomplay music playlists. Search, stream, and download Krg's Songs, his latest singles and albums in MP3 only on the Boomplay platform for free....more

Country/Region : Kenya
Listen to Krg The Don's new songs including "Mathogothanio ft. DJ Lyta & Boondocks Gang", "Nyandus ft. Sailors & DJ Lyta", "Mambo Imechemka ft. Daddy Andre & Dufla Diligon" and many more. Enjoy Krg The Don's latest songs and explore the Krg The Don's new music albums. If you want to download Krg The Don songs MP3, use the Boomplay App to download the Krg The Don songs for free. Discover Krg The Don's latest songs, popular songs, trending songs all on Boomplay.
KRG The Don is a Kenyan-based musical artist. He was born on Jan 14, 1991, in Nairobi to a well-off family that invested in his potential. He is ranked among the wealthiest young artists in the country. At a young age and likes describing himself as a non-average Kenyan billionaire. Many of KRG's Songs became very popular and trendy on social media in line with a great number of streaming and downloads on Boomplay.

Career
He attended his schooling in Nairobi and says that his entrepreneurial skills kicked off when he was a teenager in high school. His parents used to give him pocket money worth Ksh 150,000 and out of that would use Ksh 110,000 in a shylocking business to his student colleagues.

Beginning at the age of sixteen, KRG The Don went into music. He describes himself as a versatile musician although this is not his main focus at the moment. His parents sponsored his deejaying training, an endeavor he is deeply passionate about. KRG The Don went on to musical production in his musical career and so far has more than seven songs released.

His dominant genre is dancehall though he assures his fans that he is a versatile artist. Worth noting is that most of his songs have been in collaboration with Jiggy, his musical partner. Some of his songs include Whine and Drop and Ushasema. The Don's music was produced by G Hood Records and Herbal Records before he set up his own label named Fast Cash Music.

The label records audio and visuals for musicians across the country and he is set to be recording his own music from the label.

Achievements
Apart from his music, he is a heavy-weight investor whose businesses have made him a very wealthy man. KRG has diversified his portfolio to include transport business, construction business, tours, and travel business, and a most recent investment in the hospitality and entertainment industry.

His construction business operated as a partnership is called Kilions Group, and his travel company is called Taraja Safaris. He launched Casa Vera lounge on 3rd December situated along Ngong Road on Kaburu Drive.

This is his largest investment stating that he had spent Ksh 200 million in acquiring the piece of land and setting up a fully-fledged business. The launch was attended by several Kenyan celebrities and the first clients were lucky to have a treat on KRG The Don.

Follow Boomplay and keep up-to-date with the latest songs of Krg The Don and information.

KRG The Don Songs
• Lamba Lolo
• Kairetu
• Summer time
• Nyandus
• Zible
• Densi
• Ushasema
• Mathogothanio
• We ran this
• antidote
• Mathogothanio ft. DJ Lyta & Boondocks Gang

His Net Worth is estimated to around $1,000,000. Krg's Songs are included in Boomplay music playlists. Search, stream, and download Krg's Songs, his latest singles and albums in MP3 only on the Boomplay platform for free.
New Comments(
6

)
FAQs about Krg The Don
Where is Krg The Don from?
He is from Kenya.
How to download songs of Krg The Don?
You can download songs of Krg The Don from Boomplay App for free.
Firstly, install Boomplay app on your mobile phone.
Secondly, navigate to the song you would like to download.
Thirdly, Tap on More > Download.