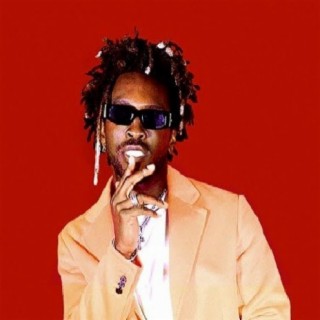 SAINt JHN
Current #0

All Time #2,720

Carlos St. John Phillips (born August 26, 1986), known professionally as Saint Jhn (stylized as SAINt JHN; pronounced "Saint John"), is a Guyanese-American rapper and singer.
He wrote his first song as a freshman in high school in Guyana. Carlos was inspired to record his own music by his older brother, who was a fan of rap. Carlos's brother often freestyled for his friends, and Carlos saw him as both a role model and an inspiration. Before performing as Saint Jhn, Carlos went by his first and middle name, releasing an EP in 2010 called The St. John Portfolio. Shortly after, he released a mixtape, In Association, before spending several years writing for high-profile artists. In 2016, Carlos released his first track as Saint Jhn, "1999." The single was followed by "Roses," the remix of which became his biggest hit, and "Reflex."

Saint Jhn won two Grammys, both in 2021. For the track "Brown Skin Girl" by Beyonce, a song that features the artist, he was awarded the Grammy for Best Music Video. He also got the Grammy for Best Remixed Recording thanks to the wild success of Imanbek's remix of "Roses."
Later that year, Saint Jhn was the opener for several shows by superstar Post Malone. In 2018, Saint Jhn released Collection One, his first full-length studio album, via Godd Complexx and Hitco. The album hit No. 50 on the US Billboard 200 Albums chart, reaching the top 10 on the Canadian Albums chart several years after its release. Carlos' track "Roses" is featured on the album, along with 12 other tracks....more

Country/Region : United States
Songs

(0)

Albums

(0)

Playlists

(17)

Videos and More
Listen to SAINt JHN's new songs including and many more. Enjoy SAINt JHN's latest songs and explore the SAINt JHN's new music albums. If you want to download SAINt JHN songs MP3, use the Boomplay App to download the SAINt JHN songs for free. Discover SAINt JHN's latest songs, popular songs, trending songs all on Boomplay.
Carlos St. John Phillips (born August 26, 1986), known professionally as Saint Jhn (stylized as SAINt JHN; pronounced "Saint John"), is a Guyanese-American rapper and singer.
He wrote his first song as a freshman in high school in Guyana. Carlos was inspired to record his own music by his older brother, who was a fan of rap. Carlos's brother often freestyled for his friends, and Carlos saw him as both a role model and an inspiration. Before performing as Saint Jhn, Carlos went by his first and middle name, releasing an EP in 2010 called The St. John Portfolio. Shortly after, he released a mixtape, In Association, before spending several years writing for high-profile artists. In 2016, Carlos released his first track as Saint Jhn, "1999." The single was followed by "Roses," the remix of which became his biggest hit, and "Reflex."

Saint Jhn won two Grammys, both in 2021. For the track "Brown Skin Girl" by Beyonce, a song that features the artist, he was awarded the Grammy for Best Music Video. He also got the Grammy for Best Remixed Recording thanks to the wild success of Imanbek's remix of "Roses."
Later that year, Saint Jhn was the opener for several shows by superstar Post Malone. In 2018, Saint Jhn released Collection One, his first full-length studio album, via Godd Complexx and Hitco. The album hit No. 50 on the US Billboard 200 Albums chart, reaching the top 10 on the Canadian Albums chart several years after its release. Carlos' track "Roses" is featured on the album, along with 12 other tracks.
New Comments(
31

)
FAQs about SAINt JHN
Where is SAINt JHN from?
He is from United States.
What are the latest songs of SAINt JHN?
The latest songs of SAINt JHN are You Laughed at Me, Overstimulated and Stadiums ft. London On Da Track.
What are the best songs of SAINt JHN?
The best songs of SAINt JHN are The Best Part of Life, Sucks To Be You and Trap (feat. Lil Baby).
What are the best albums of SAINt JHN?
The best albums of SAINt JHN are Ghetto Lenny's Love Songs, While The World Was Burning and Collection One.