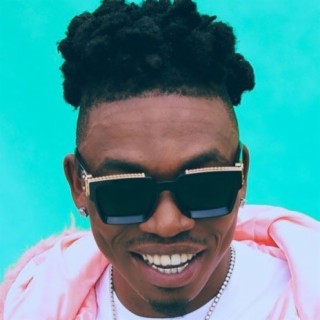 Mayorkun
Current #134

All Time #89

Nigerian singer, songwriter, and keyboardist Mayorkun made a quick rise to fame in 2016 when he was discovered by pop star Davido, who signed him to his label. After paving the way with a series of singles, Mayorkun's bright mix of electronic Afro-pop and R&B helped his 2018 debut album, The Mayor of Lagos, hit number 15 on Billboard's World Music chart.

Mayorkun's creativity was fostered from a young age by his parents: his mother is an actress and his father a film producer and artist. After earning an accounting degree from University of Lagos, he spent several years working at a bank while writing and recording songs on the side. He was plucked from obscurity in 2016 when Nigerian-American star Davido came across a video of Mayorkun covering one of his songs online. Intrigued, Davido reached out to the young artist and after hearing some of his original songs, offered him a contract to his Davido Music Worldwide label. Mayorkun debuted later that year with "Eleko," a warm, melodic, synth pop single whose video racked up millions of views in its first couple of weeks. Additional singles like "Yawa" and "Sade" followed over the next year as he prepared his first album.

Anchored by "Mama" and the Davido-assisted "Bobo," Mayorkun's debut full-length, The Mayor of Lagos, was released in November 2018, making a strong international showing on the Billboard World Music chart and picked up a Best R&B/Pop Album award at the 2019 Headies. Mayorkun capitalized on his success with a bevy of follow-up singles including the Kizz Daniel collaboration "True" and the smooth hit "Up to Something." He stayed busy into the next decade, beginning 2020 with a prolific run of songs like "Ginger You" and "Geng." Download and Listen your favorite songs on Boomplay....more

Country/Region : Nigeria
Listen to Mayorkun's new songs including "Betty Butter ft. Davido", "True ft. Kizz Daniel", "Bobo ft. Davido" and many more. Enjoy Mayorkun's latest songs and explore the Mayorkun's new music albums. If you want to download Mayorkun songs MP3, use the Boomplay App to download the Mayorkun songs for free. Discover Mayorkun's latest songs, popular songs, trending songs all on Boomplay.
Nigerian singer, songwriter, and keyboardist Mayorkun made a quick rise to fame in 2016 when he was discovered by pop star Davido, who signed him to his label. After paving the way with a series of singles, Mayorkun's bright mix of electronic Afro-pop and R&B helped his 2018 debut album, The Mayor of Lagos, hit number 15 on Billboard's World Music chart.

Mayorkun's creativity was fostered from a young age by his parents: his mother is an actress and his father a film producer and artist. After earning an accounting degree from University of Lagos, he spent several years working at a bank while writing and recording songs on the side. He was plucked from obscurity in 2016 when Nigerian-American star Davido came across a video of Mayorkun covering one of his songs online. Intrigued, Davido reached out to the young artist and after hearing some of his original songs, offered him a contract to his Davido Music Worldwide label. Mayorkun debuted later that year with "Eleko," a warm, melodic, synth pop single whose video racked up millions of views in its first couple of weeks. Additional singles like "Yawa" and "Sade" followed over the next year as he prepared his first album.

Anchored by "Mama" and the Davido-assisted "Bobo," Mayorkun's debut full-length, The Mayor of Lagos, was released in November 2018, making a strong international showing on the Billboard World Music chart and picked up a Best R&B/Pop Album award at the 2019 Headies. Mayorkun capitalized on his success with a bevy of follow-up singles including the Kizz Daniel collaboration "True" and the smooth hit "Up to Something." He stayed busy into the next decade, beginning 2020 with a prolific run of songs like "Ginger You" and "Geng." Download and Listen your favorite songs on Boomplay.
FAQs about Mayorkun
Where is Mayorkun from?
He is from Nigeria.
How to download songs of Mayorkun?
You can download songs of Mayorkun from Boomplay App for free.
Firstly, install Boomplay app on your mobile phone.
Secondly, navigate to the song you would like to download.
Thirdly, Tap on More > Download.