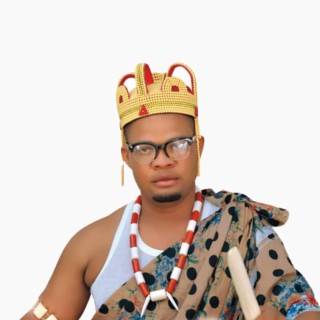 Ayaka Ozubulu
Current #1,117

All Time #1,517

Chigozie Obunike popularly known by his stage name Ayaka Ozubulu is a Nigerian-born Igbo Highlife singer and songwriter. Ayaka was born and brought up in Ozubulu Local government, Anambra State, Nigeria.

Ayaka Ozubulu songs become very popular and trendy online with a great number of streaming and downloads on Boomplay.

Career
Ayaka Ozubulu is regarded as the best Igbo highlife musician of 21st century. Ayaka together with Umu Obiligbo is the pilar of Igbo highlife music of their generation.

Ayaka Ozubulu has been in the music scene since 2009, when he became a professional musician. He is the leader of the Bright Star Band in southeast Nigeria. His style of music includes Highlife, Ogene, and Igbo cultural Afrobeat.
He has over 3 albums already making waves all over the world.

Follow Boomplay and keep up-to-date with the latest Ayaka Ozubulu songs and information.

Ayaka Ozubulu Songs
• Aga
• Ozubulu Massacre
• Ude Chukwu
• Chukwu Ebuka
• Ego Ma Uzo
• Ije Enu Uwa
• Ije Nwoke
• Mgbiligba Ego
• Obodo Afugo Irugi
• Anya Ukwu Igbo
• Onye Nzuzu
• Onwa Na Affa
• Mama Ebezina
• Bishop Ikegwuonu Na Ozubulu
• Obiozor
• Chukwu Nafu
• Muna Chimso
• Onyemuluanya
• Obi Nwanne
• Agu Bu Isi Oya
• Ogbogu
• Chukwu Emerigo
• Skirtel
• ENU UWA
• Chukwu Kelu Enu
• Baby Oku
• One Love
• Baby Oku
• Aka Chukwu Di Ya

Ayaka Ozubulu songs are included in Boomplay music playlists. Search to stream and download Ayaka Ozubulu songs MP3/ single/ albums on the platform....more

Country/Region : Nigeria
Songs

(19)

Albums

(4)

Playlists

(0)
1

2

3

4

5

6

7

8

9

10

11

12

13

14

15

16

17

18

19
Listen to Ayaka Ozubulu's new songs including "Ije Nwoke", "2022 Songs", "Ego Ma Uzo" and many more. Enjoy Ayaka Ozubulu's latest songs and explore the Ayaka Ozubulu's new music albums. If you want to download Ayaka Ozubulu songs MP3, use the Boomplay App to download the Ayaka Ozubulu songs for free. Discover Ayaka Ozubulu's latest songs, popular songs, trending songs all on Boomplay.
Chigozie Obunike popularly known by his stage name Ayaka Ozubulu is a Nigerian-born Igbo Highlife singer and songwriter. Ayaka was born and brought up in Ozubulu Local government, Anambra State, Nigeria.

Ayaka Ozubulu songs become very popular and trendy online with a great number of streaming and downloads on Boomplay.

Career
Ayaka Ozubulu is regarded as the best Igbo highlife musician of 21st century. Ayaka together with Umu Obiligbo is the pilar of Igbo highlife music of their generation.

Ayaka Ozubulu has been in the music scene since 2009, when he became a professional musician. He is the leader of the Bright Star Band in southeast Nigeria. His style of music includes Highlife, Ogene, and Igbo cultural Afrobeat.
He has over 3 albums already making waves all over the world.

Follow Boomplay and keep up-to-date with the latest Ayaka Ozubulu songs and information.

Ayaka Ozubulu Songs
• Aga
• Ozubulu Massacre
• Ude Chukwu
• Chukwu Ebuka
• Ego Ma Uzo
• Ije Enu Uwa
• Ije Nwoke
• Mgbiligba Ego
• Obodo Afugo Irugi
• Anya Ukwu Igbo
• Onye Nzuzu
• Onwa Na Affa
• Mama Ebezina
• Bishop Ikegwuonu Na Ozubulu
• Obiozor
• Chukwu Nafu
• Muna Chimso
• Onyemuluanya
• Obi Nwanne
• Agu Bu Isi Oya
• Ogbogu
• Chukwu Emerigo
• Skirtel
• ENU UWA
• Chukwu Kelu Enu
• Baby Oku
• One Love
• Baby Oku
• Aka Chukwu Di Ya

Ayaka Ozubulu songs are included in Boomplay music playlists. Search to stream and download Ayaka Ozubulu songs MP3/ single/ albums on the platform.
FAQs about Ayaka Ozubulu
Where is Ayaka Ozubulu from?
He is from Nigeria.
How to download songs of Ayaka Ozubulu?
You can download songs of Ayaka Ozubulu from Boomplay App for free.
Firstly, install Boomplay app on your mobile phone.
Secondly, navigate to the song you would like to download.
Thirdly, Tap on More > Download.