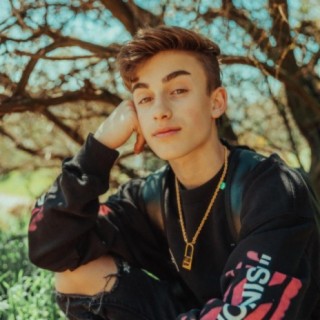 Johnny Orlando
Current #3,085

All Time #4,212

John Vincent Orlando (born January 24, 2003) is a Canadian singer-songwriter, vlogger, and actor. Many Johnny Orlando songs become very popular and trendy online with a great number of streaming and downloads on Boomplay.

Orlando first received attention on social media by posting covers of pop songs by artists such as Austin Mahone, Taylor Swift, Rihanna, Justin Bieber, and Shawn Mendes to his YouTube channel.

He signed with Universal Music Canada on May 18, 2018, and has released singles such as "Day and Night" and "What If" (both featuring Mackenzie Ziegler), "Last Summer", "Waste My Time", "All These Parties", "Phobias", "See You" and "Everybody Wants You".

His debut EP, VXIIXI was released in 2015 when he was 12 years old. His second EP, Teenage Fever, was released on March 15, 2019. Orlando embarked on his second headlining North American tour in support of the EP, beginning on April 29, 2019, in Chicago and ending on May 22, 2019, in Vancouver. It was supported by his close friends Hayden Summerall and Gus McMillan.

It was announced that MTV had signed a deal for consumer products with Orlando at the end of July 2020. In October 2020, he announced that his third EP, It's Never Really Over would be released on October 23, 2020.

Johnny Orlando was born in Mississauga, Ontario, Canada on January 24, 2003. His father, Dale Vincent Orlando, is a lawyer and his mother, Meredith Orlando, is a housewife. Orlando has three sisters: his eldest sister, Madison, has a YouTube channel on which she occasionally posts about her diet and health routine, the second eldest, Darian, helps Johnny with songwriting and promotion and the youngest, Lauren Orlando is a vlogger, YouTuber, and an aspiring actress. Orlando is of Italian descent....more

Country/Region : Canada
Songs

(0)

Albums

(0)

Playlists

(1)
Listen to Johnny Orlando's new songs including and many more. Enjoy Johnny Orlando's latest songs and explore the Johnny Orlando's new music albums. If you want to download Johnny Orlando songs MP3, use the Boomplay App to download the Johnny Orlando songs for free. Discover Johnny Orlando's latest songs, popular songs, trending songs all on Boomplay.
John Vincent Orlando (born January 24, 2003) is a Canadian singer-songwriter, vlogger, and actor. Many Johnny Orlando songs become very popular and trendy online with a great number of streaming and downloads on Boomplay.

Orlando first received attention on social media by posting covers of pop songs by artists such as Austin Mahone, Taylor Swift, Rihanna, Justin Bieber, and Shawn Mendes to his YouTube channel.

He signed with Universal Music Canada on May 18, 2018, and has released singles such as "Day and Night" and "What If" (both featuring Mackenzie Ziegler), "Last Summer", "Waste My Time", "All These Parties", "Phobias", "See You" and "Everybody Wants You".

His debut EP, VXIIXI was released in 2015 when he was 12 years old. His second EP, Teenage Fever, was released on March 15, 2019. Orlando embarked on his second headlining North American tour in support of the EP, beginning on April 29, 2019, in Chicago and ending on May 22, 2019, in Vancouver. It was supported by his close friends Hayden Summerall and Gus McMillan.

It was announced that MTV had signed a deal for consumer products with Orlando at the end of July 2020. In October 2020, he announced that his third EP, It's Never Really Over would be released on October 23, 2020.

Johnny Orlando was born in Mississauga, Ontario, Canada on January 24, 2003. His father, Dale Vincent Orlando, is a lawyer and his mother, Meredith Orlando, is a housewife. Orlando has three sisters: his eldest sister, Madison, has a YouTube channel on which she occasionally posts about her diet and health routine, the second eldest, Darian, helps Johnny with songwriting and promotion and the youngest, Lauren Orlando is a vlogger, YouTuber, and an aspiring actress. Orlando is of Italian descent.
New Comments(
42

)