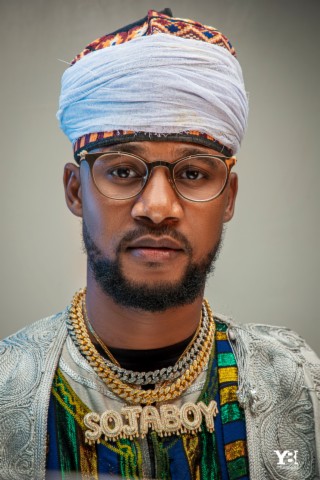 Sojaboy
Current #75.8k

All Time #21.8k

Usman Umar famed as 'Sojaboy' is a renowned Nigerian TV personality, as well as a recording artist who came to prominence after his appearance on TLC's "90 Day Fiance" with his ex-girlfriend, Lisa Hamme in 2016. He was a self-proclaimed Nigerian rapper before he entered the world of reality television. He chose the name Sojaboy during his rapper phase. He has also distributed his music on YouTube. During his time on season 4 of Before the 90 Days, fans got to hear his single "I love you" written in honor of his then-love interest, Lisa. In January 2021, he dropped his first EP, "King Africa", amid his television success and on the heels of the couple's split. He had a few songs on iTunes and also "Woman" on YouTube. He was also awarded the best music of 2020 by the Kaduna Festival at Kaduna State University. In 2019, he was made an ambassador at the International Goodwill Ambassador Awards. He has gained more than 213K followers on his Instagram account (@officialsojaboy).

...more

Country/Region : Others
Songs

(3)

Albums

(3)

Playlists

(0)
Listen to Sojaboy's new songs including "Wayo ft. NT4", "Nishadi", "Call You ft. Star Preenz" and many more. Enjoy Sojaboy's latest songs and explore the Sojaboy's new music albums. If you want to download Sojaboy songs MP3, use the Boomplay App to download the Sojaboy songs for free. Discover Sojaboy's latest songs, popular songs, trending songs all on Boomplay.
Usman Umar famed as 'Sojaboy' is a renowned Nigerian TV personality, as well as a recording artist who came to prominence after his appearance on TLC's "90 Day Fiance" with his ex-girlfriend, Lisa Hamme in 2016. He was a self-proclaimed Nigerian rapper before he entered the world of reality television. He chose the name Sojaboy during his rapper phase. He has also distributed his music on YouTube. During his time on season 4 of Before the 90 Days, fans got to hear his single "I love you" written in honor of his then-love interest, Lisa. In January 2021, he dropped his first EP, "King Africa", amid his television success and on the heels of the couple's split. He had a few songs on iTunes and also "Woman" on YouTube. He was also awarded the best music of 2020 by the Kaduna Festival at Kaduna State University. In 2019, he was made an ambassador at the International Goodwill Ambassador Awards. He has gained more than 213K followers on his Instagram account (@officialsojaboy).
New Comments(
0

)

What do you think of this artist?
FAQs about Sojaboy
How to download songs of Sojaboy?
You can download songs of Sojaboy from Boomplay App for free.
Firstly, install Boomplay app on your mobile phone.
Secondly, navigate to the song you would like to download.
Thirdly, Tap on More > Download.