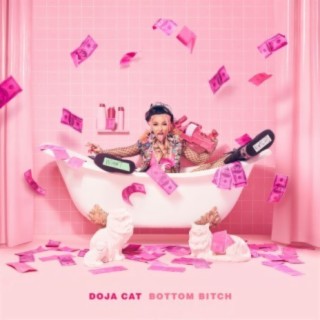 Doja Cat
Current #776

All Time #1,428

Amala Ratna Zandile Dlamini known professionally as Doja Cat, is an American rapper, singer and songwriter born October 21, 1995 in Los Angeles, California, U.S.A.
Her mother is a Jewish-American painter.

Her father, Dumisani Dlamini, is a South African actor, composer, and film producer of Zulu descent best known for starring in the 1992 musical film Sarafina!

In late 2012, "So High" became the first permanent upload on her SoundCloud account, and soon caught the attention of Dr. Luke, who signed her to Kemosabe Records, RCA Records and publishing company Prescription Songs when she was aged 17. This deal also came with a temporary artist management partnership with Roc Nation.

Doja Cat was featured on the album track "Motive" from Ariana Grande's sixth studio album "Positions", which peaked at number 32 on the Billboard Hot 100, becoming both her highest debut and second-ever top 40 entry.

Doja Cat hosted the "2021 MTV Video Music Awards" ceremony, where she also performed the songs "Been Like This" and "You Right". She won the awards for Best Collaboration (shared with SZA for "Kiss Me More") and Best Art Direction (shared with Saweetie for "Best Friend"), among nominations for Artist of the Year, Video of the Year and Best Visual Effects. It is the first time in history where a nominee in the Video of the Year category hosted the ceremony in that same year.

Doja Cat was praised for her presenting abilities, with Pitchfork magazine noting that she "reinvented award-show hosting". She was recently featured on the song "Scoop" from Lil Nas X's debut studio album Montero, which was released on September 17.

Doja Cat cites Nicki Minaj, Rihanna, Beyoncé, D'Angelo, Missy Elliott, Janet Jackson, and Prince, among her biggest musical influences....more

Country/Region : United States
Songs

(0)

Albums

(0)

Playlists

(18)
Listen to Doja Cat's new songs including and many more. Enjoy Doja Cat's latest songs and explore the Doja Cat's new music albums. If you want to download Doja Cat songs MP3, use the Boomplay App to download the Doja Cat songs for free. Discover Doja Cat's latest songs, popular songs, trending songs all on Boomplay.
Amala Ratna Zandile Dlamini known professionally as Doja Cat, is an American rapper, singer and songwriter born October 21, 1995 in Los Angeles, California, U.S.A.
Her mother is a Jewish-American painter.

Her father, Dumisani Dlamini, is a South African actor, composer, and film producer of Zulu descent best known for starring in the 1992 musical film Sarafina!

In late 2012, "So High" became the first permanent upload on her SoundCloud account, and soon caught the attention of Dr. Luke, who signed her to Kemosabe Records, RCA Records and publishing company Prescription Songs when she was aged 17. This deal also came with a temporary artist management partnership with Roc Nation.

Doja Cat was featured on the album track "Motive" from Ariana Grande's sixth studio album "Positions", which peaked at number 32 on the Billboard Hot 100, becoming both her highest debut and second-ever top 40 entry.

Doja Cat hosted the "2021 MTV Video Music Awards" ceremony, where she also performed the songs "Been Like This" and "You Right". She won the awards for Best Collaboration (shared with SZA for "Kiss Me More") and Best Art Direction (shared with Saweetie for "Best Friend"), among nominations for Artist of the Year, Video of the Year and Best Visual Effects. It is the first time in history where a nominee in the Video of the Year category hosted the ceremony in that same year.

Doja Cat was praised for her presenting abilities, with Pitchfork magazine noting that she "reinvented award-show hosting". She was recently featured on the song "Scoop" from Lil Nas X's debut studio album Montero, which was released on September 17.

Doja Cat cites Nicki Minaj, Rihanna, Beyoncé, D'Angelo, Missy Elliott, Janet Jackson, and Prince, among her biggest musical influences.
FAQs about Doja Cat
Where is Doja Cat from?
She is from United States.