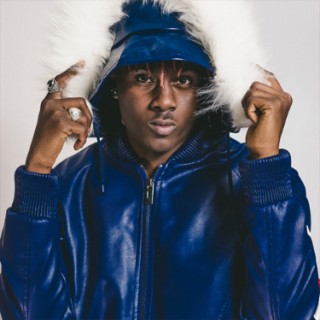 Larruso
Current #2,046

All Time #1,875

Larruso is a Ghanaian Reggae/Dancehall and Afrobeats artist who made his swift rise in the music scene in 2019 following the release of his debut single "Killy Killy" under his label "Jadon Shatta Entertainment". This records him as the first Ghanaian upcoming artist to break to stardom instantly after being signed. Many of Larruso songs become very popular and trendy online with great number of streaming and downloads on Boomplay now.

Born and raised in Accra Newtown, Larruso records and performs the Caribbean influenced musical genre, Dancehall, but with a fusion from indigenous sound and melody from Africa.

CAREER AND ACHIEVEMENTS
He emerged as the most talked-about artist in Ghana, his home country after dropping his debut hit single "Killy Killy" in 2019 which got him the needed attention which he later released the remix, which he featured Ghanaian Award Winning artists Stonebwoy and Kwesi Arthur.

In 2020, he represented Ghana as he performed at AC Milan's 'From Milan with Love: Next Gen' Concert hosted by Grammy-winning producer DJ Khaled and featuring live performances from Axos, Anna, Daniella Mason, RezCoast Grizz, VENVZ, Alita, Cocoa Sarai, Bibi and Harlor.

He has so far featured names like Samini, Shatta Wale, Stonebwoy, and Kwesi Arthur in his released songs.

Follow Boomplay and keep up to date with latest Larruso songs and information.

Larruso Songs:
• Killy Killy
• Wolewa
• Gi Dem
• Send Dem
• Eeba
• Hit & Run
• Ego
• Killy Killy Remix
• AMAPIANO
• One Man Champion
• The Truth
• SPIRITUAL
• Celebrity
• High Meditation
• Addicted
• Yaaro
• No Chance
• Saara
• New Gen
• Body
• Poisonous
• Party
• No Man's Land
• Pagans
• System
• Sign Out
• Dance & Go
• My Glory
• Yesu
• Fire
• Better Must Come

Larruso songs are included in Boomplay music playlists. Search to stream and download Larruso songs MP3/ single/ albums on the Boomplay....more

Country/Region : Ghana
Listen to Larruso's new songs including "Ego", "Killy Killy (Remix) ft. Kwesi Arthur & Stonebwoy", "AMAPIANO ft. Dayonthetrack" and many more. Enjoy Larruso's latest songs and explore the Larruso's new music albums. If you want to download Larruso songs MP3, use the Boomplay App to download the Larruso songs for free. Discover Larruso's latest songs, popular songs, trending songs all on Boomplay.
Larruso is a Ghanaian Reggae/Dancehall and Afrobeats artist who made his swift rise in the music scene in 2019 following the release of his debut single "Killy Killy" under his label "Jadon Shatta Entertainment". This records him as the first Ghanaian upcoming artist to break to stardom instantly after being signed. Many of Larruso songs become very popular and trendy online with great number of streaming and downloads on Boomplay now.

Born and raised in Accra Newtown, Larruso records and performs the Caribbean influenced musical genre, Dancehall, but with a fusion from indigenous sound and melody from Africa.

CAREER AND ACHIEVEMENTS
He emerged as the most talked-about artist in Ghana, his home country after dropping his debut hit single "Killy Killy" in 2019 which got him the needed attention which he later released the remix, which he featured Ghanaian Award Winning artists Stonebwoy and Kwesi Arthur.

In 2020, he represented Ghana as he performed at AC Milan's 'From Milan with Love: Next Gen' Concert hosted by Grammy-winning producer DJ Khaled and featuring live performances from Axos, Anna, Daniella Mason, RezCoast Grizz, VENVZ, Alita, Cocoa Sarai, Bibi and Harlor.

He has so far featured names like Samini, Shatta Wale, Stonebwoy, and Kwesi Arthur in his released songs.

Follow Boomplay and keep up to date with latest Larruso songs and information.

Larruso Songs:
• Killy Killy
• Wolewa
• Gi Dem
• Send Dem
• Eeba
• Hit & Run
• Ego
• Killy Killy Remix
• AMAPIANO
• One Man Champion
• The Truth
• SPIRITUAL
• Celebrity
• High Meditation
• Addicted
• Yaaro
• No Chance
• Saara
• New Gen
• Body
• Poisonous
• Party
• No Man's Land
• Pagans
• System
• Sign Out
• Dance & Go
• My Glory
• Yesu
• Fire
• Better Must Come

Larruso songs are included in Boomplay music playlists. Search to stream and download Larruso songs MP3/ single/ albums on the Boomplay.
New Comments(
141

)
FAQs about Larruso
Where is Larruso from?
He is from Ghana.
How to download songs of Larruso?
You can download songs of Larruso from Boomplay App for free.
Firstly, install Boomplay app on your mobile phone.
Secondly, navigate to the song you would like to download.
Thirdly, Tap on More > Download.