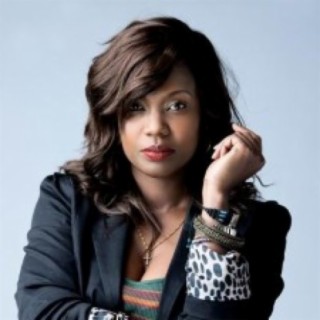 Sanaipei Tande
Current #0

All Time #7,806

Natasha Sanaipei Tande popularly known as Sana or just Sanaipei was born on 22nd March 1985 in Mombasa, Kenya. She is a Kenyan singer, songwriter, actress, karaoke host, radio personality and entertainer. Many of Sanaipei's Songs became very popular and trendy on social media in line with a great number of streaming and downloads on Boomplay.

Career
In 2004, at 19 years of age, Sanaipei joined the Coca-Cola Popstars (East Africa) Talent Search after coaxing from her family. After successfully auditioning for the show, she deferred her college studies. She won the competition alongside two fellow contestants, Kevin Waweru and Pam Waithaka. Together, they formed the band Sema and won a record deal with Homeboyz Records.

In 2005, the trio released a 17 track debut album Mwewe, with hit singles Leta Wimbo, Sakalakata, and the eponymous Mwewe, thrusting them into the limelight. Later in the same year, the band split, citing "irreconcilable differences" and "external forces" Abd that's when Sana decided to explore her other talent, Journalism. She joined Kiss 100 and upon her departure from Kiss 100, she joined Easy FM (now known as Nation FM) in 2013, as co-presenter of the drive show alongside Edward Kwach.

In 2014, she released her hit single Mfalme wa Mapenzi as part of producer Wawesh's Mahaba project, a showcase of Swahili love songs. The song achieved widespread critical acclaim for its well-crafted lyrics and tasteful visuals. Later, she began to host the mid-morning show alongside Obinna Ike Igwe. When Obinna was transferred to the evening show, Sanaipei became the sole host of the mid-morning show and garnered the station's largest listenership.

In September 2015, Sanaipei and fellow presenters Ciru Muriuki and Anto Neo Soul were laid off. Her termination and that of her colleagues was met with much uproar on Twitter, with many listeners and fans demanding their reinstatement. After leaving Easy FM, Sanaipei turned her focus toward her music career, releasing singles such as Rasta Man, Simama Imara, and Ankula Huu. Her hit single, Amina, broadened her regional appeal and caught the attention of Tanzanian pop star and musician Chege Chigunda, who flew her to Dar es Salaam and featured her in his Najiuliza single alongside Tanzanian singer Ray C. 2016 came with a rush to our singer Sanaipei because she now decided to venture into the film industry.

After a cameo on NTV's Auntie Boss! and a recurring role on Maisha Magic's Varshita, both produced by Eve D'Souza's Moon Beam Productions, Sanaipei landed a starring role as the eponymous character in Rashid Abdalla's Aziza, a Swahili soap opera set in Mombasa. She continued her music career with a feature in Mombasa crooner Otile Brown's Chaguo La Moyo, which holds the record of most-watched Kenyan video on YouTube with over 24.5 million views.

In 2020, they released their second collaboration, the hit single Aiyana. On 5 March 2020, Sanaipei hosted her final karaoke at The Grove on Riverside and hung up her karaoke boots. She went on to release Mdaka Mdakiwa, Kunitema, and her latest single Yako. She also featured in Nadia Mukami's Wangu single off her African Popstar EP.

The music video garnered 4 million views in its first week on YouTube and was dubbed the biggest Kenyan collaboration of the year. Sanaipei currently stars as Nana Tandala on Kina, a Kenyan adaptation of the South African television series The River, which airs on Maisha Magic Plus.

Achievements
Sanaipei is sure one of the oldest musicians in the industry since her premier in 2004, she has surely done a lot with her career. She has won and been nominated in many awards but the one that caught the eye was when she was nominated for Best Lead Actress in KALASHA awards In 2021. Follow Boomplay and keep up-to-date with the latest songs of Sanaipei and information.

Sanaipei's Latest Songs
• Sina Haja
• Amina
• Baridi
• Dada
• Hold You
• Nakuja
• Yako
• Wangu
• Kunitema
• Mdaka Mdakiwa
• Mfalme Wa Mapenzi

Sanaipei's Songs are included in Boomplay music playlists. Search, stream, and download Sanaipei's Songs, her latest singles and albums in MP3 only on the Boomplay platform for free....more

Country/Region : Kenya
Listen to Sanaipei Tande's new songs including "Amina", "Jali ft. Nyashinski", "Najuta" and many more. Enjoy Sanaipei Tande's latest songs and explore the Sanaipei Tande's new music albums. If you want to download Sanaipei Tande songs MP3, use the Boomplay App to download the Sanaipei Tande songs for free. Discover Sanaipei Tande's latest songs, popular songs, trending songs all on Boomplay.
Natasha Sanaipei Tande popularly known as Sana or just Sanaipei was born on 22nd March 1985 in Mombasa, Kenya. She is a Kenyan singer, songwriter, actress, karaoke host, radio personality and entertainer. Many of Sanaipei's Songs became very popular and trendy on social media in line with a great number of streaming and downloads on Boomplay.

Career
In 2004, at 19 years of age, Sanaipei joined the Coca-Cola Popstars (East Africa) Talent Search after coaxing from her family. After successfully auditioning for the show, she deferred her college studies. She won the competition alongside two fellow contestants, Kevin Waweru and Pam Waithaka. Together, they formed the band Sema and won a record deal with Homeboyz Records.

In 2005, the trio released a 17 track debut album Mwewe, with hit singles Leta Wimbo, Sakalakata, and the eponymous Mwewe, thrusting them into the limelight. Later in the same year, the band split, citing "irreconcilable differences" and "external forces" Abd that's when Sana decided to explore her other talent, Journalism. She joined Kiss 100 and upon her departure from Kiss 100, she joined Easy FM (now known as Nation FM) in 2013, as co-presenter of the drive show alongside Edward Kwach.

In 2014, she released her hit single Mfalme wa Mapenzi as part of producer Wawesh's Mahaba project, a showcase of Swahili love songs. The song achieved widespread critical acclaim for its well-crafted lyrics and tasteful visuals. Later, she began to host the mid-morning show alongside Obinna Ike Igwe. When Obinna was transferred to the evening show, Sanaipei became the sole host of the mid-morning show and garnered the station's largest listenership.

In September 2015, Sanaipei and fellow presenters Ciru Muriuki and Anto Neo Soul were laid off. Her termination and that of her colleagues was met with much uproar on Twitter, with many listeners and fans demanding their reinstatement. After leaving Easy FM, Sanaipei turned her focus toward her music career, releasing singles such as Rasta Man, Simama Imara, and Ankula Huu. Her hit single, Amina, broadened her regional appeal and caught the attention of Tanzanian pop star and musician Chege Chigunda, who flew her to Dar es Salaam and featured her in his Najiuliza single alongside Tanzanian singer Ray C. 2016 came with a rush to our singer Sanaipei because she now decided to venture into the film industry.

After a cameo on NTV's Auntie Boss! and a recurring role on Maisha Magic's Varshita, both produced by Eve D'Souza's Moon Beam Productions, Sanaipei landed a starring role as the eponymous character in Rashid Abdalla's Aziza, a Swahili soap opera set in Mombasa. She continued her music career with a feature in Mombasa crooner Otile Brown's Chaguo La Moyo, which holds the record of most-watched Kenyan video on YouTube with over 24.5 million views.

In 2020, they released their second collaboration, the hit single Aiyana. On 5 March 2020, Sanaipei hosted her final karaoke at The Grove on Riverside and hung up her karaoke boots. She went on to release Mdaka Mdakiwa, Kunitema, and her latest single Yako. She also featured in Nadia Mukami's Wangu single off her African Popstar EP.

The music video garnered 4 million views in its first week on YouTube and was dubbed the biggest Kenyan collaboration of the year. Sanaipei currently stars as Nana Tandala on Kina, a Kenyan adaptation of the South African television series The River, which airs on Maisha Magic Plus.

Achievements
Sanaipei is sure one of the oldest musicians in the industry since her premier in 2004, she has surely done a lot with her career. She has won and been nominated in many awards but the one that caught the eye was when she was nominated for Best Lead Actress in KALASHA awards In 2021. Follow Boomplay and keep up-to-date with the latest songs of Sanaipei and information.

Sanaipei's Latest Songs
• Sina Haja
• Amina
• Baridi
• Dada
• Hold You
• Nakuja
• Yako
• Wangu
• Kunitema
• Mdaka Mdakiwa
• Mfalme Wa Mapenzi

Sanaipei's Songs are included in Boomplay music playlists. Search, stream, and download Sanaipei's Songs, her latest singles and albums in MP3 only on the Boomplay platform for free.
FAQs about Sanaipei Tande
Where is Sanaipei Tande from?
She is from Kenya.
What are the best songs of Sanaipei Tande?
The best songs of Sanaipei Tande are Amina, Jali ft. Nyashinski and Najuta.
What are the best albums of Sanaipei Tande?
The best albums of Sanaipei Tande are Nabo, Amina and Najuta.
How to download songs of Sanaipei Tande?
You can download songs of Sanaipei Tande from Boomplay App for free.
Firstly, install Boomplay app on your mobile phone.
Secondly, navigate to the song you would like to download.
Thirdly, Tap on More > Download.