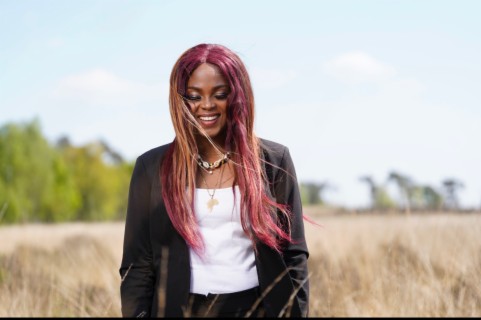 UniekGrace
Current #16.7k

All Time #7,746

Uniekgrace is an Afro-Urban singer -songwriter.
A wife, a mother of four lovely children, a registered nurse, and a television host, her core values are family culture and faith.

Being a typical third culture child, Uniekgrace spent her developing years in Italy, Switzerland, the USA, Nigeria, and Belgium, where she encountered many different cultures. These rich backgrounds enabled her to benefit from a large palette of influences while defining her own sound.

Her first music project, an EP, was released on January 8 2018, titled E GO BETTER produced by her Belgian based music label, AFT Media Production. A project that truly speaks of her motivation as a singer/songwriter; a project of empowerment and as she puts it, "an opportunity to inspire even more people."

Uniekgrace's popular songs include Ku'Ishe which brought her name on Luxembourg top 50 summer songs hits in 2019; KOSI is a feature song that was also released in 2019, which caught much attention on multiple continents' media houses.
In the year 2019, she enrolled in a music academy in Belgium to broaden her music knowledge while working on her sophomore project which is set to be released 2023. From the sophomore project, NEARER was released in July 2020, followed by AYEMI REMAKE and NEVER ALONE in 2021. Her latest release is SO GOOD, produced by Elvis Ediagbonya. The song SO GOOD brought Uniekgrace name as Top 20 on the American BDS chart. She also appeared on Belgium's pop culture music television MENTtv and Belgium's national radio, Radio 2, to talk about her music motivation and the secret behind the success of SO GOOD. Anticipate her latest release, NO DULLING, coming out Friday August 26 on all digital streaming platforms. Find more about Uniekgrace on www.Uniekgracemusic.com
Follow Uniekgrace on all social media @UNIEKGRACE...more

Country/Region : Belgium
Listen to UniekGrace's new songs including "Never Alone", "Ayemi (Remake)", "Higher Higher" and many more. Enjoy UniekGrace's latest songs and explore the UniekGrace's new music albums. If you want to download UniekGrace songs MP3, use the Boomplay App to download the UniekGrace songs for free. Discover UniekGrace's latest songs, popular songs, trending songs all on Boomplay.
Uniekgrace is an Afro-Urban singer -songwriter.
A wife, a mother of four lovely children, a registered nurse, and a television host, her core values are family culture and faith.

Being a typical third culture child, Uniekgrace spent her developing years in Italy, Switzerland, the USA, Nigeria, and Belgium, where she encountered many different cultures. These rich backgrounds enabled her to benefit from a large palette of influences while defining her own sound.

Her first music project, an EP, was released on January 8 2018, titled E GO BETTER produced by her Belgian based music label, AFT Media Production. A project that truly speaks of her motivation as a singer/songwriter; a project of empowerment and as she puts it, "an opportunity to inspire even more people."

Uniekgrace's popular songs include Ku'Ishe which brought her name on Luxembourg top 50 summer songs hits in 2019; KOSI is a feature song that was also released in 2019, which caught much attention on multiple continents' media houses.
In the year 2019, she enrolled in a music academy in Belgium to broaden her music knowledge while working on her sophomore project which is set to be released 2023. From the sophomore project, NEARER was released in July 2020, followed by AYEMI REMAKE and NEVER ALONE in 2021. Her latest release is SO GOOD, produced by Elvis Ediagbonya. The song SO GOOD brought Uniekgrace name as Top 20 on the American BDS chart. She also appeared on Belgium's pop culture music television MENTtv and Belgium's national radio, Radio 2, to talk about her music motivation and the secret behind the success of SO GOOD. Anticipate her latest release, NO DULLING, coming out Friday August 26 on all digital streaming platforms. Find more about Uniekgrace on www.Uniekgracemusic.com
Follow Uniekgrace on all social media @UNIEKGRACE
New Comments(
0

)

What do you think of this artist?
FAQs about UniekGrace
Where is UniekGrace from?
She is from Belgium.
How to download songs of UniekGrace?
You can download songs of UniekGrace from Boomplay App for free.
Firstly, install Boomplay app on your mobile phone.
Secondly, navigate to the song you would like to download.
Thirdly, Tap on More > Download.