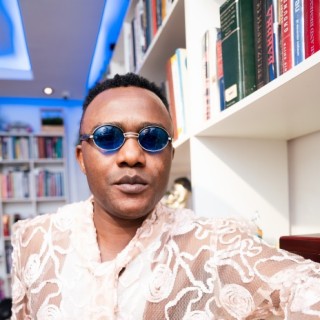 W4
Current #22.8k

All Time #11.2k

What a known backup vocalist, song writer and co-writer of many notable singers grows into is definitely a renowned artiste himself. This will be said of W4, born Wale Adepoju from Osun State who has had his phase of paying the dues to attain limelight.
Amongst a host of big names W4 has contributed to their successful output one way or the other were 2baba, Sound Sultan of blessed memories, Rugged Man, Timaya, Tinny from Ghana, 9ice, Spyda Man.

He debuted officially in 2005 with a never-heard-before sold out album, 'Temperature' comprising of hit tracks like, Solo, Too Kpokpos, Lover Love. W4 marked his brand in our minds as a household name to reckon with by his distinct dress resembling the late Abami Eda Fela. Not many singers who dared could afford to keep up with the style till date.

He hit the burst of fame with the release of 'Kontrol' in 2012 which would fast became the spice of every gathering and ultimately the anthem to yearn for the change in the price of Petrol during the nationwide 'Occupy Nigeria' protest. Nigerians sang W4's popular 'wa gba kontrol' chorus line as 'wa gba petrol' and everybody went with the flow.

All that would be said about W4 also entails his unforeseen period of missing in action apparently for reasons not new to the industry at large. Then we can go on to talk about his return move to the scene which pretty much still reserved his spot for heavy collaborations, appearance, recognition and a suspected project underway.

There's more where W4 is coming from….
Connect with @w4shaa on Instagram....more

Country/Region : Nigeria
Songs

(21)

Albums

(7)

Playlists

(1)
1

2

3

4

5

6

7

8

9

10

11

12

13

14

15

16

17

18

19

20

21
Listen to W4's new songs including "Let Me Know ft. Buju", "Kontrol", "Kontrol" and many more. Enjoy W4's latest songs and explore the W4's new music albums. If you want to download W4 songs MP3, use the Boomplay App to download the W4 songs for free. Discover W4's latest songs, popular songs, trending songs all on Boomplay.
What a known backup vocalist, song writer and co-writer of many notable singers grows into is definitely a renowned artiste himself. This will be said of W4, born Wale Adepoju from Osun State who has had his phase of paying the dues to attain limelight.
Amongst a host of big names W4 has contributed to their successful output one way or the other were 2baba, Sound Sultan of blessed memories, Rugged Man, Timaya, Tinny from Ghana, 9ice, Spyda Man.

He debuted officially in 2005 with a never-heard-before sold out album, 'Temperature' comprising of hit tracks like, Solo, Too Kpokpos, Lover Love. W4 marked his brand in our minds as a household name to reckon with by his distinct dress resembling the late Abami Eda Fela. Not many singers who dared could afford to keep up with the style till date.

He hit the burst of fame with the release of 'Kontrol' in 2012 which would fast became the spice of every gathering and ultimately the anthem to yearn for the change in the price of Petrol during the nationwide 'Occupy Nigeria' protest. Nigerians sang W4's popular 'wa gba kontrol' chorus line as 'wa gba petrol' and everybody went with the flow.

All that would be said about W4 also entails his unforeseen period of missing in action apparently for reasons not new to the industry at large. Then we can go on to talk about his return move to the scene which pretty much still reserved his spot for heavy collaborations, appearance, recognition and a suspected project underway.

There's more where W4 is coming from….
Connect with @w4shaa on Instagram.
New Comments(
7

)