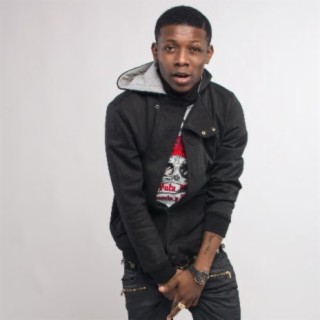 Small Doctor
Current #5,784

All Time #1,467

Small Doctor was born on the 27th of May 1996 In Dopemu in the southwestern part of Nigeria, He hails from Ese Odo, Ilaje in Ondo state. His mother was a teacher and also owns a school hence the name (Omoiya teacher).

Temitope attended Aina Orosan nursery and primary school then Oniyawa secondary school Dopemu Lagos and obtained his West African Senior School Certificate.

He graduated in 2004 and later preceded to the University of Lagos (UNILAG) for his degree but later dropped out due to reasons that are best known to the singer but the singer still expresses optimism about returning to school later. (some source said he want to concentrate on full-time music)

Growing up things were not rosy for the family and had to spend more time in the streets sleeping in Oshodi, Mushin, and Lagos Island bus parks for many years.

Small Doctor songs, like Soro Soke, become very popular and trendy online with a great number of streaming and downloads on Boomplay.

Career
He started singing at a very tender age while still in secondary school, precisely in SS1, and started creating incredible mixtapes and freestyles.

Small doctor started singing since he was a child, mostly gospel songs. Singing in the bathroom and around the house but never had the intention of becoming an artist.

His mother and brother were parts of the church choir and his mother reputedly told him that he would become a singer one day.

He started music professionally in 2001 and composed his first track titled "E ma kanramo mi" in 2003.

Small Doctor was unable to get a good job after dropping out of the university, He decided to pursue his career as a musician, he grew up from a poor family, he was unable to pay for studio sessions he had to struggle and work hard doing a lot of petty jobs to pay for studio sessions.

He rose to fame in 2012 after doing a couple of mix-tapes and freestyles but rose to prominence in 2014 after dropping his first album titled "street ambassador" which became an instant hit in the southwestern part of the country it contained hit songs like "mosquito killer", "Small Doctor", "Gbagaun" in which he later featured his mentor Alhaji Alabi Pasuma in the remix version.

Small doctor is also known as "Akeweje" (someone who brings kids together) a name which he claimed was given to him by his mentor Pasuma a Fuji legend in Nigeria because of the singer's popularity among the Kids in his area.

Small Doctor has worked with so many Nigerian Artists such as the likes of Pasuma Wonder, Reminisce, Ycee, Wizkid, Don Jazzy, Davido, Olamide, Phyno, Dre San, Terry G, Oritse Femi, Seriki, Side One and a couple of other artists.

Follow Boomplay and keep up-to-date with the latest Small Doctor songs and information.

Small Doctor Albums
• 2015: "Street Ambassador"
• 2015: "Omo Iya Teacher.

Small Doctor Songs
• 2015: "Skit"
• 2015: "Oh My God"
• 2015: "E No Sabi"
• 2015: "Gyration"
• 2015: "Magician"
• 2015: "Amuludun"
• 2015: "Say Baba"
• 2015: "Oyinbo"
• 2015: "Eleda Mi"
• 2015: "God the Bless"
• 2015: "Street Bus Stop"
• 2015: "Arrest"
• 2015: "Small Doctor"
• 2015: "Omo Iya Teacher"
• 2015: "Ile Ijo"
• 2015: "Story"
• 2015: "Gbera"
• 2015: "Gbagaun"
• 2015: "Iya Teacher"
• 2015: "You Know"
• 2015: "Anobi"
• 2015: "Mosquito Killer"
• 2015: "Uzobu"
• 2015: "Anobi"
• 2016: "Penalty"
• 2016: "Sobotone"
• 2016: "Forever"
• 2016: "Pakurumo"
• 2018: "My People"
• 2018: "Slay Mama"
• 2018: "Thank You"
• 2019: "Believe"
• 2020: Giveaway

Achievement
• In 2015 he won the Indigenous Artist of The Year at City People Entertainment Awards
• He won Street Music Of the Year by City People Entertainment Awards In 2017
• 2016 Best Video by a New Artist at Nigeria Music Video Awards (NMVA)
• READ: Classy Jesters Biography (Career, Education, Net worth)
• He won Best New Act at Nigeria Entertainment Awards in 2018
• 2018 The Headies Awards as Best Street Hop Artiste

Small Doctor songs are included in Boomplay music playlists. Search to stream and download Small Doctor songs MP3/ single/ albums on the platform....more

Country/Region : Nigeria
Listen to Small Doctor's new songs including "Soro Soke", "See Me ft. Mr Eazi", "This Year" and many more. Enjoy Small Doctor's latest songs and explore the Small Doctor's new music albums. If you want to download Small Doctor songs MP3, use the Boomplay App to download the Small Doctor songs for free. Discover Small Doctor's latest songs, popular songs, trending songs all on Boomplay.
Small Doctor was born on the 27th of May 1996 In Dopemu in the southwestern part of Nigeria, He hails from Ese Odo, Ilaje in Ondo state. His mother was a teacher and also owns a school hence the name (Omoiya teacher).

Temitope attended Aina Orosan nursery and primary school then Oniyawa secondary school Dopemu Lagos and obtained his West African Senior School Certificate.

He graduated in 2004 and later preceded to the University of Lagos (UNILAG) for his degree but later dropped out due to reasons that are best known to the singer but the singer still expresses optimism about returning to school later. (some source said he want to concentrate on full-time music)

Growing up things were not rosy for the family and had to spend more time in the streets sleeping in Oshodi, Mushin, and Lagos Island bus parks for many years.

Small Doctor songs, like Soro Soke, become very popular and trendy online with a great number of streaming and downloads on Boomplay.

Career
He started singing at a very tender age while still in secondary school, precisely in SS1, and started creating incredible mixtapes and freestyles.

Small doctor started singing since he was a child, mostly gospel songs. Singing in the bathroom and around the house but never had the intention of becoming an artist.

His mother and brother were parts of the church choir and his mother reputedly told him that he would become a singer one day.

He started music professionally in 2001 and composed his first track titled "E ma kanramo mi" in 2003.

Small Doctor was unable to get a good job after dropping out of the university, He decided to pursue his career as a musician, he grew up from a poor family, he was unable to pay for studio sessions he had to struggle and work hard doing a lot of petty jobs to pay for studio sessions.

He rose to fame in 2012 after doing a couple of mix-tapes and freestyles but rose to prominence in 2014 after dropping his first album titled "street ambassador" which became an instant hit in the southwestern part of the country it contained hit songs like "mosquito killer", "Small Doctor", "Gbagaun" in which he later featured his mentor Alhaji Alabi Pasuma in the remix version.

Small doctor is also known as "Akeweje" (someone who brings kids together) a name which he claimed was given to him by his mentor Pasuma a Fuji legend in Nigeria because of the singer's popularity among the Kids in his area.

Small Doctor has worked with so many Nigerian Artists such as the likes of Pasuma Wonder, Reminisce, Ycee, Wizkid, Don Jazzy, Davido, Olamide, Phyno, Dre San, Terry G, Oritse Femi, Seriki, Side One and a couple of other artists.

Follow Boomplay and keep up-to-date with the latest Small Doctor songs and information.

Small Doctor Albums
• 2015: "Street Ambassador"
• 2015: "Omo Iya Teacher.

Small Doctor Songs
• 2015: "Skit"
• 2015: "Oh My God"
• 2015: "E No Sabi"
• 2015: "Gyration"
• 2015: "Magician"
• 2015: "Amuludun"
• 2015: "Say Baba"
• 2015: "Oyinbo"
• 2015: "Eleda Mi"
• 2015: "God the Bless"
• 2015: "Street Bus Stop"
• 2015: "Arrest"
• 2015: "Small Doctor"
• 2015: "Omo Iya Teacher"
• 2015: "Ile Ijo"
• 2015: "Story"
• 2015: "Gbera"
• 2015: "Gbagaun"
• 2015: "Iya Teacher"
• 2015: "You Know"
• 2015: "Anobi"
• 2015: "Mosquito Killer"
• 2015: "Uzobu"
• 2015: "Anobi"
• 2016: "Penalty"
• 2016: "Sobotone"
• 2016: "Forever"
• 2016: "Pakurumo"
• 2018: "My People"
• 2018: "Slay Mama"
• 2018: "Thank You"
• 2019: "Believe"
• 2020: Giveaway

Achievement
• In 2015 he won the Indigenous Artist of The Year at City People Entertainment Awards
• He won Street Music Of the Year by City People Entertainment Awards In 2017
• 2016 Best Video by a New Artist at Nigeria Music Video Awards (NMVA)
• READ: Classy Jesters Biography (Career, Education, Net worth)
• He won Best New Act at Nigeria Entertainment Awards in 2018
• 2018 The Headies Awards as Best Street Hop Artiste

Small Doctor songs are included in Boomplay music playlists. Search to stream and download Small Doctor songs MP3/ single/ albums on the platform.
New Comments(
138

)
FAQs about Small Doctor
Where is Small Doctor from?
He is from Nigeria.
How to download songs of Small Doctor?
You can download songs of Small Doctor from Boomplay App for free.
Firstly, install Boomplay app on your mobile phone.
Secondly, navigate to the song you would like to download.
Thirdly, Tap on More > Download.