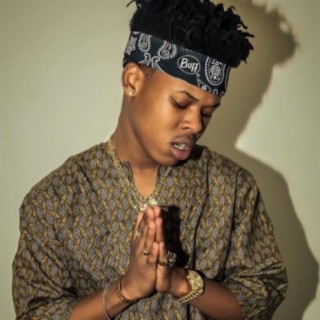 Nasty C
Current #467

All Time #170

Nasty C is a South African rapper, songwriter and producer with a breezy flow and an award-winning musician who has dedicated his youth and early adulthood to the progression of his career.

Born on February 11, 1997 in Johannesburg, South Africa, at the age of only 11 months the Nasty lost his mother in a fatal road accident and had to be relocated to Durban where he pursued his carrier living he's father.He attended Strelitzia secondary and later proceeded to Durban high school, where he completed up to Grade 12 in the year 2014 at the age of 14.

Nasty C developed his love for rap and learned basic production techniques from his older brother Siyabonga. In 2012 he released his debut mixtape, One Kid, A Thousand Coffins, at the age of 15. His first EP, L.A.M.E (Levitating Above My Enemies), arrived two years later, with the Price City mixtape appearing in 2015. The release spawned his first hit single, "Juice Back," which earned Nasty C the Best Freshman trophy at that year's South African Hip-Hop Awards, making him the youngest recipient to date.

The following year saw the release of the single "Hell Naw," which appeared on his chart-topping debut album, Bad Hair, which included guest spots from Omari Hardwick, Tshego, Tellaman, Erick Rush, and Rowlene. Bad Hair Extensions, an extended version of the LP that added four new tracks and a feature by American hip-hop recording artist French Montana, arrived later that year.

The rapper is set to release upcoming music which is rumored to feature rappers such as Young Thug, Big Sean and more international stars....more

Country/Region : South Africa
Listen to Nasty C's new songs including and many more. Enjoy Nasty C's latest songs and explore the Nasty C's new music albums. If you want to download Nasty C songs MP3, use the Boomplay App to download the Nasty C songs for free. Discover Nasty C's latest songs, popular songs, trending songs all on Boomplay.
Nasty C is a South African rapper, songwriter and producer with a breezy flow and an award-winning musician who has dedicated his youth and early adulthood to the progression of his career.

Born on February 11, 1997 in Johannesburg, South Africa, at the age of only 11 months the Nasty lost his mother in a fatal road accident and had to be relocated to Durban where he pursued his carrier living he's father.He attended Strelitzia secondary and later proceeded to Durban high school, where he completed up to Grade 12 in the year 2014 at the age of 14.

Nasty C developed his love for rap and learned basic production techniques from his older brother Siyabonga. In 2012 he released his debut mixtape, One Kid, A Thousand Coffins, at the age of 15. His first EP, L.A.M.E (Levitating Above My Enemies), arrived two years later, with the Price City mixtape appearing in 2015. The release spawned his first hit single, "Juice Back," which earned Nasty C the Best Freshman trophy at that year's South African Hip-Hop Awards, making him the youngest recipient to date.

The following year saw the release of the single "Hell Naw," which appeared on his chart-topping debut album, Bad Hair, which included guest spots from Omari Hardwick, Tshego, Tellaman, Erick Rush, and Rowlene. Bad Hair Extensions, an extended version of the LP that added four new tracks and a feature by American hip-hop recording artist French Montana, arrived later that year.

The rapper is set to release upcoming music which is rumored to feature rappers such as Young Thug, Big Sean and more international stars.
FAQs about Nasty C
Where is Nasty C from?
He is from South Africa.