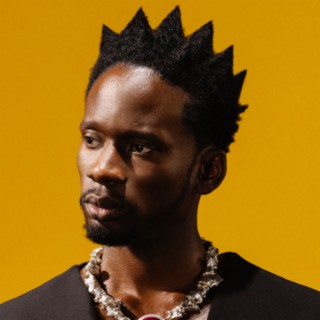 Mr Eazi
Current #231

All Time #119

Oluwatosin Ajibade (born 19 July 1991), better known by his stage name Mr Eazi, is a Nigerian singer, songwriter, and entrepreneur. He is a pioneer of Banku music, a fusion of sound he describes as a mixture of Ghanaian highlife and Nigerian chord progressions and patterns.

Mr Eazi relocated to Kumasi, Ghana in 2008 and enrolled at KNUST, where he began booking artists to perform at college parties. He showed interest in music after recording a guest verse on "My Life", a song that gained traction and became a popular record at KNUST.

Mr Eazi released his debut mixtape About to Blow in July 2013. He gained an international audience following the release of the Efya-assisted single "Skin Tight". His second mixtape Life Is Eazi, Vol. 1 – Accra To Lagos was released on 10 February 2017. Mr Eazi is known for pioneering Banku music, a sound "characterized by percolating rhythms and laid-back vocal delivered in Ghanaian Pidgin English".

Mr Eazi's music largely fits into the category of Afrobeats, a contemporary West African pop genre that marries global pop, highlife, and hip-hop. Mr Eazi's music has been described as having an R&B-like quality reminiscent of artists such as Beres Hammond and Gregory Isaacs. Lawrence Burney from Noisey.com stated that Mr Eazi uses his deep voice to "give ballad-like qualities to dance-forward production".

Mr Eazi is known to be dating Temi Otedola, daughter of Nigerian multi-millionaire Femi Otedola and sister to DJ Cuppy. One of his Eps is Something Else released in 2021.

Download and Listen to Mr Eazi's songs on Boomplay....more

Country/Region : Nigeria
Listen to Mr Eazi's new songs including "Legalize", "Panadol", "Zuzulakate ft. Joeboy" and many more. Enjoy Mr Eazi's latest songs and explore the Mr Eazi's new music albums. If you want to download Mr Eazi songs MP3, use the Boomplay App to download the Mr Eazi songs for free. Discover Mr Eazi's latest songs, popular songs, trending songs all on Boomplay.
Oluwatosin Ajibade (born 19 July 1991), better known by his stage name Mr Eazi, is a Nigerian singer, songwriter, and entrepreneur. He is a pioneer of Banku music, a fusion of sound he describes as a mixture of Ghanaian highlife and Nigerian chord progressions and patterns.

Mr Eazi relocated to Kumasi, Ghana in 2008 and enrolled at KNUST, where he began booking artists to perform at college parties. He showed interest in music after recording a guest verse on "My Life", a song that gained traction and became a popular record at KNUST.

Mr Eazi released his debut mixtape About to Blow in July 2013. He gained an international audience following the release of the Efya-assisted single "Skin Tight". His second mixtape Life Is Eazi, Vol. 1 – Accra To Lagos was released on 10 February 2017. Mr Eazi is known for pioneering Banku music, a sound "characterized by percolating rhythms and laid-back vocal delivered in Ghanaian Pidgin English".

Mr Eazi's music largely fits into the category of Afrobeats, a contemporary West African pop genre that marries global pop, highlife, and hip-hop. Mr Eazi's music has been described as having an R&B-like quality reminiscent of artists such as Beres Hammond and Gregory Isaacs. Lawrence Burney from Noisey.com stated that Mr Eazi uses his deep voice to "give ballad-like qualities to dance-forward production".

Mr Eazi is known to be dating Temi Otedola, daughter of Nigerian multi-millionaire Femi Otedola and sister to DJ Cuppy. One of his Eps is Something Else released in 2021.

Download and Listen to Mr Eazi's songs on Boomplay.
FAQs about Mr Eazi
Where is Mr Eazi from?
He is from Nigeria.
How to download songs of Mr Eazi?
You can download songs of Mr Eazi from Boomplay App for free.
Firstly, install Boomplay app on your mobile phone.
Secondly, navigate to the song you would like to download.
Thirdly, Tap on More > Download.