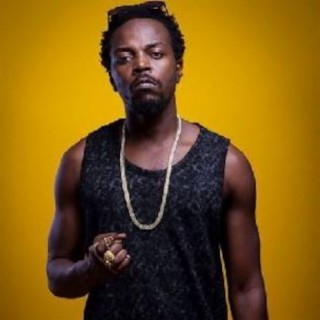 Kwaw Kese
Current #8,363

All Time #10.6k

Emmanuel Kofi Botwe, known by his stage name Kwaw Kese and popularly called Abodam (craziness), is a Ghanaian hiplife artist. He was born in Agona Swedru in the Central Region of Ghana. He is an alumnus of Happy Home Junior Secondary School and Winneba Secondary School. Many of Kwaw Kese songs become very popular and trendy online with a great number of streaming and downloads on Boomplay.

Career
He began composing and performing his songs from the age of 14. After his high school education, he worked as a meter reader for the Electricity Company of Ghana for three years. He did not have much interest for that job so he decided to take his music more seriously. He left for Accra and in 2004, he met Hammer of The Last Two and was signed to the record label.

He launched the record label Mad-Time Entertainment in 2005. He released his debut solo album which he titled 'Na Ya Tal'. His second album Abodam 07 was released under his label.
Kwaw Kese is well known for his hit album Abodam 2007, for which he won five awards at the 2008 edition of the Ghana Music Awards.He is known for doing crazy- like acts during his performance on stage.

Achievements
He bagged five awards at the 2008 edition of the Ghana Music Awards, which are
• Artist of the Year
• His Album Odeim won the Hiplife Album of the Year
• Hiplife Artist of the Year
• His Song Odeim won the Hiplife Song of the Year

Other Info
In December 2014, Kwaw Kese was arrested by the Ghana Police Service in Kumasi for smoking cannabis in public, which he didn't deny. He has since been put to court and tried. On 23 April 2015, he was sentenced to one day in jail after being found guilty of smoking cannabis and made to pay gh¢1200 as fine.

Follow Boomplay and keep up to date with the latest Kwaw Kese songs and information.

Kwaw Kese Songs and Albums
• Swedu Agona
• Aseda
• Allo
• Unlooking
• Kapa
• Victory (Album)
• Good Man
• Dondo
• Love and Affection
• Trap House
• Mente Mpo

Kwaw Kese songs are included in Boomplay music playlists. Search to stream and download Kwaw Kese songs MP3/ single/ albums on the platform....more

Country/Region : Ghana
Songs

(50)

Albums

(30)

Playlists

(11)
1

2

3

4

5

6

7

8

9

10

11

12

13

14

15

16

17

18

19

20

21

22

23

24

25

26

27

28

29

30

31

32

33

34

35

36

37

38

39

40

41

42

43

44

45

46

47

48

49

50
Listen to Kwaw Kese's new songs including "Win ft. Sarkodie", "The World", "BumBum (feat. Skonti, Akata Yesu, Ypee & Yaw Tog)" and many more. Enjoy Kwaw Kese's latest songs and explore the Kwaw Kese's new music albums. If you want to download Kwaw Kese songs MP3, use the Boomplay App to download the Kwaw Kese songs for free. Discover Kwaw Kese's latest songs, popular songs, trending songs all on Boomplay.
Emmanuel Kofi Botwe, known by his stage name Kwaw Kese and popularly called Abodam (craziness), is a Ghanaian hiplife artist. He was born in Agona Swedru in the Central Region of Ghana. He is an alumnus of Happy Home Junior Secondary School and Winneba Secondary School. Many of Kwaw Kese songs become very popular and trendy online with a great number of streaming and downloads on Boomplay.

Career
He began composing and performing his songs from the age of 14. After his high school education, he worked as a meter reader for the Electricity Company of Ghana for three years. He did not have much interest for that job so he decided to take his music more seriously. He left for Accra and in 2004, he met Hammer of The Last Two and was signed to the record label.

He launched the record label Mad-Time Entertainment in 2005. He released his debut solo album which he titled 'Na Ya Tal'. His second album Abodam 07 was released under his label.
Kwaw Kese is well known for his hit album Abodam 2007, for which he won five awards at the 2008 edition of the Ghana Music Awards.He is known for doing crazy- like acts during his performance on stage.

Achievements
He bagged five awards at the 2008 edition of the Ghana Music Awards, which are
• Artist of the Year
• His Album Odeim won the Hiplife Album of the Year
• Hiplife Artist of the Year
• His Song Odeim won the Hiplife Song of the Year

Other Info
In December 2014, Kwaw Kese was arrested by the Ghana Police Service in Kumasi for smoking cannabis in public, which he didn't deny. He has since been put to court and tried. On 23 April 2015, he was sentenced to one day in jail after being found guilty of smoking cannabis and made to pay gh¢1200 as fine.

Follow Boomplay and keep up to date with the latest Kwaw Kese songs and information.

Kwaw Kese Songs and Albums
• Swedu Agona
• Aseda
• Allo
• Unlooking
• Kapa
• Victory (Album)
• Good Man
• Dondo
• Love and Affection
• Trap House
• Mente Mpo

Kwaw Kese songs are included in Boomplay music playlists. Search to stream and download Kwaw Kese songs MP3/ single/ albums on the platform.
New Comments(
18

)
FAQs about Kwaw Kese
Where is Kwaw Kese from?
He is from Ghana.
How to download songs of Kwaw Kese?
You can download songs of Kwaw Kese from Boomplay App for free.
Firstly, install Boomplay app on your mobile phone.
Secondly, navigate to the song you would like to download.
Thirdly, Tap on More > Download.