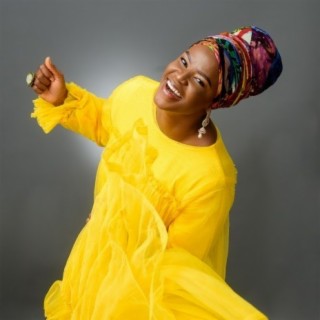 Sola Allyson Obaniyi
Current #741

All Time #243

Olusola Allyson Obaniyi (Sola Allyson) was born on 24th September at Ikorodu, Lagos State where she was brought up. She's a top Nigerian Gospel Singer, a song writer and as well a voice coach. Many Sola Allyson songs become very popular and trendy online with a great number of streaming and downloads on Boomplay.

Olushola Allyson-Obaniyi was born in Ikorodu, Lagos State. She started at Anglican Primary School, then moved to Shams-el-deen Grammar School, Ikorodu for her primary and secondary education respectively. Next, she attended Government Technical College, Agidingbi, Ikeja. At the College, she studied Business Studies and obtained an NBTE certificate. Also in 1997, she attended Polytechnic, Ibadan where she studied Music Technology majoring in voice and minoring in music.

Career
Allyson is a multi-dimensional singer whose genre of songs include folk, soul and gospel music with good lyrical presentation. She has graced several religious gatherings, and was also one of the Judges for MTN Project Fame West Africa audition for five seasons.
Shola grew up doing music. And, at age 13, she became a back-up singer. She did back-up for musicians like Yinka Ayefele, Stella Monye Gbenga Adeboye, Kayode Olajide, Pasuma, e.t.c. She also did jingles, signature tunes, and adverts for TV and radio stations.

After some time, she met a man who recognised her talent and asked if she could do a soundtrack for a Yoruba film. Shola agreed and made the soundtrack for the movie Eji Owuro. The film became a success, so Shola decided to try out the music in the studio. Eventually, the song Eji Owuro became her debut studio album. She began her music career in 2003. She started by doing a soundtrack for a Yoruba movie, and later on, released an album titled Eji Owuro.

Releasing the song marked Allyson's entry into the music industry and overtime she has worked with Tope Alabi, Adekunle Gold, Cobhams Asuquo and other singers. Also, she was a judge for five seasons in the West Africa musical talent hunt show, MTN Project Fame.

Shola got married to Toyin Obaniyi in 2003. The duo met in the Central Choir of the Celestial Church of Christ. And, today, their union is blessed with three children; Ayobami, Mopelola, and Obafunmiwo.

Achievements
• Best Indigenous Concept, Nigeria Music Video Awards (NMVA), 2013 (Nomination)
• Best Soft Rock/Alternative Video, Nigeria Music Video Awards (NMVA), 2013 (Nomination)
• Special Recognition Awards, City People Music Awards, 2018 (Won)

Follow Boomplay and keep up-to-date with the latest Sola Allyson songs and information.

Sola Allyson Songs and Albums
• Eji Owuro (Album)
• Gbe Je F'ori (Album)
• Ire (Abum)
• Im'oore (Album)
• Ife bi Eji Owuro
• Ebe
• Obinrin Ni Mi
• Aseye
• Anu Mbe
• Isinmi
• Iba
• Temisan
• Ma ro'se
• Adura Ololufe
• Oro Oluwa

Sola Allyson songs are included in Boomplay music playlists. Search to stream and download Sola Allyson songs MP3/ single/ albums on the platform....more

Country : Nigeria
Songs

(79)

Albums

(12)

Playlists

(3)
1

2

3

4

5

6

7

8

9

10

11

12

13

14

15

16

17

18

19

20

21

22

23

24

25

26

27

28

29

30

31

32

33

34

35

36

37

38

39

40

41

42

43

44

45

46

47

48

49

50

51

52

53

54

55

56

57

58

59

60

61

62

63

64

65

66

67

68

69

70

71

72

73

74

75

76

77

78

79
Listen to Sola Allyson Obaniyi's new songs including "Ebe", "Ẹ̀bẹ̀ & Prayers (Live)", "ÌRÌ" and many more. Enjoy Sola Allyson Obaniyi's latest songs and explore the Sola Allyson Obaniyi's new music albums. If you want to download Sola Allyson Obaniyi songs MP3, use the Boomplay App to download the Sola Allyson Obaniyi songs for free. Discover Sola Allyson Obaniyi's latest songs, popular songs, trending songs all on Boomplay.
Olusola Allyson Obaniyi (Sola Allyson) was born on 24th September at Ikorodu, Lagos State where she was brought up. She's a top Nigerian Gospel Singer, a song writer and as well a voice coach. Many Sola Allyson songs become very popular and trendy online with a great number of streaming and downloads on Boomplay.

Olushola Allyson-Obaniyi was born in Ikorodu, Lagos State. She started at Anglican Primary School, then moved to Shams-el-deen Grammar School, Ikorodu for her primary and secondary education respectively. Next, she attended Government Technical College, Agidingbi, Ikeja. At the College, she studied Business Studies and obtained an NBTE certificate. Also in 1997, she attended Polytechnic, Ibadan where she studied Music Technology majoring in voice and minoring in music.

Career
Allyson is a multi-dimensional singer whose genre of songs include folk, soul and gospel music with good lyrical presentation. She has graced several religious gatherings, and was also one of the Judges for MTN Project Fame West Africa audition for five seasons.
Shola grew up doing music. And, at age 13, she became a back-up singer. She did back-up for musicians like Yinka Ayefele, Stella Monye Gbenga Adeboye, Kayode Olajide, Pasuma, e.t.c. She also did jingles, signature tunes, and adverts for TV and radio stations.

After some time, she met a man who recognised her talent and asked if she could do a soundtrack for a Yoruba film. Shola agreed and made the soundtrack for the movie Eji Owuro. The film became a success, so Shola decided to try out the music in the studio. Eventually, the song Eji Owuro became her debut studio album. She began her music career in 2003. She started by doing a soundtrack for a Yoruba movie, and later on, released an album titled Eji Owuro.

Releasing the song marked Allyson's entry into the music industry and overtime she has worked with Tope Alabi, Adekunle Gold, Cobhams Asuquo and other singers. Also, she was a judge for five seasons in the West Africa musical talent hunt show, MTN Project Fame.

Shola got married to Toyin Obaniyi in 2003. The duo met in the Central Choir of the Celestial Church of Christ. And, today, their union is blessed with three children; Ayobami, Mopelola, and Obafunmiwo.

Achievements
• Best Indigenous Concept, Nigeria Music Video Awards (NMVA), 2013 (Nomination)
• Best Soft Rock/Alternative Video, Nigeria Music Video Awards (NMVA), 2013 (Nomination)
• Special Recognition Awards, City People Music Awards, 2018 (Won)

Follow Boomplay and keep up-to-date with the latest Sola Allyson songs and information.

Sola Allyson Songs and Albums
• Eji Owuro (Album)
• Gbe Je F'ori (Album)
• Ire (Abum)
• Im'oore (Album)
• Ife bi Eji Owuro
• Ebe
• Obinrin Ni Mi
• Aseye
• Anu Mbe
• Isinmi
• Iba
• Temisan
• Ma ro'se
• Adura Ololufe
• Oro Oluwa

Sola Allyson songs are included in Boomplay music playlists. Search to stream and download Sola Allyson songs MP3/ single/ albums on the platform.
New Comments(
303

)