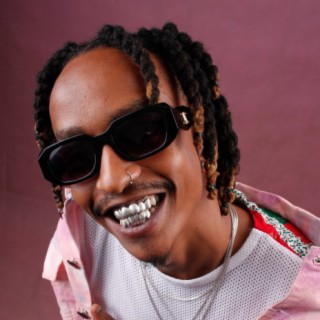 Boutross
Current #4,715

All Time #3,061

Boutross Mwebia Munene, popularly known as Boutross is a Kenyan rapper, record producer, songwriter and singer. Many of Boutross Songs became very popular and trendy on social media in line with a great number of streaming and downloads on Boomplay.

Boutross was born and raised in Nairobi. He started developing a niche in music by age 12 and has since made a name for himself as a reputable name on the Kenyan rap scene.

Career
Boutross started doing music professionally in 2013. His passion for this art saw him perform in different places even before he was known by many. He co-owns ADF Music - an indie record label which collects rappers under the name AD Family.

Boutross has released a couple of singles and two mixtapes with AD Family. Boutross' solo career has been quite stellar. Since his entry into the music industry, he's experienced fair success with a number of hit singles.

Achievements
Boutross' excellence and wide appeal has seen him get recognised on many fronts. He was selected as part of Mr. Eazi's 100 EMPAWA Africa Artistes in 2018. Boutross has also joined Nasty C on stage during Nasty's Kenyan leg of his Ivyson Tour. Boutross was also part of Homeboyz Radio's Jumpoff Freshmen in 2015. Boutross has released a number of EPs, mixtapes and albums throughout his career. The most notable of these though are Billy Jean and 6ixviewsii8k.

Billy Jean is a mixtape released in 2018. It handles production, mixing and mastering primarily by Boutross. 6ixviewsii8k is an album released in 2020 and features a host of some of the best names in the industry including Xeniah Manasseh, Nviiri the Storyteller, Kay Green, Shappaman among others. Standout tracks off the album include Omoka and Story Ilianza.

6ixviewsii8k has now a total of nearly 900K total Boomplay streams. Boutross' music has been featured on Boomplay playlists such as Trap Mix, Hip Hop 101 and Wainame among others....more

Country/Region : Kenya
Listen to Boutross's new songs including "Story Ilianza", "Mbona", "Wrong" and many more. Enjoy Boutross's latest songs and explore the Boutross's new music albums. If you want to download Boutross songs MP3, use the Boomplay App to download the Boutross songs for free. Discover Boutross's latest songs, popular songs, trending songs all on Boomplay.
Boutross Mwebia Munene, popularly known as Boutross is a Kenyan rapper, record producer, songwriter and singer. Many of Boutross Songs became very popular and trendy on social media in line with a great number of streaming and downloads on Boomplay.

Boutross was born and raised in Nairobi. He started developing a niche in music by age 12 and has since made a name for himself as a reputable name on the Kenyan rap scene.

Career
Boutross started doing music professionally in 2013. His passion for this art saw him perform in different places even before he was known by many. He co-owns ADF Music - an indie record label which collects rappers under the name AD Family.

Boutross has released a couple of singles and two mixtapes with AD Family. Boutross' solo career has been quite stellar. Since his entry into the music industry, he's experienced fair success with a number of hit singles.

Achievements
Boutross' excellence and wide appeal has seen him get recognised on many fronts. He was selected as part of Mr. Eazi's 100 EMPAWA Africa Artistes in 2018. Boutross has also joined Nasty C on stage during Nasty's Kenyan leg of his Ivyson Tour. Boutross was also part of Homeboyz Radio's Jumpoff Freshmen in 2015. Boutross has released a number of EPs, mixtapes and albums throughout his career. The most notable of these though are Billy Jean and 6ixviewsii8k.

Billy Jean is a mixtape released in 2018. It handles production, mixing and mastering primarily by Boutross. 6ixviewsii8k is an album released in 2020 and features a host of some of the best names in the industry including Xeniah Manasseh, Nviiri the Storyteller, Kay Green, Shappaman among others. Standout tracks off the album include Omoka and Story Ilianza.

6ixviewsii8k has now a total of nearly 900K total Boomplay streams. Boutross' music has been featured on Boomplay playlists such as Trap Mix, Hip Hop 101 and Wainame among others.
New Comments(
43

)
FAQs about Boutross
Where is Boutross from?
He is from Kenya.
What are the latest songs of Boutross?
The latest songs of Boutross are Miss Behavior ft. Savara & Fathermoh, Angela (Remix) ft. Juicee Mann, 1da Banton & Konshens and Dapa Dapa ft. Savage & Bee Vee.
What are the best songs of Boutross?
The best songs of Boutross are Angela ft. Juicee Mann, Yea Yea and Story Ilianza.
What are the best albums of Boutross?
The best albums of Boutross are Mawingu, 6ixviewsII8k and 6ixviewsII8k (Deluxe).
How to download songs of Boutross?
You can download songs of Boutross from Boomplay App for free.
Firstly, install Boomplay app on your mobile phone.
Secondly, navigate to the song you would like to download.
Thirdly, Tap on More > Download.