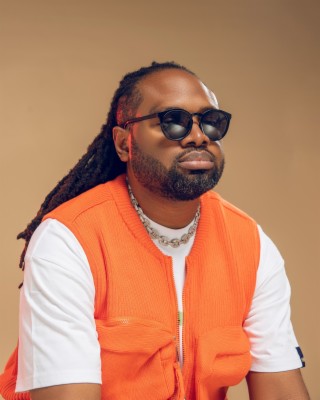 Cobhams Asuquo
Current #17.7k

All Time #3,012

Cobhams Asuquo is a visually impaired performing artist, singer/songwriter and music producer from Nigeria. He has worked with Davido, 2Baba, Tiwa Savage, Joeboy, Asa, Yemi Alade, Simi and many more renowned artists from across Africa. He is currently the UNICEF Nigeria Ambassador.

Despite being born blind, he showed himself to be a musical prodigy from a very young age. By the time he was a teenager, he had taught himself to play the piano, and played regularly for both his school and church bands. At the age of 19, he produced his first radio hit song "Catch Cold", for the duo Maintain, and has continued to turn out hit music since then for the best of Nigeria's and Africa's leading performing musicians. He produced and co-wrote the award winning debut album "Asa", for the Nigerian artist, Asa.

His own award winning singles include, "Ordinary People", "One Hit", "We Plenti" featuring Simi, "Boosit" featuring Falz, and several others.

Cobhams Asuquo has served many times as judge and consultant for some of Africa's hit talent based TV shows like Coke Studio Africa and Project Fame West Africa. He has also given live performances on some of the biggest
stages in the world such as the Global Citizens Festival in New York, One Africa Music Festival New York, World Economic Forum in Switzerland and several others....more

Country/Region : Nigeria
Listen to Cobhams Asuquo's new songs including "Ordinary People", "One Hit", "Empty" and many more. Enjoy Cobhams Asuquo's latest songs and explore the Cobhams Asuquo's new music albums. If you want to download Cobhams Asuquo songs MP3, use the Boomplay App to download the Cobhams Asuquo songs for free. Discover Cobhams Asuquo's latest songs, popular songs, trending songs all on Boomplay.
Cobhams Asuquo is a visually impaired performing artist, singer/songwriter and music producer from Nigeria. He has worked with Davido, 2Baba, Tiwa Savage, Joeboy, Asa, Yemi Alade, Simi and many more renowned artists from across Africa. He is currently the UNICEF Nigeria Ambassador.

Despite being born blind, he showed himself to be a musical prodigy from a very young age. By the time he was a teenager, he had taught himself to play the piano, and played regularly for both his school and church bands. At the age of 19, he produced his first radio hit song "Catch Cold", for the duo Maintain, and has continued to turn out hit music since then for the best of Nigeria's and Africa's leading performing musicians. He produced and co-wrote the award winning debut album "Asa", for the Nigerian artist, Asa.

His own award winning singles include, "Ordinary People", "One Hit", "We Plenti" featuring Simi, "Boosit" featuring Falz, and several others.

Cobhams Asuquo has served many times as judge and consultant for some of Africa's hit talent based TV shows like Coke Studio Africa and Project Fame West Africa. He has also given live performances on some of the biggest
stages in the world such as the Global Citizens Festival in New York, One Africa Music Festival New York, World Economic Forum in Switzerland and several others.
New Comments(
117

)
FAQs about Cobhams Asuquo
Where is Cobhams Asuquo from?
He is from Nigeria.
How to download songs of Cobhams Asuquo?
You can download songs of Cobhams Asuquo from Boomplay App for free.
Firstly, install Boomplay app on your mobile phone.
Secondly, navigate to the song you would like to download.
Thirdly, Tap on More > Download.