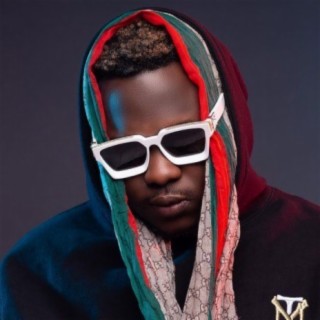 Medikal
Current #940

All Time #997

Samuel Adu Frimpong (born 4 April 1993), popularly known as Medikal, is a Ghanaian hip hop musician born to Portia Lamptey and James Frimpong in Sowutuom, a suburb of Accra.

He comes from Sowutuom, a suburb in Accra, Ghana. Medikal and Sarkodie had the highest nominations for the 2017 edition of the Ghana Music Awards. In 2018, he was on the Tim Westwood Show. Medikal had his High School education at Odorgonno Senior High. He is the son of James Frimpong and Portia Lamptey.

Many of Medikal songs become very popular and trendy online with great number of streaming and downloads on Boomplay.

CAREER AND ACHIEVEMENTS
Samuel adopted the name Medikal because he was fascinated with rapping about doctors, surgeons, medical practitioners and hospitals in general. He has made a name for himself in the music industry through hard work and numerous collaboration with successful artists. Apart from his nominations in 2017, he won the best discovery video in the MTN 4Syte Video Award in 2016.

In October 2021, he was arrested for brandishing a gun on social media.He was later charged for unlawful display of arms and ammunition and he pleaded not guilty. He was then remanded to prison custody for 5 days by an Accra Circuit court. At the hearing on Tuesday, October 26, after five days on remand, he was granted bail to the tune of GH¢100,000 with one surety.

Follow Boomplay and keep up to date with latest Medikal songs and information.

Medikal Songs
• La Hustle (Remix) ft. Criss Waddle & Joey B
• Medikation (2013)
• Disturbation (2017)
• The Plug EP(2019), Island (2020)
• The Truth (2020)
• La Hustle
• Ayekoo
• Omo Ada
• Accra
• Street Code
• Wind
• ABONTEN
• By Heart Boy
• Stop It
• Undertaker Flow
• Poof Gang
• No Service
• Too Risky
• Nyame
• El Chairmano
• How Much
• Oseyiee
• Be Afraid
• The Target
• Inatosha
• Father
• Gimme Vibe
• Decision
• Wrowroho
• GYM
• Notin I Get
• Ama
• Borla Bird
• Violence
• Nonsense
• Confirm

Medikal songs are included in Boomplay music playlists. Search to stream and download Medikal songs MP3/ single/ albums on the Boomplay....more

Country/Region : Ghana
Songs

(103)

Albums

(48)

Playlists

(126)
1

2

3

4

5

6

7

8

9

10

11

12

13

14

15

16

17

18

19

20

21

22

23

24

25

26

27

28

29

30

31

32

33

34

35

36

37

38

39

40

41

42

43

44

45

46

47

48

49

50

51

52

53

54

55

56

57

58

59

60

61

62

63

64

65

66

67

68

69

70

71

72

73

74

75

76

77

78

79

80

81

82

83

84

85

86

87

88

89

90

91

92

93

94

95

96

97

98

99

100
Listen to Medikal's new songs including "Stubborn Academy", "La Hustle (Remix) [feat. Criss Waddle & Joey B]", "Odo (feat. King Promise)" and many more. Enjoy Medikal's latest songs and explore the Medikal's new music albums. If you want to download Medikal songs MP3, use the Boomplay App to download the Medikal songs for free. Discover Medikal's latest songs, popular songs, trending songs all on Boomplay.
Samuel Adu Frimpong (born 4 April 1993), popularly known as Medikal, is a Ghanaian hip hop musician born to Portia Lamptey and James Frimpong in Sowutuom, a suburb of Accra.

He comes from Sowutuom, a suburb in Accra, Ghana. Medikal and Sarkodie had the highest nominations for the 2017 edition of the Ghana Music Awards. In 2018, he was on the Tim Westwood Show. Medikal had his High School education at Odorgonno Senior High. He is the son of James Frimpong and Portia Lamptey.

Many of Medikal songs become very popular and trendy online with great number of streaming and downloads on Boomplay.

CAREER AND ACHIEVEMENTS
Samuel adopted the name Medikal because he was fascinated with rapping about doctors, surgeons, medical practitioners and hospitals in general. He has made a name for himself in the music industry through hard work and numerous collaboration with successful artists. Apart from his nominations in 2017, he won the best discovery video in the MTN 4Syte Video Award in 2016.

In October 2021, he was arrested for brandishing a gun on social media.He was later charged for unlawful display of arms and ammunition and he pleaded not guilty. He was then remanded to prison custody for 5 days by an Accra Circuit court. At the hearing on Tuesday, October 26, after five days on remand, he was granted bail to the tune of GH¢100,000 with one surety.

Follow Boomplay and keep up to date with latest Medikal songs and information.

Medikal Songs
• La Hustle (Remix) ft. Criss Waddle & Joey B
• Medikation (2013)
• Disturbation (2017)
• The Plug EP(2019), Island (2020)
• The Truth (2020)
• La Hustle
• Ayekoo
• Omo Ada
• Accra
• Street Code
• Wind
• ABONTEN
• By Heart Boy
• Stop It
• Undertaker Flow
• Poof Gang
• No Service
• Too Risky
• Nyame
• El Chairmano
• How Much
• Oseyiee
• Be Afraid
• The Target
• Inatosha
• Father
• Gimme Vibe
• Decision
• Wrowroho
• GYM
• Notin I Get
• Ama
• Borla Bird
• Violence
• Nonsense
• Confirm

Medikal songs are included in Boomplay music playlists. Search to stream and download Medikal songs MP3/ single/ albums on the Boomplay.
FAQs about Medikal
Where is Medikal from?
He is from Ghana.
How to download songs of Medikal?
You can download songs of Medikal from Boomplay App for free.
Firstly, install Boomplay app on your mobile phone.
Secondly, navigate to the song you would like to download.
Thirdly, Tap on More > Download.