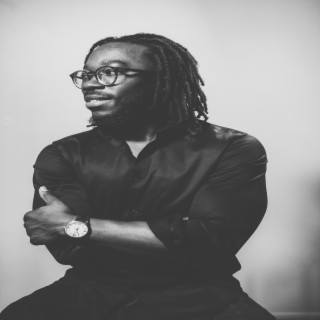 Paapa Versa
Current #99k+

All Time #104.9k

As a singer-songwriter, rapper, multi-instrumentalist and producer, Paapa Versa has gained the respect and admiration as one of Ghana's most versatile artists. He considers himself a producer first, composing, arranging and producing every song in his growing catalog. Inspired by the likes of Stevie Wonder, Jon Bellion, PJ Morton and more, Paapa has become known for thoughtful, sincere lyricism in genre-bending music.

Born with a terrible stutter, music became his primary mode of expression. Though he is now more in control of his speech, he is quoted as saying, "Growing up with a stutter, I thought I was inadequate for words. I found refuge in music when I was 4, and I've lived there since. My stutter never left, and music didn't either. Now a little older, I've realized that words - on their own - are inadequate for me. I pour my heart out in songs."

His music has been described as eclectic, insightful, refreshing, uplifting, and more. His greatest desire is to inspire people everywhere to harness their gifts and become bigger than the world they live in, for the world's sake....more

Country : Ghana
Songs

(44)

Albums

(7)

Playlists

(3)
1

2

3

4

5

6

7

8

9

10

11

12

13

14

15

16

17

18

19

20

21

22

23

24

25

26

27

28

29

30

31

32

33

34

35

36

37

38

39

40

41

42

43

44
Listen to Paapa Versa's new songs including "Call You Mine", "INTRO", "Dear Grace ft. Ria Boss" and many more. Enjoy Paapa Versa's latest songs and explore the Paapa Versa's new music albums. If you want to download Paapa Versa songs MP3, use the Boomplay App to download the Paapa Versa songs for free. Discover Paapa Versa's latest songs, popular songs, trending songs all on Boomplay.
As a singer-songwriter, rapper, multi-instrumentalist and producer, Paapa Versa has gained the respect and admiration as one of Ghana's most versatile artists. He considers himself a producer first, composing, arranging and producing every song in his growing catalog. Inspired by the likes of Stevie Wonder, Jon Bellion, PJ Morton and more, Paapa has become known for thoughtful, sincere lyricism in genre-bending music.

Born with a terrible stutter, music became his primary mode of expression. Though he is now more in control of his speech, he is quoted as saying, "Growing up with a stutter, I thought I was inadequate for words. I found refuge in music when I was 4, and I've lived there since. My stutter never left, and music didn't either. Now a little older, I've realized that words - on their own - are inadequate for me. I pour my heart out in songs."

His music has been described as eclectic, insightful, refreshing, uplifting, and more. His greatest desire is to inspire people everywhere to harness their gifts and become bigger than the world they live in, for the world's sake.
New Comments(
0

)

What do you think of this artist?