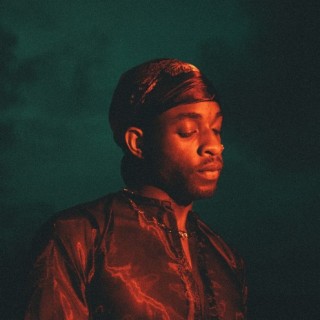 Hermez
Current #99k+

All Time #41.7k

Hermez' music is a reflection of R&B and Afro-fusion sounds
blended together. His raspy melodies and vocals have
received heavy praise from the likes of Native Magazine,

Harmattan Rain, and Radr Africa.

Hermez has worked with some of Africa's most renown up
& comers from producer Le Mav, Chop Life Crew's MOJO,

Ghana's Amaarae/Moliy, and alté artist AYLØ.

His previous single releases "Waves" and "All The Time" have
obtained placements on Apple Music playlists such as The
New Africa, Breaking R&B, Alt-R&B, Mood, Alté Cruise, and
Gary Vee's Monday to Monday. Waves has also been

featured on music collective BossyLDN's radio show on NTS.

His latest release Phantom Troupe features production
from DOZ who most recently produced Prettyboy-DO's
"Jungle Justice" that premiered on ColorsxStudios.

Furthermore, Hermez has been co-signed by legendary
Nigerian A&R, Tunji (RCA/Keep Cool) as well as Mr. Eazi's

A&R/Manager Doregos Camillo (Empawa).

Hermez' upcoming projects include collaborations &
curation with UK producer Cam Wild and creative

collective Loud Parade, He is also heavily involved in the
creative direction of media company Sauce Nigeria in which
they recently released a clothing capsule designed by
creative studio house Gelbsy that received praise from
the likes of fashion connoisseur Hype Williams. Sauce
Nigeria also recently released a documentary sponsored
by energy drink Power Horse highlighting the BMX scene in
Lagos. The short doc was picked up by Hypebeast Nigeria

and stars BMX athlete Star Boy.

He has also started his LLC Divine Tree in partnership with his
brother and manager amongst others to help highlight talent
out of the African diaspora. Divine Tree is currently under
development. Hermez has recently performed at Hush
Lounge's Speakeasy Tuesdays in Houston, Texas as well as
opening for Don Toliver at a Divine Tree's after-party
celebrating NFL Player Laremy Tunsil's birthday which was
hosted by Internet personality and comedian Druski2Funny...more

Country/Region : Nigeria
Songs

(1)

Albums

(1)

Playlists

(0)
Listen to Hermez's new songs including "January (feat. DOZ & Le Mav)", and many more. Enjoy Hermez's latest songs and explore the Hermez's new music albums. If you want to download Hermez songs MP3, use the Boomplay App to download the Hermez songs for free. Discover Hermez's latest songs, popular songs, trending songs all on Boomplay.
Hermez' music is a reflection of R&B and Afro-fusion sounds
blended together. His raspy melodies and vocals have
received heavy praise from the likes of Native Magazine,

Harmattan Rain, and Radr Africa.

Hermez has worked with some of Africa's most renown up
& comers from producer Le Mav, Chop Life Crew's MOJO,

Ghana's Amaarae/Moliy, and alté artist AYLØ.

His previous single releases "Waves" and "All The Time" have
obtained placements on Apple Music playlists such as The
New Africa, Breaking R&B, Alt-R&B, Mood, Alté Cruise, and
Gary Vee's Monday to Monday. Waves has also been

featured on music collective BossyLDN's radio show on NTS.

His latest release Phantom Troupe features production
from DOZ who most recently produced Prettyboy-DO's
"Jungle Justice" that premiered on ColorsxStudios.

Furthermore, Hermez has been co-signed by legendary
Nigerian A&R, Tunji (RCA/Keep Cool) as well as Mr. Eazi's

A&R/Manager Doregos Camillo (Empawa).

Hermez' upcoming projects include collaborations &
curation with UK producer Cam Wild and creative

collective Loud Parade, He is also heavily involved in the
creative direction of media company Sauce Nigeria in which
they recently released a clothing capsule designed by
creative studio house Gelbsy that received praise from
the likes of fashion connoisseur Hype Williams. Sauce
Nigeria also recently released a documentary sponsored
by energy drink Power Horse highlighting the BMX scene in
Lagos. The short doc was picked up by Hypebeast Nigeria

and stars BMX athlete Star Boy.

He has also started his LLC Divine Tree in partnership with his
brother and manager amongst others to help highlight talent
out of the African diaspora. Divine Tree is currently under
development. Hermez has recently performed at Hush
Lounge's Speakeasy Tuesdays in Houston, Texas as well as
opening for Don Toliver at a Divine Tree's after-party
celebrating NFL Player Laremy Tunsil's birthday which was
hosted by Internet personality and comedian Druski2Funny
New Comments(
0

)

What do you think of this artist?
FAQs about Hermez
Where is Hermez from?
He is from Nigeria.
What are the latest songs of Hermez?
The latest songs of Hermez are Close2Meh ft. Nathi & Jaylon, Bye Bye Baby and Sticky Intro.
What are the best songs of Hermez?
The best songs of Hermez are SUGABLU ft. MAUIMØON & Suté Iwar, All The Time ft. MOJO AF and Part2 (Dinner in Maui) ft. MAUIMØON.
What are the best albums of Hermez?
The best albums of Hermez are Oasis, Part2 (Dinner in Maui) and Lucid Cruise 2.0.
How to download songs of Hermez?
You can download songs of Hermez from Boomplay App for free.
Firstly, install Boomplay app on your mobile phone.
Secondly, navigate to the song you would like to download.
Thirdly, Tap on More > Download.