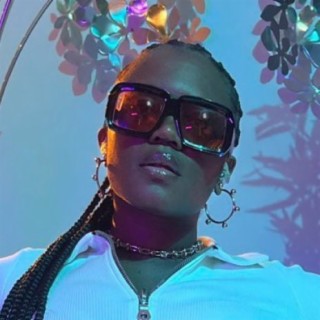 Amaarae
Current #1,812

All Time #2,344

Africa's alternative music sub - genre alte, is growing in size and popularity each day, and American Ghanaian musician Amaarae is in the ranks leading the charge.

Born Ama Serwah Genfi, Amaarae,stepped into the Alte music scene with a fire and exuberance that is not easily duplicated.
Although born in Ghana, Amaarae, challenges the norm of an average West African woman. Having attended 7 different schools in 4 different cities across 2 continents between the ages of 4 and 22, the artist Amaarae expresses this kaleidoscope of experiences through her music, fashion, style and sensual lyricism that is rebellious to the straight-jacket societal demands of what an African woman should be.Amaarae's androgynous style, coloured hair, witty personality and sensual lyricism is a brave call for young Africans, especially women, to be true to themselves and live beyond expectations placed on them. The Warrior Princess, as she is affectionately called by fans - a nickname which stems from her name Ama Serwah which translates to woman of war - raises the banner of freedomof expression, love and non-conformism.Her lyrical dexterity, especial voice and exceptional style has marked Amaarae as a global artist putting her ahead of the curve and making her an artist to look forward to in the coming years....more

Country : Ghana
Listen to Amaarae's new songs including "Spend Some Time ft. Wande Coal", and many more. Enjoy Amaarae's latest songs and explore the Amaarae's new music albums. If you want to download Amaarae songs MP3, use the Boomplay App to download the Amaarae songs for free. Discover Amaarae's latest songs, popular songs, trending songs all on Boomplay.
Africa's alternative music sub - genre alte, is growing in size and popularity each day, and American Ghanaian musician Amaarae is in the ranks leading the charge.

Born Ama Serwah Genfi, Amaarae,stepped into the Alte music scene with a fire and exuberance that is not easily duplicated.
Although born in Ghana, Amaarae, challenges the norm of an average West African woman. Having attended 7 different schools in 4 different cities across 2 continents between the ages of 4 and 22, the artist Amaarae expresses this kaleidoscope of experiences through her music, fashion, style and sensual lyricism that is rebellious to the straight-jacket societal demands of what an African woman should be.Amaarae's androgynous style, coloured hair, witty personality and sensual lyricism is a brave call for young Africans, especially women, to be true to themselves and live beyond expectations placed on them. The Warrior Princess, as she is affectionately called by fans - a nickname which stems from her name Ama Serwah which translates to woman of war - raises the banner of freedomof expression, love and non-conformism.Her lyrical dexterity, especial voice and exceptional style has marked Amaarae as a global artist putting her ahead of the curve and making her an artist to look forward to in the coming years.
New Comments(
27

)