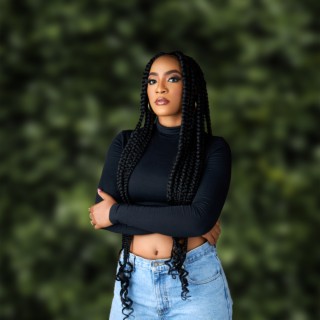 Kuneli
Current #37.3k

All Time #41.7k

Deborah Mawunyo Kunneh, better known professionally as Kuneli or Debbie Kuneli is a Ghanaian singer and songwriter. Kuneli's music is a blend of RnB, Afrobeat, and Soul. She studied BA in Religious Studies at Kwame Nkrumah University of Science and Technology and completed it in 2020.

Kuneli wrote her first song at age 15 and subsequently recorded her debut single 'PLEASE DON'T GO'. She continued to release 'RUN AWAY COVER' in 2018, 'Guilty Pleasure' written by her in 2018, and 'Like I Do' in 2020. In 2019, her hit singles Odo Lastik' and ''WANNA LOVE ME' won her lots of fans.

To continue an impressive start to her career, Kuneli released another banger Chacha 8th October 2021 and garnered impressive numbers whilst finding its way to mainstream radio rotation in Ghana. It is a deep song about people who found love again after being broken-hearted. Followed up by her current single "Makoma (Promise)

Kuneli is currently not under any management or Record Label....more

Country/Region : Ghana
Songs

(8)

Albums

(9)

Playlists

(3)
Listen to Kuneli's new songs including "Makoma (Promise)", "Traitor", "Understand" and many more. Enjoy Kuneli's latest songs and explore the Kuneli's new music albums. If you want to download Kuneli songs MP3, use the Boomplay App to download the Kuneli songs for free. Discover Kuneli's latest songs, popular songs, trending songs all on Boomplay.
Deborah Mawunyo Kunneh, better known professionally as Kuneli or Debbie Kuneli is a Ghanaian singer and songwriter. Kuneli's music is a blend of RnB, Afrobeat, and Soul. She studied BA in Religious Studies at Kwame Nkrumah University of Science and Technology and completed it in 2020.

Kuneli wrote her first song at age 15 and subsequently recorded her debut single 'PLEASE DON'T GO'. She continued to release 'RUN AWAY COVER' in 2018, 'Guilty Pleasure' written by her in 2018, and 'Like I Do' in 2020. In 2019, her hit singles Odo Lastik' and ''WANNA LOVE ME' won her lots of fans.

To continue an impressive start to her career, Kuneli released another banger Chacha 8th October 2021 and garnered impressive numbers whilst finding its way to mainstream radio rotation in Ghana. It is a deep song about people who found love again after being broken-hearted. Followed up by her current single "Makoma (Promise)

Kuneli is currently not under any management or Record Label.
New Comments(
1

)
FAQs about Kuneli
Where is Kuneli from?
She is from Ghana.
How to download songs of Kuneli?
You can download songs of Kuneli from Boomplay App for free.
Firstly, install Boomplay app on your mobile phone.
Secondly, navigate to the song you would like to download.
Thirdly, Tap on More > Download.