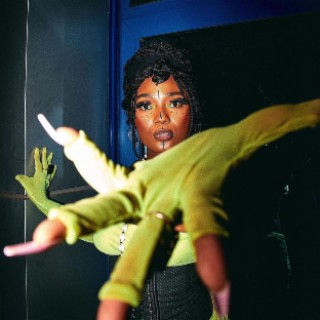 Efya
Current #3,089

All Time #2,853

Jane Awindor better known by her stage name Efya, is a Ghanaian singer, songwriter, and actress from Kumasi. She was born on April 10, 1990 in Kumasi, Ghana. She is the daughter of Nana Adwoa Awindor, a filmmaker and celebrity host of the late television show Greetings From Abroad. Many of Efya's Songs became very popular and trendy on social media in line with a great number of streaming and downloads on Boomplay.

Career
Efya received voice training from some of her family members at a very young age. She graduated with a degree in theatre and music from the University of Ghana.

In 2008, she gained national acceptance throughout Ghana by becoming the first runner up in Charterhouse's Stars of The Future television show. She lost to Irene Logan, but secured herself a three-year recording deal. The recording deal enabled her and Irene to do a collaborative album titled Unveiled, which was released in South Africa. Following the conclusion of her recording deal with Charterhouse, Efya continued to record songs and perform at local gigs. She changed her stage name from Miss Jane to Efya prior to going solo.

In 2011, she signed a recording deal with One Nation Entertainment. Efya got her first exposure to fame when she participated in the maiden edition of the Stars of the Future talent show. She won the Best Female Vocal Performance category at the Ghana Music Awards in four succession, beginning in 2011. Moreover, she was applauded for her performance at the 2013 Africa Magic Viewers Choice Awards. Efya's debut mixtape TINT was released on November 12, 2013.

An acronym for This Is Not The Album, the mixtape comprises 13 tracks and was released as a precursor to Janesis. It was also released for free digital download and was supported by the singles "Getaway" and "Best in Me". T.I.N.T is composed of her songs that were released between 2011 and 2013. It features a guest appearance from Black Magic. The mixtape's lead single "Getaway" was released on November 10, 2011. The mixtape's second single "Best in Me" was released on February 14, 2012.

On February 14, 2013, Efya released "Body" as a cover of Chris Brown's single "Don't Judge Me". Efya released her debut studio album Janesis on April 22, 2016. The album's lead single "Forgetting Me" was released on January 11, 2014. The song was met with great reception. A writer for Modern Ghana described the song as a "powerful ballad that tells the story of love and heartbreak.

The Bisa Kdei-assisted track "One of Your Own" was released on 16 July 16, 2014, as the album's second single. Efya initially wanted to release "Gingam Too Much" as the second single but after discussions with her team, she decided to postpone the release of the aforesaid single.

The Kaywa-produced track "Gingam Too Much" was eventually released on December 26, 2014, as the album's third single. The music video for "Forgetting Me" was directed by Prince Dovlo of Seven Streets Entertainment. On December 23, 2016, Nigerian musician Wizkid released a solo single "Daddy Yo", with unaccredited vocals by Efya. However, Efya makes an appearance in the music video. On June 10, 2017, Efya released the reggae-infused track "Until the Dawn". It was produced by British-born Nigerian record producer and recording artist Maleek Berry.

In December 2019, Efya announced the launch of her new clothing line called "The Native Chic". She collaborated with Tiwa Savage on her single 'The One'. Efya is an official ambassador for the Awal Children of the Future Foundation (ACOTF), a non-profit organization aimed at helping victims of physical and emotional trauma, particularly orphans and street kids. The foundation was founded by Posigee, a Tema-based record producer famous for tracks such as "Sister", "Injection" and "Issues".

The foundation consists of eight musical ambassadors, including Sarkodie, Ruff n Smooth and Yaw Siki. The foundation released its theme song "This is Who I Am" in 2012; it was written by Chase and produced by Posigee. All of the proceeds from the digital sale of the song goes to the ACOTF Foundation.

Achievements
Efya has had quite an interesting musical career and with it came the massive awards and accolades from nominations to winning like when she won the 2016 Nigerian Entertainment Awards for African Female Artist of the Year, the Glitz Style Awards 2016 for Most Stylish Music Artiste of the Year and got nominated to the 2016 Black Entertainment Film Fashion Television & Arts for Best International Female African Act. She went further and got nominated for over 19 awards and won 11 more awards.

Follow Boomplay and keep up-to-date with the latest songs of Efya and information.

Efya's Songs
• Best In Me
• Until The Dawn
• One Of Your Own
• Little Things
• Forgetting Me
• Ankwadobi
• Do Me
• One People-One Nation
• Whoman Woman
• The One
• Catchy Catchy
• Getaway
• Kingston Child
• Hold On
• Getting You

Efya's Songs are included in Boomplay music playlists. Search, stream, and d...more

Country/Region : Ghana
Listen to Efya's new songs including "Ankwadobi ft Medikal", "The One ft. Tiwa Savage", "Pricelezz ft. Mugeez" and many more. Enjoy Efya's latest songs and explore the Efya's new music albums. If you want to download Efya songs MP3, use the Boomplay App to download the Efya songs for free. Discover Efya's latest songs, popular songs, trending songs all on Boomplay.
Jane Awindor better known by her stage name Efya, is a Ghanaian singer, songwriter, and actress from Kumasi. She was born on April 10, 1990 in Kumasi, Ghana. She is the daughter of Nana Adwoa Awindor, a filmmaker and celebrity host of the late television show Greetings From Abroad. Many of Efya's Songs became very popular and trendy on social media in line with a great number of streaming and downloads on Boomplay.

Career
Efya received voice training from some of her family members at a very young age. She graduated with a degree in theatre and music from the University of Ghana.

In 2008, she gained national acceptance throughout Ghana by becoming the first runner up in Charterhouse's Stars of The Future television show. She lost to Irene Logan, but secured herself a three-year recording deal. The recording deal enabled her and Irene to do a collaborative album titled Unveiled, which was released in South Africa. Following the conclusion of her recording deal with Charterhouse, Efya continued to record songs and perform at local gigs. She changed her stage name from Miss Jane to Efya prior to going solo.

In 2011, she signed a recording deal with One Nation Entertainment. Efya got her first exposure to fame when she participated in the maiden edition of the Stars of the Future talent show. She won the Best Female Vocal Performance category at the Ghana Music Awards in four succession, beginning in 2011. Moreover, she was applauded for her performance at the 2013 Africa Magic Viewers Choice Awards. Efya's debut mixtape TINT was released on November 12, 2013.

An acronym for This Is Not The Album, the mixtape comprises 13 tracks and was released as a precursor to Janesis. It was also released for free digital download and was supported by the singles "Getaway" and "Best in Me". T.I.N.T is composed of her songs that were released between 2011 and 2013. It features a guest appearance from Black Magic. The mixtape's lead single "Getaway" was released on November 10, 2011. The mixtape's second single "Best in Me" was released on February 14, 2012.

On February 14, 2013, Efya released "Body" as a cover of Chris Brown's single "Don't Judge Me". Efya released her debut studio album Janesis on April 22, 2016. The album's lead single "Forgetting Me" was released on January 11, 2014. The song was met with great reception. A writer for Modern Ghana described the song as a "powerful ballad that tells the story of love and heartbreak.

The Bisa Kdei-assisted track "One of Your Own" was released on 16 July 16, 2014, as the album's second single. Efya initially wanted to release "Gingam Too Much" as the second single but after discussions with her team, she decided to postpone the release of the aforesaid single.

The Kaywa-produced track "Gingam Too Much" was eventually released on December 26, 2014, as the album's third single. The music video for "Forgetting Me" was directed by Prince Dovlo of Seven Streets Entertainment. On December 23, 2016, Nigerian musician Wizkid released a solo single "Daddy Yo", with unaccredited vocals by Efya. However, Efya makes an appearance in the music video. On June 10, 2017, Efya released the reggae-infused track "Until the Dawn". It was produced by British-born Nigerian record producer and recording artist Maleek Berry.

In December 2019, Efya announced the launch of her new clothing line called "The Native Chic". She collaborated with Tiwa Savage on her single 'The One'. Efya is an official ambassador for the Awal Children of the Future Foundation (ACOTF), a non-profit organization aimed at helping victims of physical and emotional trauma, particularly orphans and street kids. The foundation was founded by Posigee, a Tema-based record producer famous for tracks such as "Sister", "Injection" and "Issues".

The foundation consists of eight musical ambassadors, including Sarkodie, Ruff n Smooth and Yaw Siki. The foundation released its theme song "This is Who I Am" in 2012; it was written by Chase and produced by Posigee. All of the proceeds from the digital sale of the song goes to the ACOTF Foundation.

Achievements
Efya has had quite an interesting musical career and with it came the massive awards and accolades from nominations to winning like when she won the 2016 Nigerian Entertainment Awards for African Female Artist of the Year, the Glitz Style Awards 2016 for Most Stylish Music Artiste of the Year and got nominated to the 2016 Black Entertainment Film Fashion Television & Arts for Best International Female African Act. She went further and got nominated for over 19 awards and won 11 more awards.

Follow Boomplay and keep up-to-date with the latest songs of Efya and information.

Efya's Songs
• Best In Me
• Until The Dawn
• One Of Your Own
• Little Things
• Forgetting Me
• Ankwadobi
• Do Me
• One People-One Nation
• Whoman Woman
• The One
• Catchy Catchy
• Getaway
• Kingston Child
• Hold On
• Getting You

Efya's Songs are included in Boomplay music playlists. Search, stream, and d
New Comments(
97

)
FAQs about Efya
Where is Efya from?
She is from Ghana.
How to download songs of Efya?
You can download songs of Efya from Boomplay App for free.
Firstly, install Boomplay app on your mobile phone.
Secondly, navigate to the song you would like to download.
Thirdly, Tap on More > Download.