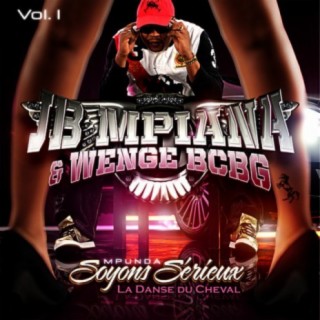 JB Mpiana
Current #135

All Time #267

JB Mpiana, who was born on June 2 1967in Kananga in the region of central Kasai is a singer, dancer-choreographer, singer-songwriter Congolese from rumba to ndombolo and soukous.

He made his mark in 1997 with his first solo album, Feux de l'amour, notably with the flagship title Ndombolo.

He is the child of mama Agnès lusambo and papa Albert mbuyi mpiana. He has several brothers and sisters from different mothers. Some of them get often mentioned in his songs like coco mbuyi, gaston aka gas' mpiana. His late brother Laurent Fabrice, Magalie mpiana who is very often at his concerts.

Jean-Bedel Mpiana Tshituka alias JB Mpiana Papa Cherry Moto Pamba must be a man with a big heart. Rare man to be found on this earth, imagine he forgave his wife. A mother to his two daughters and son after she left him for 8 good years to marry DIDI KINUANI the millionaire whom she bore a son. Papa Cherry took her back with her son (his rival's son)

Many JB Mpiana songs become very popular and trendy online with a great number of streaming and downloads on Boomplay.

Career.
It was at the age of ten, so in 1977, that he learned to sing. From the age of thirteen, he began to sing at church and in various school groups with his friends Blaise Bula and Titina Mbwinga Kamboleta. Sometime later he changed schools, going from Athenaeum Gombe to ITC Ngaliema, he will play in the ITC Flash school group with singers such as Sam Tshintu and Modogo Abarambwa (future members of the Latin Quarter of Koffi Olomide) and that his future college Adolphe Ebondja aka Dominguez 2.

It's in October 1984, that he meets by chance a group of young men rehearsing the song Ngabelo of King Kester Emeneya and Victoria Eleison. These young men are Werra, Didier Masela, Aimé Bwanga, Dede Masolo, Jean-Belis Luvutula, and the tenorist Endjo Mbula, all members of Wenge Musica.

Mashiro Kifaya who does not manage to reach the high notes of Debaba's vocals in this song is replaced by Mpiana who asks if he can sing with them, his interpretation impresses the members of the group.

A few days later, Luvutula being one of his classmates, asks him if he would like to join the group. JB accepts and becomes a member of the group then a few months later he introduces his friend Blaise Bula in the band 2.

Apart from music, group members are students. They decide to allow themselves to exercise their passion only during school holidays.

Wenge Musica now plays curtain raises They perform one to two songs before the arrival of big bands on the scene like Victoria Eleison, Bakuba Empire, Zaiko Langa Langa, Choc Stars, Viva La Musica and Langa Langa Stars.

But in 1985, Jean-Bedel fails his high school diploma (the equivalent of the Baccalaureate in France) and is about to stop school but his friends, especially Werrason, encourages him to resume and he will eventually study marketing alongside the latter 2. In 1986, Wenge Musica plays its first concerts and each member presents their own song. JB Mpiana presents Kin e bouger (version 1), Blaise Bula presents Laura, Werrason presents Cesarine 2.

Follow Boomplay and keep up-to-date with the latest JB Mpiana songs and information.

Achievement.
In 1988 released the first album of Wenge Musica Bouger Bouger composed of six titles, JB Mpiana is the author of three songs Mulolo, The King's daughter and Bakolo Budget.

It is with this album that Wenge Musica is a place in the big league, among those of the Congolese music of the 3 th generation as Papa Wemba, King Kester Emeneya, Koffi Olomide, etc. The group manages to win with Mulolo, voted best song of the year and the group is titled musical revelation of the year 2.

Mulolois sung in Lingala, in French as well as in Kimbala, Werrason's mother tongue used for the refrain brought by Werrason's uncle, Nico Buakongo. The group attracts many fans with success.

Three years later, in 1991, the second album entitled Kin É Bougé is released and confirms the success of Wenge Musica. As one of the leading musical ensembles in Zaire, the group is acclaimed as the best in Zaire and JB Mpiana best singer.

This album contains 5 songs including Kin É Bougé, the title track of the album signed by JB Mpiana, Princess Pathy of Alain Makaba (play by JB Mpiana) and Eve Sukali of Blaise Bula, Kaskin of Werrason and Ngoma Maguy the credits of Ekokota facilitator.

Shortly before the recording of the album, in 1990The group was to travel to Brussels via Paris for the first time but they were arrested in Kinshasa because they were in possession of false visas 3.

In 1993, the group released Kala Yi Boeing which is actually their third album because before this one there was Pleins Feux which was released in 1992 but which will finally be released in 1996. In Kala-Yi-Boeing, the title track that was worn by the song of one of the Werrason band members, JB Mpiana signed two songs out of the seven contained in this opus, Danico and My friend Coboss.

He plays another song by Alain Makaba, C'est...more

Country/Region : Democratic Republic of the Congo
Songs

(0)

Albums

(0)

Playlists

(0)

Videos and More
Listen to JB Mpiana's new songs including and many more. Enjoy JB Mpiana's latest songs and explore the JB Mpiana's new music albums. If you want to download JB Mpiana songs MP3, use the Boomplay App to download the JB Mpiana songs for free. Discover JB Mpiana's latest songs, popular songs, trending songs all on Boomplay.
JB Mpiana, who was born on June 2 1967in Kananga in the region of central Kasai is a singer, dancer-choreographer, singer-songwriter Congolese from rumba to ndombolo and soukous.

He made his mark in 1997 with his first solo album, Feux de l'amour, notably with the flagship title Ndombolo.

He is the child of mama Agnès lusambo and papa Albert mbuyi mpiana. He has several brothers and sisters from different mothers. Some of them get often mentioned in his songs like coco mbuyi, gaston aka gas' mpiana. His late brother Laurent Fabrice, Magalie mpiana who is very often at his concerts.

Jean-Bedel Mpiana Tshituka alias JB Mpiana Papa Cherry Moto Pamba must be a man with a big heart. Rare man to be found on this earth, imagine he forgave his wife. A mother to his two daughters and son after she left him for 8 good years to marry DIDI KINUANI the millionaire whom she bore a son. Papa Cherry took her back with her son (his rival's son)

Many JB Mpiana songs become very popular and trendy online with a great number of streaming and downloads on Boomplay.

Career.
It was at the age of ten, so in 1977, that he learned to sing. From the age of thirteen, he began to sing at church and in various school groups with his friends Blaise Bula and Titina Mbwinga Kamboleta. Sometime later he changed schools, going from Athenaeum Gombe to ITC Ngaliema, he will play in the ITC Flash school group with singers such as Sam Tshintu and Modogo Abarambwa (future members of the Latin Quarter of Koffi Olomide) and that his future college Adolphe Ebondja aka Dominguez 2.

It's in October 1984, that he meets by chance a group of young men rehearsing the song Ngabelo of King Kester Emeneya and Victoria Eleison. These young men are Werra, Didier Masela, Aimé Bwanga, Dede Masolo, Jean-Belis Luvutula, and the tenorist Endjo Mbula, all members of Wenge Musica.

Mashiro Kifaya who does not manage to reach the high notes of Debaba's vocals in this song is replaced by Mpiana who asks if he can sing with them, his interpretation impresses the members of the group.

A few days later, Luvutula being one of his classmates, asks him if he would like to join the group. JB accepts and becomes a member of the group then a few months later he introduces his friend Blaise Bula in the band 2.

Apart from music, group members are students. They decide to allow themselves to exercise their passion only during school holidays.

Wenge Musica now plays curtain raises They perform one to two songs before the arrival of big bands on the scene like Victoria Eleison, Bakuba Empire, Zaiko Langa Langa, Choc Stars, Viva La Musica and Langa Langa Stars.

But in 1985, Jean-Bedel fails his high school diploma (the equivalent of the Baccalaureate in France) and is about to stop school but his friends, especially Werrason, encourages him to resume and he will eventually study marketing alongside the latter 2. In 1986, Wenge Musica plays its first concerts and each member presents their own song. JB Mpiana presents Kin e bouger (version 1), Blaise Bula presents Laura, Werrason presents Cesarine 2.

Follow Boomplay and keep up-to-date with the latest JB Mpiana songs and information.

Achievement.
In 1988 released the first album of Wenge Musica Bouger Bouger composed of six titles, JB Mpiana is the author of three songs Mulolo, The King's daughter and Bakolo Budget.

It is with this album that Wenge Musica is a place in the big league, among those of the Congolese music of the 3 th generation as Papa Wemba, King Kester Emeneya, Koffi Olomide, etc. The group manages to win with Mulolo, voted best song of the year and the group is titled musical revelation of the year 2.

Mulolois sung in Lingala, in French as well as in Kimbala, Werrason's mother tongue used for the refrain brought by Werrason's uncle, Nico Buakongo. The group attracts many fans with success.

Three years later, in 1991, the second album entitled Kin É Bougé is released and confirms the success of Wenge Musica. As one of the leading musical ensembles in Zaire, the group is acclaimed as the best in Zaire and JB Mpiana best singer.

This album contains 5 songs including Kin É Bougé, the title track of the album signed by JB Mpiana, Princess Pathy of Alain Makaba (play by JB Mpiana) and Eve Sukali of Blaise Bula, Kaskin of Werrason and Ngoma Maguy the credits of Ekokota facilitator.

Shortly before the recording of the album, in 1990The group was to travel to Brussels via Paris for the first time but they were arrested in Kinshasa because they were in possession of false visas 3.

In 1993, the group released Kala Yi Boeing which is actually their third album because before this one there was Pleins Feux which was released in 1992 but which will finally be released in 1996. In Kala-Yi-Boeing, the title track that was worn by the song of one of the Werrason band members, JB Mpiana signed two songs out of the seven contained in this opus, Danico and My friend Coboss.

He plays another song by Alain Makaba, C'est
New Comments(
8

)
FAQs about JB Mpiana
Where is JB Mpiana from?
He is from Democratic Republic of the Congo.
What are the latest songs of JB Mpiana?
The latest songs of JB Mpiana are Bissebo, Cardozo and Amour de ma vie.
What are the best songs of JB Mpiana?
The best songs of JB Mpiana are Feux de l'amour ft. Papa Wemba & Wenge Musica BCBG, Ndombolo ft. Papa Wemba & Wenge Musica BCBG and Zebuka.
What are the best albums of JB Mpiana?
The best albums of JB Mpiana are Balle de match (Radio Edit), Balle de match (Vol.2) and Anti-terro.