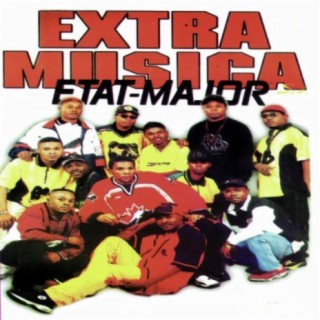 Extra Musica
Current #5,014

All Time #1,732

Extra Musica is a Congolese music group. Many Extra Musica songs, e.g. Etat major, become very popular and trendy online with a great number of streaming and downloads on Boomplay.

At the end of the 1980s, most of the founders of Extra Musica met in choirs at the Sainte-Thérèse church in the Ouenzé Manzanza district of Brazzaville, but some had known each other since the early years of their childhood, such as Durell Loemba and Ramatoulaye Ngolali, who were classmates and sat on the same bench for most of their school years — Rogatien Ibambi aka Roga Roga, and Espérance Mouanda aka Espé Bass, also being classmates at another school.

Career
The first two musicians to play music outside the church were Quentin Moyascko, who had a street band in the Talangai district, and Roga Roga who was a member of Roi Bongol's traditional-modern band Le Grand Mumboshi in the alongside members like Papy Kakol (future drummer of Wenge Musica Maison Mère), Julien Kibens and so on.

In 1992, Quentin Moyascko invited friends from the church Sylvain Mbon, dit Oxygène, Espé Bass, Roga-Roga, Ramatoulaye, Christian Ambé, Guy Guy Fall, Kila Mbongo Mazikoli, as well as the half-soloist Mbongo Saint Petro in the group from a company called Cogiex (the group was then called Cogiex Musica).

They begin to perform in funerals and small bars, perform songs by Zaïko Langa Langa, Wenge Musica, Empire Bakubaand so on, but also rehearse songs mostly composed by Quentin Moyascko, who was the oldest of them all, until they meet Ferreol Gassackys, who becomes their manager and motivates them to form a more professional band. Quentin, Kila, Roga Roga, Espé Bass, Durell, Guy Guy Fall are the co-founders of Extra Musica.

In 1993, they began to prepare their first album, Les Nouveaux Missiles, which was released two years later.

Achievements
The group twice won the prize for Best Central African Group at the Kora Awards, once in 2000 ahead of Wenge Musica Maison Mère de Werrason with its album Shalaï in 1999, and a second time in 2010 for La Main Noire (2007)

Follow Boomplay and keep up-to-date with the latest Extra Musica songs and information.

Extra Musica songs are included in Boomplay music playlists. Search to stream and download Extra Musica songs MP3/ single/ albums on the platform....more

Country/Region : Republic of the Congo
Songs

(1)

Albums

(0)

Playlists

(2)
Listen to Extra Musica's new songs including "Primus Engoundouka ft. Roga Roga", and many more. Enjoy Extra Musica's latest songs and explore the Extra Musica's new music albums. If you want to download Extra Musica songs MP3, use the Boomplay App to download the Extra Musica songs for free. Discover Extra Musica's latest songs, popular songs, trending songs all on Boomplay.
Extra Musica is a Congolese music group. Many Extra Musica songs, e.g. Etat major, become very popular and trendy online with a great number of streaming and downloads on Boomplay.

At the end of the 1980s, most of the founders of Extra Musica met in choirs at the Sainte-Thérèse church in the Ouenzé Manzanza district of Brazzaville, but some had known each other since the early years of their childhood, such as Durell Loemba and Ramatoulaye Ngolali, who were classmates and sat on the same bench for most of their school years — Rogatien Ibambi aka Roga Roga, and Espérance Mouanda aka Espé Bass, also being classmates at another school.

Career
The first two musicians to play music outside the church were Quentin Moyascko, who had a street band in the Talangai district, and Roga Roga who was a member of Roi Bongol's traditional-modern band Le Grand Mumboshi in the alongside members like Papy Kakol (future drummer of Wenge Musica Maison Mère), Julien Kibens and so on.

In 1992, Quentin Moyascko invited friends from the church Sylvain Mbon, dit Oxygène, Espé Bass, Roga-Roga, Ramatoulaye, Christian Ambé, Guy Guy Fall, Kila Mbongo Mazikoli, as well as the half-soloist Mbongo Saint Petro in the group from a company called Cogiex (the group was then called Cogiex Musica).

They begin to perform in funerals and small bars, perform songs by Zaïko Langa Langa, Wenge Musica, Empire Bakubaand so on, but also rehearse songs mostly composed by Quentin Moyascko, who was the oldest of them all, until they meet Ferreol Gassackys, who becomes their manager and motivates them to form a more professional band. Quentin, Kila, Roga Roga, Espé Bass, Durell, Guy Guy Fall are the co-founders of Extra Musica.

In 1993, they began to prepare their first album, Les Nouveaux Missiles, which was released two years later.

Achievements
The group twice won the prize for Best Central African Group at the Kora Awards, once in 2000 ahead of Wenge Musica Maison Mère de Werrason with its album Shalaï in 1999, and a second time in 2010 for La Main Noire (2007)

Follow Boomplay and keep up-to-date with the latest Extra Musica songs and information.

Extra Musica songs are included in Boomplay music playlists. Search to stream and download Extra Musica songs MP3/ single/ albums on the platform.
FAQs about Extra Musica
Where is Extra Musica from?
They are from Republic of the Congo.
How to download songs of Extra Musica?
You can download songs of Extra Musica from Boomplay App for free.
Firstly, install Boomplay app on your mobile phone.
Secondly, navigate to the song you would like to download.
Thirdly, Tap on More > Download.