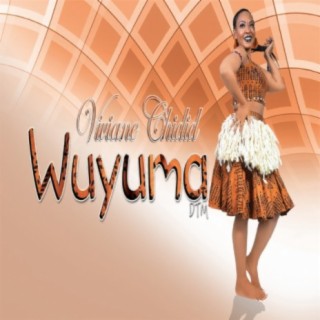 Viviane Chidid
Current #830

All Time #878

Viviane Chidid is a Senegalese mbalax and R&B singer. Many of Viviane Chidid songs become very popular and trendy online with a great number of streaming and downloads on Boomplay.

Viviane was born on September 29, 1973 in Mbour, Senegal, to a Lebanese- Senegalese father Philippe Chidid, and a Senegalese mother (mixed Mauritanian-Malian) Amy Fall.

Career
From 1993, she became a chorister in Youssou N'Dour's group, the "Super Étoile de Dakar". A few years later, she married Bouba N'Dour, the brother of Youssou Ndour, who would become her own manager (after a separation in 20071 the couple remarried in 2010, then divorced in 2011).

Viviane gained international notoriety with Youssou N'Dour, in particular by sometimes performing with him during public concerts her success with Neneh Cherry, Seven Seconds.

The title Sama Nene from her first solo album Entre Nous released in 1999 was immediately a great success in Senegal and thanks to a style considered innovative she quickly became very popular.

In 2000 Viviane released her second album, Nature, which confirmed her talent in Senegalese music, much appreciated by Senegalese purists. She is now one of the most beautiful voices in the country.

Viviane takes a little distance from her mentor Youssou N'Dour, to create her own group in 2001 called the "Djolof Band", but remains however a chorister of the Super Star on the occasion of the great balls organized by the latter. The same year Viviane released Le Show, a live album produced with her group. Today she is also nicknamed the Queen of the Djolof Band.

She released her fourth album titled Téré Nelaw. These are songs in praise of the "Lions of Teranga" highlighting their exploits during the 2002 FIFA World Cup in Korea. All of Africa fell under the spell of the [non-neutral] singer, which in 2002 earned her a nomination for the "Kora Awards" in the best arrangement category.

However, she is sued for the plagiarism of the title Sammina by Elhage Faye. She loses the lawsuit, and must pay the sum of 5 million CFA francs to the performer of the song.

Composed with the help of the greatest Senegalese rappers like Awadi, Khuman, Carlou D, Pacotille, Foumalade and so many others, Esprit will be the best-selling rap album in Senegal in history.

Follow Boomplay and keep up-to-date with the latest Viviane Chidid songs and information.

Viviane Chidid Songs
• 1999 Between us
• 2000 The Show
• 2001 Nature
• 2002 Tere Nelaw
• 2003 Fii Ak Fee
• 2004 Mind
• 2005 Man Diarra
• 2007 Bataclan Cafe
• 2010 WuyYaayYooy
• 2014 Retaan
• 2016 Yama neekh
• 2017 Wuyuma

Achievement
- Afrotainment Museke African Music Awards 2011
- Female Artist of the Year
- Best music video
- Best Afro-Rhythm Song
- Cameroon Entertainment Awards 2012
- Winner of the Pan African Artist of the Year Award at the 2012 Cameroon Entertainment Awards ceremony
- Nigerian Entertainment Awards 2012
- Winner of the Pan African Artist or Group of the Year Award at the 2012 Nigerian Entertainment Awards
- Kora-All Africa Music Awards 2012
- Nominated in the category "Best female artist from West Africa", as part of the Kora-All Africa Music Awards.

Viviane Chidid songs are included in Boomplay music playlists. Search to stream and download Viviane Chidid songs MP3/ single/ albums on the platform....more

Country/Region : Senegal
Songs

(1)

Albums

(0)

Playlists

(1)

Similar Artists

(10)
Listen to Viviane Chidid's new songs including "Wuyuma", and many more. Enjoy Viviane Chidid's latest songs and explore the Viviane Chidid's new music albums. If you want to download Viviane Chidid songs MP3, use the Boomplay App to download the Viviane Chidid songs for free. Discover Viviane Chidid's latest songs, popular songs, trending songs all on Boomplay.
Viviane Chidid is a Senegalese mbalax and R&B singer. Many of Viviane Chidid songs become very popular and trendy online with a great number of streaming and downloads on Boomplay.

Viviane was born on September 29, 1973 in Mbour, Senegal, to a Lebanese- Senegalese father Philippe Chidid, and a Senegalese mother (mixed Mauritanian-Malian) Amy Fall.

Career
From 1993, she became a chorister in Youssou N'Dour's group, the "Super Étoile de Dakar". A few years later, she married Bouba N'Dour, the brother of Youssou Ndour, who would become her own manager (after a separation in 20071 the couple remarried in 2010, then divorced in 2011).

Viviane gained international notoriety with Youssou N'Dour, in particular by sometimes performing with him during public concerts her success with Neneh Cherry, Seven Seconds.

The title Sama Nene from her first solo album Entre Nous released in 1999 was immediately a great success in Senegal and thanks to a style considered innovative she quickly became very popular.

In 2000 Viviane released her second album, Nature, which confirmed her talent in Senegalese music, much appreciated by Senegalese purists. She is now one of the most beautiful voices in the country.

Viviane takes a little distance from her mentor Youssou N'Dour, to create her own group in 2001 called the "Djolof Band", but remains however a chorister of the Super Star on the occasion of the great balls organized by the latter. The same year Viviane released Le Show, a live album produced with her group. Today she is also nicknamed the Queen of the Djolof Band.

She released her fourth album titled Téré Nelaw. These are songs in praise of the "Lions of Teranga" highlighting their exploits during the 2002 FIFA World Cup in Korea. All of Africa fell under the spell of the [non-neutral] singer, which in 2002 earned her a nomination for the "Kora Awards" in the best arrangement category.

However, she is sued for the plagiarism of the title Sammina by Elhage Faye. She loses the lawsuit, and must pay the sum of 5 million CFA francs to the performer of the song.

Composed with the help of the greatest Senegalese rappers like Awadi, Khuman, Carlou D, Pacotille, Foumalade and so many others, Esprit will be the best-selling rap album in Senegal in history.

Follow Boomplay and keep up-to-date with the latest Viviane Chidid songs and information.

Viviane Chidid Songs
• 1999 Between us
• 2000 The Show
• 2001 Nature
• 2002 Tere Nelaw
• 2003 Fii Ak Fee
• 2004 Mind
• 2005 Man Diarra
• 2007 Bataclan Cafe
• 2010 WuyYaayYooy
• 2014 Retaan
• 2016 Yama neekh
• 2017 Wuyuma

Achievement
- Afrotainment Museke African Music Awards 2011
- Female Artist of the Year
- Best music video
- Best Afro-Rhythm Song
- Cameroon Entertainment Awards 2012
- Winner of the Pan African Artist of the Year Award at the 2012 Cameroon Entertainment Awards ceremony
- Nigerian Entertainment Awards 2012
- Winner of the Pan African Artist or Group of the Year Award at the 2012 Nigerian Entertainment Awards
- Kora-All Africa Music Awards 2012
- Nominated in the category "Best female artist from West Africa", as part of the Kora-All Africa Music Awards.

Viviane Chidid songs are included in Boomplay music playlists. Search to stream and download Viviane Chidid songs MP3/ single/ albums on the platform.