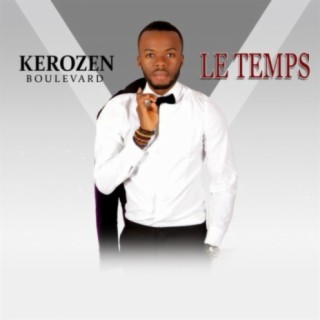 DJ KEROZEN
Current #361

All Time #154

YOBO Constant Joël (Kerozen DJ) was born on the shores of the Ébrié lagoon (Abidjan) precisely in the Siporex district located in the largest municipality of Abidjan (Yopougon). Many of DJ Kerozen songs become very popular and trendy online with a great number of streaming and downloads on Boomplay.

Career
He started as a disc jockey (DJ) in a small maquis called "Le Titré" located in his Siporex district in Yopougon. In love with his job, he found himself in a maquis located in another town in the capital (Abobo) before returning to Yopougon to the "Champion's League" and "Ministry of La Joie" maquis located on Princess Street. In Princess Street, while he was a student in his final year in 2004, he decided to stop studying to devote himself to music. In 2005, he decided to embark on his musical career as a singer.. In duet with Zéphy the Creator, they release the title " La Danse de la Moto"

It is in the "Ministry of Joy" maquis that Kerozen DJ as a disc jockey at Princess Street took off. While they were in full " atalakus " one evening with his partner Zéphyr Conor, they will be discovered by the eminent arranger David Tayorault. Attracted by the talent of his young people, David Tayorault decides to produce them. This is how the group "Boulevard DJ" was born, which released "La Danse de la Moto" in 2005. This tube goes beyond borders and is a real success. Thanks to this tube, the Boulevard DJ group will travel to Brazil.

DJ Kerozen will therefore decide to move to Switzerland, which will put an end to the Boulevard DJ group. He lived in this country from 2005 to 2008 where he worked as a disc jockey in a nightclub. During this time, he released a few singles which unfortunately were not successful. The young Yobo Constant Joël will meet the Ivorian international Serey Die during an evening in the nightclub he hosted in Switzerland. The latter seeing in him an enormous talent will give him some advice and ask him to take charge of his musical career.

He therefore took the wise resolution to return home, on the edge of the Ebrié lagoon in Côte d'Ivoire, where he met. This is how the hour of Kerozen DJ rings and releases the title "My time has come" in 2016. His time has really come because this single was a real success and goes beyond borders. He thus made a place for himself in the world of coupé-décalé and then, chained the singles in particular " Le Temps ", "Marie Jo" in 2017 and a featuring with Serge Beynaud "Ça depends on you" in 2018.

Follow Boomplay and keep up to date with the latest DJ Kerozen songs and information.

Achievements
• 2016 Winner of "Heroes 225"
• 2017 Winner of the music category of the Prix 35/35 de l'OIF
• 2017 Best Male Artist at the Africa Music Awards [ref. necessary]
• 2017 The "Youth 35 35″ trophy
• 2016 Nominated for the Coupé-décalé Awards
• 2016 Nominated at the "AP Music Awards"
• 2018 Nominated in the category "Best artist from West Africa" ​​at the Kundé d'Or

DJ KEROZEN Songs
• My time has come
• Time
• Marijo
• Victory
• You will be high
• It depends on you
• Nanko
• Never Forget

DJ Kerozen songs are included in Boomplay music playlists. Search to stream and download DJ Kerozen songs MP3/ single/ albums on the platform....more

Country/Region : Côte d'Ivoire
Songs

(0)

Albums

(0)

Playlists

(2)

Similar Artists

(10)
Listen to DJ KEROZEN's new songs including and many more. Enjoy DJ KEROZEN's latest songs and explore the DJ KEROZEN's new music albums. If you want to download DJ KEROZEN songs MP3, use the Boomplay App to download the DJ KEROZEN songs for free. Discover DJ KEROZEN's latest songs, popular songs, trending songs all on Boomplay.
YOBO Constant Joël (Kerozen DJ) was born on the shores of the Ébrié lagoon (Abidjan) precisely in the Siporex district located in the largest municipality of Abidjan (Yopougon). Many of DJ Kerozen songs become very popular and trendy online with a great number of streaming and downloads on Boomplay.

Career
He started as a disc jockey (DJ) in a small maquis called "Le Titré" located in his Siporex district in Yopougon. In love with his job, he found himself in a maquis located in another town in the capital (Abobo) before returning to Yopougon to the "Champion's League" and "Ministry of La Joie" maquis located on Princess Street. In Princess Street, while he was a student in his final year in 2004, he decided to stop studying to devote himself to music. In 2005, he decided to embark on his musical career as a singer.. In duet with Zéphy the Creator, they release the title " La Danse de la Moto"

It is in the "Ministry of Joy" maquis that Kerozen DJ as a disc jockey at Princess Street took off. While they were in full " atalakus " one evening with his partner Zéphyr Conor, they will be discovered by the eminent arranger David Tayorault. Attracted by the talent of his young people, David Tayorault decides to produce them. This is how the group "Boulevard DJ" was born, which released "La Danse de la Moto" in 2005. This tube goes beyond borders and is a real success. Thanks to this tube, the Boulevard DJ group will travel to Brazil.

DJ Kerozen will therefore decide to move to Switzerland, which will put an end to the Boulevard DJ group. He lived in this country from 2005 to 2008 where he worked as a disc jockey in a nightclub. During this time, he released a few singles which unfortunately were not successful. The young Yobo Constant Joël will meet the Ivorian international Serey Die during an evening in the nightclub he hosted in Switzerland. The latter seeing in him an enormous talent will give him some advice and ask him to take charge of his musical career.

He therefore took the wise resolution to return home, on the edge of the Ebrié lagoon in Côte d'Ivoire, where he met. This is how the hour of Kerozen DJ rings and releases the title "My time has come" in 2016. His time has really come because this single was a real success and goes beyond borders. He thus made a place for himself in the world of coupé-décalé and then, chained the singles in particular " Le Temps ", "Marie Jo" in 2017 and a featuring with Serge Beynaud "Ça depends on you" in 2018.

Follow Boomplay and keep up to date with the latest DJ Kerozen songs and information.

Achievements
• 2016 Winner of "Heroes 225"
• 2017 Winner of the music category of the Prix 35/35 de l'OIF
• 2017 Best Male Artist at the Africa Music Awards [ref. necessary]
• 2017 The "Youth 35 35″ trophy
• 2016 Nominated for the Coupé-décalé Awards
• 2016 Nominated at the "AP Music Awards"
• 2018 Nominated in the category "Best artist from West Africa" ​​at the Kundé d'Or

DJ KEROZEN Songs
• My time has come
• Time
• Marijo
• Victory
• You will be high
• It depends on you
• Nanko
• Never Forget

DJ Kerozen songs are included in Boomplay music playlists. Search to stream and download DJ Kerozen songs MP3/ single/ albums on the platform.
New Comments(
123

)