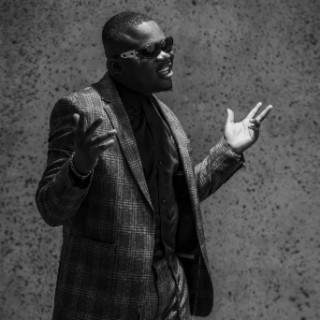 KobbySalm
Current #6,006

All Time #10.1k

KobbySalm, real name Samuel Kwabena Adjei, is a male singer from Ghana and his songs undoubtedly is making a strong statement with his music in the gospel music space. Many of KobbySalm songs become very popular and trendy online with a great number of streaming and downloads on Boomplay.

Career
KobbySalm was born on May 14th in Accra (Ghana) and studied Communications in the African University College Of Communications. Born to a family of four with him inclusive, is surrounded by three ladies. Losing his mother in his teenage days grew his passion and love for music since it was his next love and one way he could channel everything within.

As a Christian rap artist, KobbySalm usually loves to explore genres with his rap although his interest mainly is Soul Hip-hop. After Releasing his first ever single "Wish I Could Sing" KobbySalm immediately won the hearts of many Christian/gospel lovers in Ghana and other African countries.

Following up with hit songs like Satan Claps and Personal Love his hard work and taste for quality won him a nomination to the prestigious 4syte Music Video Awards in Ghana for Best Gospel Music Video in the year 2017.

KobbySalm Albums
• Suicidal (Challenge Version) (2022)
• Twale (2021)
• This Is Us (2021)
• God Dey (2021)
• Gye Yen So (Hear Our Cry) (2021)
• Aseda (2021)

Follow Boomplay and keep up to date with the latest KobbySalm songs and information.

KobbySalm Songs
• Obiara Nse Wo ft. Nana Asaase
• Itmoc Intro ft. Owura & Awurabena
• Makyele Mama ft. Vacs & E.L
• Satisfy Interlude ft. EmPraise INC
• Twale ft. Overflow Inc & Sam Oladotun
• Hymnal Skit ft Abigail Kwakye Mensah
• Uncommon ft. Nuel Triumph, ChristImage, Esaias & The Township
• Suicidal (Challenge Version) ft. Iris Musik, S.O.N. Music, Nii Shaydie, Jay Zion & Trooth
• Suicidal ft. Nii Soul, Bodiless, Kobe Tresh, Scott Evans & Qojokay
• Aseda ft. PO Godson, Joekay & Belac360
• Joy (Remix) ft. MOG Music & Dave Da MusicBox

KobbySalm songs are included in Boomplay music playlists. Search to stream and download KobbySalm songs MP3/ single/ albums on the platform....more

Country/Region : Ghana
Songs

(50)

Albums

(13)

Playlists

(9)
1

2

3

4

5

6

7

8

9

10

11

12

13

14

15

16

17

18

19

20

21

22

23

24

25

26

27

28

29

30

31

32

33

34

35

36

37

38

39

40

41

42

43

44

45

46

47

48

49

50
Listen to KobbySalm's new songs including "Run To You", "Your Presence Is Heaven ft. Edem Evangelist", "Fabegye ft. Jabidii" and many more. Enjoy KobbySalm's latest songs and explore the KobbySalm's new music albums. If you want to download KobbySalm songs MP3, use the Boomplay App to download the KobbySalm songs for free. Discover KobbySalm's latest songs, popular songs, trending songs all on Boomplay.
KobbySalm, real name Samuel Kwabena Adjei, is a male singer from Ghana and his songs undoubtedly is making a strong statement with his music in the gospel music space. Many of KobbySalm songs become very popular and trendy online with a great number of streaming and downloads on Boomplay.

Career
KobbySalm was born on May 14th in Accra (Ghana) and studied Communications in the African University College Of Communications. Born to a family of four with him inclusive, is surrounded by three ladies. Losing his mother in his teenage days grew his passion and love for music since it was his next love and one way he could channel everything within.

As a Christian rap artist, KobbySalm usually loves to explore genres with his rap although his interest mainly is Soul Hip-hop. After Releasing his first ever single "Wish I Could Sing" KobbySalm immediately won the hearts of many Christian/gospel lovers in Ghana and other African countries.

Following up with hit songs like Satan Claps and Personal Love his hard work and taste for quality won him a nomination to the prestigious 4syte Music Video Awards in Ghana for Best Gospel Music Video in the year 2017.

KobbySalm Albums
• Suicidal (Challenge Version) (2022)
• Twale (2021)
• This Is Us (2021)
• God Dey (2021)
• Gye Yen So (Hear Our Cry) (2021)
• Aseda (2021)

Follow Boomplay and keep up to date with the latest KobbySalm songs and information.

KobbySalm Songs
• Obiara Nse Wo ft. Nana Asaase
• Itmoc Intro ft. Owura & Awurabena
• Makyele Mama ft. Vacs & E.L
• Satisfy Interlude ft. EmPraise INC
• Twale ft. Overflow Inc & Sam Oladotun
• Hymnal Skit ft Abigail Kwakye Mensah
• Uncommon ft. Nuel Triumph, ChristImage, Esaias & The Township
• Suicidal (Challenge Version) ft. Iris Musik, S.O.N. Music, Nii Shaydie, Jay Zion & Trooth
• Suicidal ft. Nii Soul, Bodiless, Kobe Tresh, Scott Evans & Qojokay
• Aseda ft. PO Godson, Joekay & Belac360
• Joy (Remix) ft. MOG Music & Dave Da MusicBox

KobbySalm songs are included in Boomplay music playlists. Search to stream and download KobbySalm songs MP3/ single/ albums on the platform.
New Comments(
5

)
FAQs about KobbySalm
Where is KobbySalm from?
He is from Ghana.
How to download songs of KobbySalm?
You can download songs of KobbySalm from Boomplay App for free.
Firstly, install Boomplay app on your mobile phone.
Secondly, navigate to the song you would like to download.
Thirdly, Tap on More > Download.