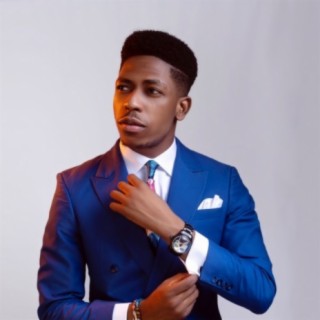 Moses Bliss
Current #95

All Time #127

Moses Bliss who was born on the 20th of February 1995 is a Nigerian gospel singer and songwriter. Many of Moses Bliss songs become very popular and trendy online with a great number of streaming and downloads on Boomplay. He is based in Abuja, the Federal Capital Territory.

Career
He has been interested in music ever since he was 5years old but started with the learning and playing of musical instruments. Moses has a unique style of music, and is regarded as one of the most exceptional and sensational gospel singers in the country.

He has recorded a good number of songs, and has been blessing lives musically from before 2017. He released the single, E No Dey Fall My Hand January 2017 and started gaining massive airplays.

Aside from the fact that he's a songwriter, Moses is also the music director of the Engraved music crew (TEMCREW) career. Moses has created a niche for himself in the gospel music industry with his unique style of music and some of his songs have gained massive streams on Boomplay. He has been able to release lots of singles over the years. Moses bliss was spotted for his first single in 2014 titled "God Is Real", "You I Live For" and many more.

He has also been able to share and perform on stage with quite a number of top gospel stars and likes of Benny Hinn, Pastor Chris, Frank Edwards, Samsong, Sinach, Buchi, Tim Godfrey, Joe praise, and many more.

The young CEO of TEM had recently signed to Latest Grace Music Record Label. Moses Bliss is trending with his anticipated debut album titled "Too faithful" which was launched at bliss experience on 16th May 2021 in a musical concert he organized for his albums.

Achievement
• Moses Bliss won the best song of the year 2020 at LIMA Awards and was awarded the sum of $100,000

He has a total estimated net worth value of approximately $250,000.

Follow Boomplay and keep up-to-date with the latest Moses Bliss songs and information.

Moses Bliss Songs and Albums
• God is Real
• Too Faithful
• You I Live For
• Bigger Everyday
• Count on me
• E No Dey Fall My Hand
• In Your Hands
• Taking Care
• Ima Mfo
• Too faithful (Album)

Moses Bliss songs are included in Boomplay music playlists. Search to stream and download Moses Bliss songs MP3/ single/ albums on the platform....more

Country/Region : Nigeria
Listen to Moses Bliss's new songs including "Daddy Wey Dey Pamper", "Too Faithful", "Bigger Every Day ft. Festizie, Membrane, Uwa, Chris Heavens & Temple" and many more. Enjoy Moses Bliss's latest songs and explore the Moses Bliss's new music albums. If you want to download Moses Bliss songs MP3, use the Boomplay App to download the Moses Bliss songs for free. Discover Moses Bliss's latest songs, popular songs, trending songs all on Boomplay.
Moses Bliss who was born on the 20th of February 1995 is a Nigerian gospel singer and songwriter. Many of Moses Bliss songs become very popular and trendy online with a great number of streaming and downloads on Boomplay. He is based in Abuja, the Federal Capital Territory.

Career
He has been interested in music ever since he was 5years old but started with the learning and playing of musical instruments. Moses has a unique style of music, and is regarded as one of the most exceptional and sensational gospel singers in the country.

He has recorded a good number of songs, and has been blessing lives musically from before 2017. He released the single, E No Dey Fall My Hand January 2017 and started gaining massive airplays.

Aside from the fact that he's a songwriter, Moses is also the music director of the Engraved music crew (TEMCREW) career. Moses has created a niche for himself in the gospel music industry with his unique style of music and some of his songs have gained massive streams on Boomplay. He has been able to release lots of singles over the years. Moses bliss was spotted for his first single in 2014 titled "God Is Real", "You I Live For" and many more.

He has also been able to share and perform on stage with quite a number of top gospel stars and likes of Benny Hinn, Pastor Chris, Frank Edwards, Samsong, Sinach, Buchi, Tim Godfrey, Joe praise, and many more.

The young CEO of TEM had recently signed to Latest Grace Music Record Label. Moses Bliss is trending with his anticipated debut album titled "Too faithful" which was launched at bliss experience on 16th May 2021 in a musical concert he organized for his albums.

Achievement
• Moses Bliss won the best song of the year 2020 at LIMA Awards and was awarded the sum of $100,000

He has a total estimated net worth value of approximately $250,000.

Follow Boomplay and keep up-to-date with the latest Moses Bliss songs and information.

Moses Bliss Songs and Albums
• God is Real
• Too Faithful
• You I Live For
• Bigger Everyday
• Count on me
• E No Dey Fall My Hand
• In Your Hands
• Taking Care
• Ima Mfo
• Too faithful (Album)

Moses Bliss songs are included in Boomplay music playlists. Search to stream and download Moses Bliss songs MP3/ single/ albums on the platform.
New Comments(
352

)
FAQs about Moses Bliss
Where is Moses Bliss from?
He is from Nigeria.
How to download songs of Moses Bliss?
You can download songs of Moses Bliss from Boomplay App for free.
Firstly, install Boomplay app on your mobile phone.
Secondly, navigate to the song you would like to download.
Thirdly, Tap on More > Download.