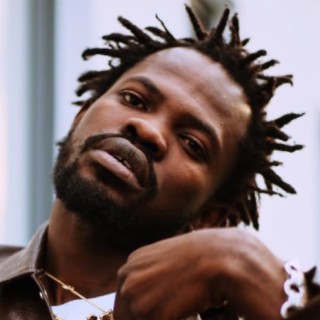 Fameye
Current #411

All Time #737

Peter Famiyeh Bozah (born 11 September 1994), known by the stage name Fameye, is a Ghanaian rapper and musician from Bogoso. Many Fameye songs become very popular and trendy online with a great number of streaming and downloads on Boomplay.

He is best known for his single "Nothing I Get". He released a remix of the song which featured Article Wan, Medikal and Kuami Eugene. He was a member of MTN Hitmaker Season 3. He won an award for the best new artist of the year at the 2020 VGMA's.

Fameye was born in Accra but hails from Bogoso, in the Western Region of Ghana. He attended Odorgonno Senior High School and completed in the year 2013. He was formally a rapper in his high school days before switching to the Afro beat genre.

Follow Boomplay and keep up-to-date with the latest Fameye songs and information.

Fameye Songs
• Enkwa
• Barman
• Sika Duro
• Destiny
• Nothing I get
• Nothing I Get Remix Ft. Article Wan, Kuami Eugene, Medikal
• Mati
• Calling (Kwesi Ramos)
• Chairman Ft. Joey B
• Me Pay Me (Feat Lord Paper)

AWARDS
• 2020Vodafone Ghana Music Award - Best New Artiste of the Year
• 2021Vodafone Ghana Music Award - Hiplife Song of the Year

Fameye songs are included in Boomplay music playlists. Search to stream and download Fameye songs MP3/ single/ albums on the platform....more

Country/Region : Ghana
Listen to Fameye's new songs including "Thank you", "Everything Now ft. Kwesi Arthur", "Mati" and many more. Enjoy Fameye's latest songs and explore the Fameye's new music albums. If you want to download Fameye songs MP3, use the Boomplay App to download the Fameye songs for free. Discover Fameye's latest songs, popular songs, trending songs all on Boomplay.
Peter Famiyeh Bozah (born 11 September 1994), known by the stage name Fameye, is a Ghanaian rapper and musician from Bogoso. Many Fameye songs become very popular and trendy online with a great number of streaming and downloads on Boomplay.

He is best known for his single "Nothing I Get". He released a remix of the song which featured Article Wan, Medikal and Kuami Eugene. He was a member of MTN Hitmaker Season 3. He won an award for the best new artist of the year at the 2020 VGMA's.

Fameye was born in Accra but hails from Bogoso, in the Western Region of Ghana. He attended Odorgonno Senior High School and completed in the year 2013. He was formally a rapper in his high school days before switching to the Afro beat genre.

Follow Boomplay and keep up-to-date with the latest Fameye songs and information.

Fameye Songs
• Enkwa
• Barman
• Sika Duro
• Destiny
• Nothing I get
• Nothing I Get Remix Ft. Article Wan, Kuami Eugene, Medikal
• Mati
• Calling (Kwesi Ramos)
• Chairman Ft. Joey B
• Me Pay Me (Feat Lord Paper)

AWARDS
• 2020Vodafone Ghana Music Award - Best New Artiste of the Year
• 2021Vodafone Ghana Music Award - Hiplife Song of the Year

Fameye songs are included in Boomplay music playlists. Search to stream and download Fameye songs MP3/ single/ albums on the platform.
New Comments(
513

)
FAQs about Fameye
Where is Fameye from?
He is from Ghana.
How to download songs of Fameye?
You can download songs of Fameye from Boomplay App for free.
Firstly, install Boomplay app on your mobile phone.
Secondly, navigate to the song you would like to download.
Thirdly, Tap on More > Download.