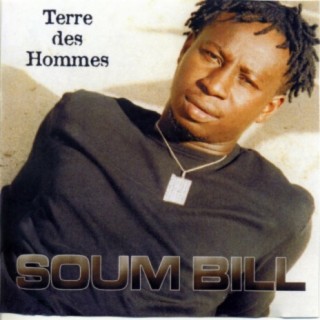 Soum Bill
Current #1,879

All Time #1,635

Soum Bill (born Soumahoro Ben Mamadou in Aboisso, Côte d'Ivoire) is a popular Ivorian singer. His song "Gneze" is the official 2006 FIFA World Cup anthem for the national team of Côte d'Ivoire.He is of mixed ethnicity: his mother is Agni, from Aboisso, while his father is Dioula, from Seguela.

Soum Bill songs become very popular and trendy online with a great number of streaming and downloads on Boomplay.

Career
He joined the group Mini Choc in 1989 and changed his name to Soum Bill. After leaving Mini Choc, he was in a band called Les Garagistes and is now in Les Salopards (English translation "The Bastards").

Follow Boomplay and keep up to date with the latest Soum Bill songs and information.

Soum Bill Songs
• L'un pour l'autre
• Gneze
• Benis Moi
• Mandjaré
• Ne Samenfou
• Haidara
• Ziki
• Aime ton prochain
• République de Présidents
• Singah
• Changer le monde
• Baba God
• Lagoh Kanawery
• Oh Marie
• On est paré
• Politico djantra
• Ecoute ton coeur
• Ahosse
• Inchallah
• Ladji mansérié

Soum Bill songs are included in Boomplay music. Search to stream and download Soum Bill songs MP3/ single/ albums on the platform....more

Country/Region : Côte d'Ivoire
Songs

(0)

Albums

(0)

Playlists

(1)
Listen to Soum Bill's new songs including and many more. Enjoy Soum Bill's latest songs and explore the Soum Bill's new music albums. If you want to download Soum Bill songs MP3, use the Boomplay App to download the Soum Bill songs for free. Discover Soum Bill's latest songs, popular songs, trending songs all on Boomplay.
Soum Bill (born Soumahoro Ben Mamadou in Aboisso, Côte d'Ivoire) is a popular Ivorian singer. His song "Gneze" is the official 2006 FIFA World Cup anthem for the national team of Côte d'Ivoire.He is of mixed ethnicity: his mother is Agni, from Aboisso, while his father is Dioula, from Seguela.

Soum Bill songs become very popular and trendy online with a great number of streaming and downloads on Boomplay.

Career
He joined the group Mini Choc in 1989 and changed his name to Soum Bill. After leaving Mini Choc, he was in a band called Les Garagistes and is now in Les Salopards (English translation "The Bastards").

Follow Boomplay and keep up to date with the latest Soum Bill songs and information.

Soum Bill Songs
• L'un pour l'autre
• Gneze
• Benis Moi
• Mandjaré
• Ne Samenfou
• Haidara
• Ziki
• Aime ton prochain
• République de Présidents
• Singah
• Changer le monde
• Baba God
• Lagoh Kanawery
• Oh Marie
• On est paré
• Politico djantra
• Ecoute ton coeur
• Ahosse
• Inchallah
• Ladji mansérié

Soum Bill songs are included in Boomplay music. Search to stream and download Soum Bill songs MP3/ single/ albums on the platform.
New Comments(
8

)
FAQs about Soum Bill
Where is Soum Bill from?
He is from Côte d'Ivoire.