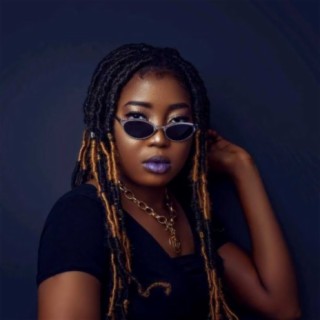 Lamie
Current #14.6k

All Time #1,520

Monica Lamisi Anang also known as "Lamie"on stage is a 20 year old versatile musician. Many of Lamie's Songs became very popular and trendy on social media in line with a great number of streaming and downloads on Boomplay.

The Accra born Lamisi traces her heritage to Sandema in the Upper East Region. Despite the hardships, Lamie carries with her an air of optimism about life. She is a Libra and a former student of st John's Grammar. Lamie is an exuberant Afrobeats diva, signed to TMC Music Group.

Career
The beautiful and chic singer fell enamored with music at a young age. Lamie joined her church choir while she was still very young. Her vocals were very on point that her first time listeners always used to wow her. She opted to pursue music as a full-time career when she completed her high School Education.

Though her musical journey kicked off in 2018, her journey began on an almost unpredictable note; an invitation from a rapper friend to a studio session ended with her recording a song. Impressed by what he heard, the owner of the studio, Leslie ended up becoming her manager. She started in 2019 gradually winning the hearts of Ghanaian music lovers. Lamie is a versatile artist who features a little bit of everything. She has songs of varied genres tailored to the taste of music consumers from all walks of life.

Her music may be a fusion of afro-pop, highlife, RnB, and reggae. She has four songs to her credit " Aye, let me go, Odoyewu and Bra which features rapper Ko-jo Cue. She is inspired by the legendary vocaliser and also features a strong admiration for fellow Ghanaian artists Mugeez and Samini.

Her passion keeps growing as she embarks on her musical journey. With the very soothing vocals and lyrical prowess she exhibits in her songs, she always has the listener coming for more.

Her voice is incredibly distinct from plenty of female singers within the motherland. Lamie is very ambitious and has aspirations of climbing to the very apex of the music ladder. She wants to depart a legacy which will be the blueprint for generations to return. A diamond within the dirt.

Follow Boomplay and keep up-to-date with the latest songs of Lamie and information.

Lamie's Latest Songs
• Junkie
• Kankye ft Sarkodie & Deelaw
• Aye
• Bra ft Ko-Jo Cue
• Ginger
• Na Na Na ft Dj Finisher & Prizydee
• Odoyewu
• Like A Dice
• Chocolate ft DenzikBeatz

Lamie's Songs are included in Boomplay music playlists. Search, stream, and download Lamie's Songs, her latest singles and albums in MP3 only on the Boomplay platform for free....more

Country : Ghana
Songs

(9)

Albums

(9)

Playlists

(14)
Listen to Lamie's new songs including "Chocolate ft. DenzikBeatz", "Ginger", "Odoyewu" and many more. Enjoy Lamie's latest songs and explore the Lamie's new music albums. If you want to download Lamie songs MP3, use the Boomplay App to download the Lamie songs for free. Discover Lamie's latest songs, popular songs, trending songs all on Boomplay.
Monica Lamisi Anang also known as "Lamie"on stage is a 20 year old versatile musician. Many of Lamie's Songs became very popular and trendy on social media in line with a great number of streaming and downloads on Boomplay.

The Accra born Lamisi traces her heritage to Sandema in the Upper East Region. Despite the hardships, Lamie carries with her an air of optimism about life. She is a Libra and a former student of st John's Grammar. Lamie is an exuberant Afrobeats diva, signed to TMC Music Group.

Career
The beautiful and chic singer fell enamored with music at a young age. Lamie joined her church choir while she was still very young. Her vocals were very on point that her first time listeners always used to wow her. She opted to pursue music as a full-time career when she completed her high School Education.

Though her musical journey kicked off in 2018, her journey began on an almost unpredictable note; an invitation from a rapper friend to a studio session ended with her recording a song. Impressed by what he heard, the owner of the studio, Leslie ended up becoming her manager. She started in 2019 gradually winning the hearts of Ghanaian music lovers. Lamie is a versatile artist who features a little bit of everything. She has songs of varied genres tailored to the taste of music consumers from all walks of life.

Her music may be a fusion of afro-pop, highlife, RnB, and reggae. She has four songs to her credit " Aye, let me go, Odoyewu and Bra which features rapper Ko-jo Cue. She is inspired by the legendary vocaliser and also features a strong admiration for fellow Ghanaian artists Mugeez and Samini.

Her passion keeps growing as she embarks on her musical journey. With the very soothing vocals and lyrical prowess she exhibits in her songs, she always has the listener coming for more.

Her voice is incredibly distinct from plenty of female singers within the motherland. Lamie is very ambitious and has aspirations of climbing to the very apex of the music ladder. She wants to depart a legacy which will be the blueprint for generations to return. A diamond within the dirt.

Follow Boomplay and keep up-to-date with the latest songs of Lamie and information.

Lamie's Latest Songs
• Junkie
• Kankye ft Sarkodie & Deelaw
• Aye
• Bra ft Ko-Jo Cue
• Ginger
• Na Na Na ft Dj Finisher & Prizydee
• Odoyewu
• Like A Dice
• Chocolate ft DenzikBeatz

Lamie's Songs are included in Boomplay music playlists. Search, stream, and download Lamie's Songs, her latest singles and albums in MP3 only on the Boomplay platform for free.
New Comments(
8

)