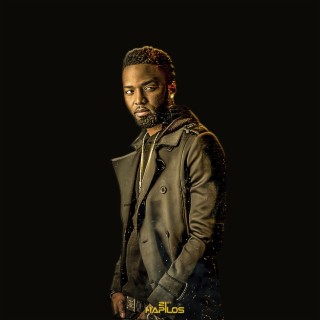 Konshens
Current #1,737

All Time #1,555

Garfield Delano Spence, stage name Konshens, was born on January 11, 1985. Many of Konshens songs, like Bruk Off Yuh Back, become very popular and trendy online with a great number of streaming and downloads on Boomplay.

His hits have included "Winner", "Rasta Impostor", "This Means Money", "Good Girl Gone Bad", "Gal Dem A Talk", "Realest Song", "Represent", "Do Sumn" and "Forward", "Gal a bubble".

Career
His 2005 single "Pon Di Corner" was a major hit in Japan, and led to a month-long tour of the country and a Japan-only album release.

He made a guest appearance on Tarrus Riley's Contagious album, deejaying on "Good Girl Gone Bad", which was also released as a single.

Konshens has a large fanbase in Guyana and Europe, where his "Gal Dem Talk" single was a major hit, and he performed at Guyana's National Stadium in May 2011.

His album, Real Talk, was released by Japanese label Koyashi in 2010. A second album was also announced to be released in Jamaica on Tad Dawkins' Tad's International label. Konshens also launched his own Subkonshus label in 2010, working with new acts including his brother Delus.

In May 2011, he was one of several high-profile Jamaican celebrities to take part in a march in Torrington Park calling for an end to political rivalry in the area, commemorating a fire in May 1980 at the Eventide Home which killed over 150 elderly women, for which politically motivated arson was suspected.

In 2012, Konshens released his second album Mental Maintenance.

Follow Boomplay and keep up-to-date with the latest Konshens songs and information.

Konshens Albums
• Real Talk (2010) - Japan only
• Mental Maintenance (2012)

Collaborative Albums
• "Medi (feat. Delus)" Intouch Riddim (with Various Artists) (2008)

Konshens songs are included in Boomplay music playlists. Search to stream and download Konshens songs MP3/ single/ albums on the platform....more

Country/Region : Jamaica
Listen to Konshens's new songs including "Boom Bang ft. DaVido", "Pay For It ft. Spice & Rvssian", "Dancehall Love Story" and many more. Enjoy Konshens's latest songs and explore the Konshens's new music albums. If you want to download Konshens songs MP3, use the Boomplay App to download the Konshens songs for free. Discover Konshens's latest songs, popular songs, trending songs all on Boomplay.
Garfield Delano Spence, stage name Konshens, was born on January 11, 1985. Many of Konshens songs, like Bruk Off Yuh Back, become very popular and trendy online with a great number of streaming and downloads on Boomplay.

His hits have included "Winner", "Rasta Impostor", "This Means Money", "Good Girl Gone Bad", "Gal Dem A Talk", "Realest Song", "Represent", "Do Sumn" and "Forward", "Gal a bubble".

Career
His 2005 single "Pon Di Corner" was a major hit in Japan, and led to a month-long tour of the country and a Japan-only album release.

He made a guest appearance on Tarrus Riley's Contagious album, deejaying on "Good Girl Gone Bad", which was also released as a single.

Konshens has a large fanbase in Guyana and Europe, where his "Gal Dem Talk" single was a major hit, and he performed at Guyana's National Stadium in May 2011.

His album, Real Talk, was released by Japanese label Koyashi in 2010. A second album was also announced to be released in Jamaica on Tad Dawkins' Tad's International label. Konshens also launched his own Subkonshus label in 2010, working with new acts including his brother Delus.

In May 2011, he was one of several high-profile Jamaican celebrities to take part in a march in Torrington Park calling for an end to political rivalry in the area, commemorating a fire in May 1980 at the Eventide Home which killed over 150 elderly women, for which politically motivated arson was suspected.

In 2012, Konshens released his second album Mental Maintenance.

Follow Boomplay and keep up-to-date with the latest Konshens songs and information.

Konshens Albums
• Real Talk (2010) - Japan only
• Mental Maintenance (2012)

Collaborative Albums
• "Medi (feat. Delus)" Intouch Riddim (with Various Artists) (2008)

Konshens songs are included in Boomplay music playlists. Search to stream and download Konshens songs MP3/ single/ albums on the platform.
New Comments(
38

)
FAQs about Konshens
Where is Konshens from?
He is from Jamaica.
How to download songs of Konshens?
You can download songs of Konshens from Boomplay App for free.
Firstly, install Boomplay app on your mobile phone.
Secondly, navigate to the song you would like to download.
Thirdly, Tap on More > Download.